Jiuzhaigou Weather in December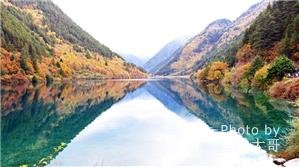 Weather: December is freezing (almost the coldest month), and the mountains are covered with beautiful snow. The average temperature is about 0 °C (32 °F), and it will be quite cold when you go out at night. Average daily low and high temperatures are -5 °C (23 °F) and 7 °C (45 °F) in December. There is almost no precipitation. There is only about 2 mm of total snowfall each December, and precipitation falls on about a couple of days of the month. Some mountains are closed because of the cold weather. See the current weather and forecast for Jiuzhaigou>>
The road to nearby Huanglong Valley that is also a major national park and popular scenic area is often closed in December. It is a kilometer higher than Jiuzhaigou, and we suggest the weather conditions are too harsh to enjoy during the winter unless you are used to high altitude hikes up mountains in the snow. The conditions are harsh: low temperatures are -16 °C (3 °F) at night, and daily high temperatures are about 1 °C (34 °F) around noon.
Clothing: You must wear a thick coat or layers undergarments to stay warm. A thick hat and gloves will help. If you plan to walk a lot, wear a pair of snow glasses to protect your eyes from the solar reflection.
Altitude Sickness: You'll probably experience some altitude sickness during an extended stay in Jiuzhaigou because most of the park is between 2,000 meters (6,561 feet) and 3,000 meters (9,800 feet). The nearby airport is at an unusually high elevation of 3,500 meters. Take precautions if you have high blood pressure, heart disease or other medical problems.
Things to Do
Tourists who come in the winter can admire the stark winter scenery and the alpine solitude. The big crowds are gone by the middle of November, and you can enjoy the natural ice sculptures of the waterfalls and the ponds. Some of the ponds such as Wucai Pond in Rize Valley don't freeze in December.
Hike in Rize Valley: Rize Valley is an upper altitude valley above 2,300 meters. It is about 18 kilometers (11 miles) long, and it is known for its variety of scenery and colorful carbonate ponds. If you have a choice of seeing only Rize Valley or Zechawa Valley, we suggest that Rize is better.
Nuorilang Waterfall: You can hike down Rize Valley to Norilang Waterfall at the junction of Shuzheng Valley and Rize Valley. It is considered the most beautiful waterfall in Jiuzhaigou, and it is the widest waterfall (300 meters wide), and it is 80 feet high. It is regarded as a symbol of Jiuzhaigou. In winter, it is a spectacular frozen waterfall that hangs on the rocks.
Hike in Shuzheng Valley: It is the lowest valley of the three main valleys. It has many plank walkways to walk on. You can take these to see the frozen or partly frozen ponds. But be careful lest you slip!
Low Tourist Season
The winter months are the low tourist months in Jiuzhaigou and Huanglong. Flights and hotel room rates are cheaper than usual. Enjoy an economical journey to Jiuzhaigou in December.
China Highlights Tours
We offer a Jiuzhaigou combo package tour of Jiuzhaigou and major regional attractions such as a trip to Guilin for a Li River cruise or a relaxing Yangtze River tour. You can relax in the sun on a Yangtze cruise ship after a cold mountain hike in Jiuzhaigou.
Our 3-day Jiuzhaigou Tour will allow you to enjoy both Jiuzhaigou and nearby Huanglong Valley. Some people say Huanglong is even more beautiful since it has hundreds of carbonate pools. It is called the Chinese Yellowstone. We'll help you select the best hotels in the area. Tell us your specifications.
Further Reading
Jiuzhaigou Climate Information by Month
Questions and Answers About Jiuzhaigou Weather in December
Cindy
2014-04-23
Show Answer
Would like to travel between 15 Nov - End Dec 2014. With 2 Adults and Kids age 11,7 & 3. They wish to see & feel snowing. hope to hear from you soon.
tony chan
2014-04-10
Show Answer
hi.my name is chan.on 22.11.2014 we have a group of 9 adult and 4 children to chengdu.we plan to stay 10 day there.can u recommend a good iternary to visit places nearby.give me a good travel agent and contact no.thanks a lot.
Hello Chan, thanks for your inquiry. We are a travel agency in China. It is our pleasure to help arrange your China tour. For the places nearby Chengdu, I recommend Xian, Leshan, Jiuzhaigou, Yangtze River to you. Do you have interest in them? Please kindly check my earlier email with more details. I am looking forward to hearing from you again. Thanks, Whitney Whitney Liao replied on 2014-04-10
SJ
2013-11-28
Show Answer
Hi, I would like to ask if you have a tour from 19-21st December? and what is the weather like currently?
Hi Sj, i think you can join our three day Jiuzhaiigou tour, here is the itinerary for your reference: http://www.chinahighlights.com/tour/jiuzhaigoutour/jzg-01/ The average temperature is about 0 °C (32 °F), and it will be quite cold when you go out at night. May i know how many persons are there in your group? guest replied on 2013-11-28
hi thanks for your reply, i have 2 in total. If we are flying there, I think according to the weather forecast, it will be overcast on the 19th december. Although its inaccurate, what are the chances of it being cancelled? And for huanglong, which other place will it be replaced with since it will be closed during winter? guest replied on 2013-11-28
anna
2013-10-18
Show Answer
hello, i am anna, i will ask to you, if i have a plan to trip in jiuzhaigou on desember, it is winter?thanks
It in Winter in December. The average temperature is about 0 °C (32 °F), and it will be quite cold when you go out at night. You must wear a cotton-wadded jacket, feather clothing, or down clothing to stay warm. Moreover, a thick hat and gloves will help you stay warm. If you plan to climb the mountain, wear a pair of snow glasses to protect your eyes from the reflection of the snow.
Ruby Zhao replied on 2013-10-18
April Offer $25 Coupon
Send your inquiry before Apr. 30, 2014, and we will email you a $25 coupon.
The coupon is valid till Dec. 31, 2014, for paying tour packages worth $250 or up.
The coupon cannot be used for paying flight tickets, train tickets, hotel rooms and day trips.
Travel Advice or Question? Ask us here

China Highlights