Jiuzhaigou Weather in March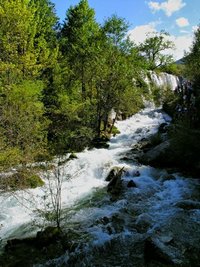 During March the temperature increases to between 7 ° C (44.6 ° F) and 10 ° C (50 ° F) during the day and 7 oC (44.6 ° F) to 9 ° C (48.2 ° F) at night. It also snows sometimes, and you may see some frozen soil and unmelted snow. The temperature difference is great between days and nights.
Wear a blouse or T-shirt with a thick overcoat so that you can take off the coat when you get hot. Sunscreen and moisture products are indispensable. What's more, bring a thin sweater in case it rains.
March brings the springtime, with its charming scenery, green grass, and trees, as well as colorful flowers all over the mountains. March does not fall during the busy travel season and hotel room rates and tickets for scenic spots are relatively cheaper, allowing you to completely and freely enjoy the beautiful scenery. See our Jiuzhaigou Tours.
Jiuzhaigou Climate Information by Month

China Highlights
Planning a trip? Ask us here 800-2682918 (USA & CA)
86-773-2831999 (Int'l)
Q:
Florence Lee
Asked on 2012-09-26
Reply
Hi. I am planning a trip to jiuzhagou on the 2nd week of March 2013. What is the weather like? What type of clothes must I bring?
Dear Florence Lee, Based on the former data, the average temperature will be 6℃(42.8℉)-10℃(50℉), it raries greatly between day and night. You need to take some warm clothes, such as cotton padded clothes, some coats and sweaters. Lussie Lu Replied on 2012-09-27