Jiuzhaigou Weather in September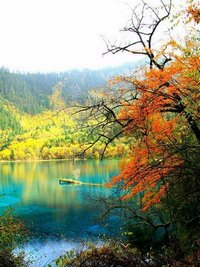 The weather starts to cool down in September, with an average temperature of 17 ° C (62.6 ° F). Consider visiting a summer resort to stay away from the hot weather and to stay comfortable in pleasant weather and beautiful scenery.
Wearing leisure clothing or a sports suit is fine for daytime. However, if you plan to go outdoors in the early morning or evening, or plan to climb the mountain, bring an overcoat or wind coat.
September is International Panda Month in Jiuzhaigou Valley, and you can get close to nature and view the lovely pandas. Many other activities are held related to the protection of pandas and other animals. See our Jiuzhaigou Tours.
Jiuzhaigou Climate Information by Month

China Highlights
Planning a trip? Ask us here 800-2682918 (USA & CA)
86-773-2831999 (Int'l)
Q:
Kaveri Mudiar
Asked on 2012-08-28
Reply
I am looking for package tour for Jiuzhaigou. I have booked my flight tickets. I will be reaching Jiuzhaigou on 29th Sep at about 5pm and my return flight is on 2nd Oct 11am. So I have 30th and 1st Oct to visit Jiuzhaigou valley and Huanglong. Can you provide me the itinerary accordingly including hotel stay, English speaking tour guide, sightseeing cost, transportation and vegetarian food for 2 persons if you can. If you have any such package kindly provide the total cost including 3 nights stay in a good 4 star comfortable hotel.Appreciate your help.
I just checked with our local agency in Jiuzhaigou. Since it is during our national day holiday period, they don't have english speaking or driver available during the holiday. The hotels we recommend were fully booked. I suggest that you can change your plan and go to there earlier or after the holiday (after Oct.8th). Leon Long Replied on 2012-08-29
Q:
con
Asked on 2012-06-18
Reply
where can I view the panda in jiuzhaigou? going in september.
Hello, con. Thank you for your inquiry. I feel regret to say there is not panda living in Jiuzhaigou. But in the nearby city Chengdu, you can view the panda and even join an International Internship Program or Panda Keeper Program to have an opportunity to feed the pandas. Please visit our website to know more about it http://www.chinahighlights.com/chengdu/tours.htm If you are interested, I am willing to customize a tour to Chengdu and Jiuzhaigou for you. How do you think? kevin Replied on 2012-06-19
Q:
Annie
Asked on 2012-05-10
Reply
We have 8 people, please give me a quote for the following tour, we need bus, hotel and food arrangement, don''t really need a tour guide as we can go around on our own.Friday 7 Sept - Arrive Chengdu 10.40 pm - Airport to Chengdu HotelSat 8 Sept - Emei - travel to Emei, stay at Emei mountain topSun 9 Sept - Emei/Leshan/Chengdu - Emei, Emei to Leshan, Leshan to Chengdu (or somewhere on the way to Jiuzhaiguo, please recommend)Mon 10 Sept - Chengdu to Jiuzhaiguo - Travel to Jiuzhaiguo, stay at JuizhaiguoTues 11 Sept - Jiuzhaiguo - Juizhaiguo park, stay at JiuzhaiguoWed 12 Sept - Jiuzhaiguo - Juizhaiguo park, stay at Juizhaiguo or near Huang Long (please recommend)Thurs 13 Sept - Huang Long/Chengdu - Visit Huang Long then travel back to Chengdu, stay at ChengduFri 14 Sept - Chengdu - Visit Panda and ChengduSat 15 Sept - Fly back to Kuala Lumpur 3 pm - Chengdu Hotel to airport