Jiuzhaigou Weather in February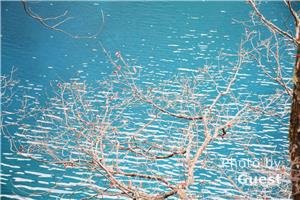 Weather: February is about as cold as January. Average daily low and high temperatures are -3 °C (27 °F) and 9 °C (48 °F) in February. There is a total of about about 5 mm of snow each January, and precipitation falls on about 6 days of the month. The scenery is usually snowy in the higher altitudes. When Jiuzhaigou is covered with ice and snow, it is quite beautiful. See the current weather and forecast>>
However, nearby Huanglong Valley is about a kilometer higher in altitude, and at this time of year, access to the park is difficult because the roads might be closed. It is better to go there when it is warmer.
Clothing: Protect yourself against the cold with a thick overcoat and gloves while outside. Wear snow glasses to protect your eyes if the sun is shining. Wear shoes with good traction.
Altitude Sickness: Most visitors will get altitude sickness in the first day or two. The airport sits at 3,500 meters, and the popular area of the park lies between 2,000 meters (6,550 feet) and 3,000 meters (9,800 feet). The cold weather and altitude makes it hard for most people to take a long hike uphill. You can ride to the points you want to see, and then walk downhill. Visitors with heart disease, high blood pressure, or other medical conditions should take precautions when traveling there.
Things to Do
Chinese New Year: The traditional Spring Festival period between the Chinese lunar New Year and the Lantern Festival is usually in February. So it is a perfect time to experience Chinese traditions and culture.
The holidays are called a "Golden Week," and large crowds come to the valleys to see the sights and celebrate with special food at the hotels and restaurants. At mid-night of the Eve, they set off fireworks. You too could have fun with fireworks, enjoy the holiday food, buy holiday souvenirs, and experience the customs.
See Nuorilang Waterfall: In the lower of the three valleys of Jiuzhaigou, called Shuzheng Valley, there is Nourilang Waterfall. It is 300 meters wide and 80 feet high, located in the center of Jiuzhaigou. In early February, it might be a spectacular frozen waterfall.
Take a winter walk: During the winter, you'll see frozen ponds, dozens of high snowy peaks around the valley, and a stark landscape. You might enjoy some solitude.
Since the altitude differs by about a kilometer from the gate entrance to Wucai Pool at the top that never freezes and retains its color all the year through, you have a choice of a variety of scenery. The higher you go, the more the snowy scenery. Explore the World Heritage site your way.
Low Season
February is in the low season for visitors except during the Spring Festival. The snow is quite charming this month, and the trees are bare except the evergreens. Because of the cold weather, tickets to the scenic spots are inexpensive. Check a good hotel, since hot water supply can be limited, or let us arrange the accommodations for you.
If Chinese New Year falls in the month, there are large crowds packing the the park's buses, the airport, and the most popular sites during the Spring Festival period. If you want to avoid the crowds at Jiuzhaigou don't choose the Spring Festival holidays. Rates are higher for hotel rooms, and you'll have difficulty reserving flight and train tickets. Book in advance, and we can help you.
China Highlights Tours
China Highlights offers several Jiuzhaigou tour packages. You can go on tour combos combining a tour of Jiuzhaigou with other major regional attractions such as the Li River cruise or the Yangtze River cruise. We can tailor-make a tour to suit your needs. Almost all of our tourists tailor their tour to suit their budget and interests.
Further Reading
Jiuzhaigou Climate Information by Month
Questions and Answers About Jiuzhaigou Weather in February
Lily
2014-01-06
Show Answer
Hi, any oriental vegetarian cafe / restaurant in Jiuzhaigou? If can, kindly furnish the address. We may be staying at (1) 5 star Jiuzhai Paradise Jiapo Holiday Inn Hotel, (2) 5 star Jiuzhai Paradise Holiday Inn Hotel, (3) Four star Maoxian International Hotel (all 3, or similar class hotel). Thank you.
Dear Lily, There is no vegetarian cafe / restaurant in Jiuzhaigou. There is a restaurant in the scenic area where there is a special part for vegetarian. But the price is very high, about CNY1500/desk. If you need any tour service, please feel free to contact meJ Kind regards, Whitney Whitney Liao replied on 2014-01-08
Lim
2014-01-05
Show Answer
We''ve planned a trip to Jiuzhaigou 12th Feb 2014. Is it advisable change to around 15 March 2014? Cos Feb is very cold weather. What about the weather in mid-March? Will the scenery be better than in Feb? What kind of clothing to bring along if it''s in March? What about FairyPool Scenic Area - is it open to visitors in Feb or Mar? Or is it only in Sep / Oct? As it''s stated in the itinerary if cannot be visited due to weather, Mouni Valley will replace it for other tours.
Hi Lim, it is very cold in Jiuzhaigou in Febuary, but the snow scenery is fabulous. And the hotel rate is quite low, if you are not afraid of coldness and like snow, you can try in Febuary. Bringing thick down jacket is necessary.
In March, it is warmer but also snow some times. The temperature is between 7 ° C (44.6 ° F). You are suggested to bring a thick coat, a sweater and a long sleeved shirt.
All the scenic areas are open all the year around. If you need any tour service, please feel free to let me know. We will try our best to offer you best route with reasonable price.
Whitney Liao replied on 2014-01-05
Libaijia
2013-08-23
Show Answer
Hi, we are planning trip for end of February next year but really is it worth us to see Jiuzhaigou at this time. We have small daughter 2.5yrs old. Are many of the paths blocked or we can still walk many good places to see? Is there sunny days or mostly rainy and windy? thanks
Hi Libaijia,
It will be very cold in Jiuzhaigou in February, during this month, Jiuzhaigou is a kingdom covered with ice and snow, you cannot see the colorful view but a pure, sparkling and crystal-clear world. There are will be just one or two hotels available and usually no indoor heating, I am not sure if your 2.5 years' daughter will like it.
Nice day!
Cecilia
Cecilia Peng replied on 2013-08-23
Ong
2013-07-18
Show Answer
Hi, will it be snowing in the month of February?
Dear Ong, In Feb., it is coldest season and it might snow during that period. Lussie Lu replied on 2013-07-19
Judy Leong
2011-12-25
Show Answer
I plan to visit Jiuzhaigou around 25 Feb next year. However I was told that visit to Huanglong during this time will be replaced by Dujiang Weir and Mt. Qingcheng. Are these two places worth the replacement visit to Huanglong? And if the weather is so cold, what is there to see other than ice and snow?
Hi Judi, Thank you for visiting our website and your interest in our services. My name is Robert Hui. I am a travel advisor at China Highlights. It is my pleasure to assist you about your trip to China. Yes, the information you got is right, the Huanglong area will be close during this period so your will visit the two places instead. The Dujiang Weir and Mt. Qingcheng are two historical sites, if you are only interested in the nature scenery, you might feel boring with them. If you like the Chinese culture & religion (the Mt. Qingcheng is one of the source of the Taoism, and the Dujiang Weir is an irrigation infrastructure built in 256 BC during the Warring States Period of China by the Kingdom of Qin). The weather is cold in Chengdu in February and it will be chilly in Jiuzhaigou. It will be fewer people if you visit there at that time, you can not see the colorful view but a pure, sparkling and crystal-clear world. By the way, our website provides packages of Sichuan tour, please kindly visit the following page if you are interested in Sichuan tour: http://www.chinahighlights.com/sichuan/tours.htm Hope it helps. Have a nice day! Robert Hui replied on 2011-12-26
April Offer $25 Coupon
Send your inquiry before Apr. 30, 2014, and we will email you a $25 coupon.
The coupon is valid till Dec. 31, 2014, for paying tour packages worth $250 or up.
The coupon cannot be used for paying flight tickets, train tickets, hotel rooms and day trips.
Travel Advice or Question? Ask us here

China Highlights