Jiuzhaigou Weather in February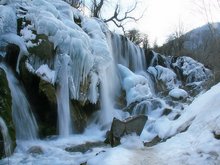 February is still cold and the temperature is similar to that of January. During this month, Jiuzhaigou is a kingdom covered with ice and snow, and is quite beautiful, but there is usually no indoor heating. Since it's very cold in February, you are strongly advised to wear thick clothing or thick feather clothing.
Meanwhile, also bring some convenient food, such as bread, yolk pie, cookies, and so on, in case you can't find a restaurant when out and about.
The traditional spring festival, i.e., Chinese lunar New Year, and the lantern festival, are during February, making it a perfect time to experience Chinese traditions and culture. There are fewer tourists during this time, so you can enjoy the beautiful scenery without dealing with the crowds. See our Jiuzhaigou Tours.
Jiuzhaigou Climate Information by Month

China Highlights
Planning a trip? Ask us here 800-2682918 (USA & CA)
86-773-2831999 (Int'l)
Q:
Libaijia
Asked on 2013-08-23
Reply
Hi, we are planning trip for end of February next year but really is it worth us to see Jiuzhaigou at this time. We have small daughter 2.5yrs old. Are many of the paths blocked or we can still walk many good places to see? Is there sunny days or mostly rainy and windy? thanks
Hi Libaijia,
It will be very cold in Jiuzhaigou in February, during this month, Jiuzhaigou is a kingdom covered with ice and snow, you cannot see the colorful view but a pure, sparkling and crystal-clear world. There are will be just one or two hotels available and usually no indoor heating, I am not sure if your 2.5 years' daughter will like it.
Nice day!
Cecilia
Cecilia Peng Replied on 2013-08-23
Q:
Ong
Asked on 2013-07-18
Reply
Hi, will it be snowing in the month of February?
Dear Ong, In Feb., it is coldest season and it might snow during that period. Lussie Lu Replied on 2013-07-19
Q:
Judy Leong
Asked on 2011-12-25
Reply
I plan to visit Jiuzhaigou around 25 Feb next year. However I was told that visit to Huanglong during this time will be replaced by Dujiang Weir and Mt. Qingcheng. Are these two places worth the replacement visit to Huanglong? And if the weather is so cold, what is there to see other than ice and snow?
Hi Judi, Thank you for visiting our website and your interest in our services. My name is Robert Hui. I am a travel advisor at China Highlights. It is my pleasure to assist you about your trip to China. Yes, the information you got is right, the Huanglong area will be close during this period so your will visit the two places instead. The Dujiang Weir and Mt. Qingcheng are two historical sites, if you are only interested in the nature scenery, you might feel boring with them. If you like the Chinese culture & religion (the Mt. Qingcheng is one of the source of the Taoism, and the Dujiang Weir is an irrigation infrastructure built in 256 BC during the Warring States Period of China by the Kingdom of Qin). The weather is cold in Chengdu in February and it will be chilly in Jiuzhaigou. It will be fewer people if you visit there at that time, you can not see the colorful view but a pure, sparkling and crystal-clear world. By the way, our website provides packages of Sichuan tour, please kindly visit the following page if you are interested in Sichuan tour: http://www.chinahighlights.com/sichuan/tours.htm Hope it helps. Have a nice day! Robert Hui Replied on 2011-12-26