Jiuzhaigou Weather in April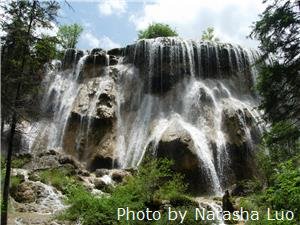 Weather: April is a cool and comfortable month for travel to the area. Average daily low and high temperatures are 6 °C (43 °F) and 18 °C (64 °F) in April. There is about 48 mm of total rainfall each April, and precipitation falls on about half of the days of the month. It is usually pleasant after noon and cool in the early morning and evening. See the current weather and forecast>>
Clothing: Wear layers of clothing for spring and autumn weather. Bring rain gear if it looks like it might rain. In the early morning and evening, wear a jacket or a coat to stay warm. Since the paths may be icy or slick, it is important to wear good non-skid shoes.
Altitude Sickness: The airport is at 3,500 meters, and most people visit the area of the park that lies between 2,000 meters (6,561 feet) and 3,000 meters (9,800 feet). Most people will get altitude sickness in the first day or two. Since walking uphill is difficult at this altitude, you can ride to the points you want to see and then walk downhill. Take precautions when traveling there if you have heart disease or high blood pressure.
Things to Do
See Rize Valley: In April, you can hike in the upper altitude valley of Rize. It is more scenic than its twin valley called Zechawa Valley. At this time of year, you'll see green grass, trees with new leaves, and colorful flowers. Unless you are used to the altitude, you can start at the top of Rize Valley and hike down to Nourilang Falls near the junction of Rize and Zechawa.
Nourilang Falls is at an elevation of 2,300 meters or 7,700 feet. It is only 80 feet high, but it is 300 meters wide. It is one of the highlights of Jiuzhaigou. The Chinese crowds generally avoid walking, so you can enjoy the walk in Rize to Nourilang in more solitude, but there will be crowds at the most photogenic spots where the park's buses stop.
See Zechawa Valley: Zechawa Valley is the upper left fork of the Y-shaped Jiuzhaigou valleys. If you have time after hiking down Rize Valley, see some of the attractions in Zechawa Valley. Starting from beautiful Long Lake, you can see colorful Wucai Pond and hike downwards. You can catch a park bus any time if you get tired.
Huanglong Valley: By the middle of April, the roads may be open for entering Huanglong Valley. Huanglong is about a kilometer higher than Jiuzhaigou, and temperatures usually go above freezing during the day and drop below freezing during the night. It is a UNESCO Heritage site and a nature preserve, and it is more beautiful the Jiuzhaigou.
Unlike Jiuzhaigou, there are no park buses. You'll need to walk uphill. But the rewards are hundreds of colorful carbonate ponds amid a stark wintry beautiful landscape with snowy high peaks around the valley. If you are in good shape, see the beautiful colors contrast the snowy scenery during a walk along the high mountain paths in the high valley as you enjoy some solitude.
Shoulder Travel Season
Tourism at Jiuzhaigou picks up in April, so hotel room rates are higher. The prices for flights and train tickets are higher. However, the busy tourist season doesn't start until fall. Many hotel rooms in the area don't get hot water, so check for that beforehand, or let us book accommodations for you.
China Highlights Tours
Our 3-day Jiuzhaigou Tour will allow you to have a wonderful vacation in Rize, Zechawa and Shuzheng and in nearby Huanglong Valley that many say is even more beautiful.
China Highlights offers other Jiuzhaigou combo packages. You can combine a tour of Jiuzhaigou with major regional attractions such as the Yangtze River where you can tour by cruise ship. Following a mountain hike, you can relax in the sun on a cruise ship.
Further Reading
Jiuzhaigou Climate Information by Month
Questions and Answers About Jiuzhaigou Weather in April
May Ong
2013-09-05
Show Answer
I am planning a trip to Jiuzhaigou next year sometime in March or April. Just like to know whether there is any difference between late march and early april in terms of weather.
Dear May,
Thanks for your question. There is no big difference of weather between late March and early April in Jiuzhaigou Area. As a travel agency, we glad to arrange Jiuzhaigou tour with a private English-speaking tour guide if you need. Please feel free contact me at nancy@chinahighlights.net any time.
Nancy

Nancy Deng replied on 2013-09-06
April Offer $25 Coupon
Send your inquiry before Apr. 30, 2014, and we will email you a $25 coupon.
The coupon is valid till Dec. 31, 2014, for paying tour packages worth $250 or up.
The coupon cannot be used for paying flight tickets, train tickets, hotel rooms and day trips.
Travel Advice or Question? Ask us here

China Highlights