Jiuzhaigou Weather in June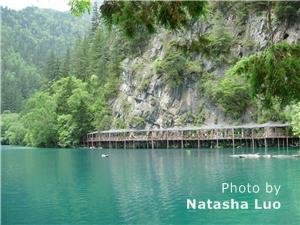 Weather: June is the beginning of the rainy season for Jiuzhaigou Valley though there is only about 90 mm of rain this month. Average daily low and high temperatures are 13 °C (55 °F) and 24 °C (75 °F) in June. Precipitation falls on about 19 days of the month. Despite the temperature increase, great temperature differences remain between time of day and altitudes, and the ultraviolet index is extreme.
Clothing: Bring a rainproof jacket for the early morning and evening. It is a good idea to wear a long-sleeve shirt to protect your skin, sunglasses, and a sunhat. Be sure to check the weather forecast before traveling to Jiuzhaigou. Wear shoes with good traction for walking. See the current weather and forecast>>
Altitude Sickness: Most visitors experience altitude sickness especially during an overnight or two night stay. The airport is at an elevation of 3,500 meters, and most of the park lies between 2,000 meters (6,561 feet) and 3,000 meters (9,800 feet). We suggest you walk downhill, and take precautions if you have heart disease or high blood pressure.
Things to Do
See Rize Valley: In June, you can hike in the upper altitude valley of Rize that is above 2,400 meters. There are colorful carbonate pools. It is more scenic than its twin valley called Zechawa Valley. We recommend seeing this if you only have time for one or the other. At this time of year, you'll see verdant growth. You can start at the top of Rize Valley and hike down to Nourilang Falls near the junction of Rize and Zechawa Valley.
Nourilang Falls is at an elevation of 2,300 meters or 7,700 feet. It is 80 feet high and 300 meters wide. The Chinese crowds don't generally walk between the attractions, so you can enjoy the walk in Rize to Nourilang in more solitude.
Zechawa Valley: Zechawa Valley is the upper left fork of the Y-shaped Jiuzhaigou valleys. If you have time after hiking down Rize Valley, you can see some of the attractions in Zechawa Valley.
Huanglong Valley: Huanglong is another national park that is less visited than Juizhaigou and most people think it is more beautiful. It is a UNESCO Heritage site and nature preserve. It is 50 km south geographically, but a 100+-km drive away. It is a kilometer higher than Jiuzhaigou, and temperatures range between 2 °C (36 °F) at night and 13 °C (55 °F) during the day. Since there are no park buses, you'll have to walk. You can enjoy the hundreds of multicolored ponds if you are in good shape.
Shoulder Season
June is a moderately high tourist month, so hotel room rates are higher. The prices for flights and train tickets are higher than in the winter. However, the busy tourist season starts in the fall, so you can enjoy the area while there are less crowds. Many hotel rooms in the area don't provide hot water, so let us book the best accommodations for you.
China Highlights Tours
Tour Rize, Zechawa, and Huanglong: Our 3-day Jiuzhaigou Tour will allow you comprehensive enjoyment of Jiuzhaigou and nearby Huanglong Valley that is the Chinese Yellowstone. We'll help you select the best hotels for you in the area and arrange a tour you'll really enjoy.
China Highlights offers Jiuzhaigou combo packages. A tour of Jiuzhaigou can be combined with major regional attractions such as a Yangtze River tour. You can relax in the sun on a cruise ship following a mountain hike.
Further Reading
Jiuzhaigou Climate Information by Month
Questions and Answers About Jiuzhaigou Weather in June
Rosiany Sie
2014-04-08
Show Answer
How is the weather on May 24th - May 31th in Jiu Zhai Gou? is it rainy season?
Dear Rosiany Sie, The average temperature will be 10℃(50℉)-25℃(77℉), sometimes it will rain. I suggest you take a thick coat or a thin sweater. An umbrella is needed. Lussie Lu replied on 2014-04-09
Tan Chong Jing
2012-06-17
Show Answer
Chengdu/Jiuzhaigou from 23 June to 01July 2012
Dear Mr. Tan Chong Jing, Thanks for your inquiry and your interest in our website. I'll make an itinerary and quote in details via email tomorrow. Have a nice day! Whitney Liao Whitney Liao replied on 2012-06-18
April Offer $25 Coupon
Send your inquiry before Apr. 30, 2014, and we will email you a $25 coupon.
The coupon is valid till Dec. 31, 2014, for paying tour packages worth $250 or up.
The coupon cannot be used for paying flight tickets, train tickets, hotel rooms and day trips.
Travel Advice or Question? Ask us here

China Highlights