Jiuzhaigou Weather in July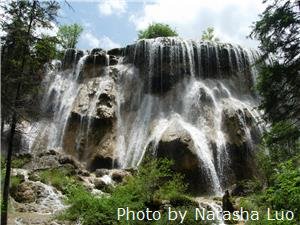 Weather: The weather is quite comfortable in July, and you can almost get a sense for all of the seasons of the year as you move up the valleys' thousands of feet. It's the hottest month of the year, but the altitude and daily temperature differences are great.
Average daily low and high temperatures are 15 °C (59 °F) and 26 °C (79 °F) in July. There is about 115 mm (4.5 inches) of total rainfall each July, and precipitation falls on about 19 days of the month. The ultraviolet index index is extreme. See the current weather and forecast>>
Clothing: Bring a waterproof poncho, and wear a long-sleeve shirt and trousers to protect your skin. Sunglasses and a sunhat will help too if you are hiking on a sunny day.
Altitude Sickness: Most visitors experience altitude sickness during an overnight or a two night stay. Most of the park lies between 2,000 meters (6,561 feet) and 3,000 meters (9,800 feet), and the airport is at an elevation of 3,500 meters. To avoid getting overexerted, we suggest you walk downhill. Take precautions if you have heart disease or high blood pressure.
Things to Do
See Rize Valley: In July, you can hike in the upper altitude valley of Rize. All of it is above 2,400 meters, and it makes for a good walk on the walkways past colorful carbonate pools. It is more scenic than its twin valley called Zechawa Valley.
Nuorilang Falls: You can start at the top of Rize Valley and hike down to Nourilang Falls at the junction of Rize and Zechawa Valley. The Chinese crowds generally don't like to walk between popular attractions, so you can enjoy the walk down Rize Valley to Nourilang Falls without the big crowds. The waterfall is big: 80 feet high and 300 meters wide. It is at an elevation of 2,300 meters or 7,700 feet.
Zechawa Valley: If you have time after hiking down Rize Valley, you can see the attractions in Zechawa Valley. Zechawa Valley is the upper left fork of the Y-shaped Jiuzhaigou valleys. Take a park bus if you get tired.
Hike and Enjoy Huanglong Valley: Huanglong is a major scenic highlight about 4 hours away (50 km in a straight line). It is a UNESCO Heritage site and nature preserve that is less visited than Juizhaigou, and most people think it is more beautiful. In July, temperatures range between 4 °C (39 °F) at night and 16 °C (61 °F) during the day. There are no park buses, but you can walk and enjoy the scenery of hundreds of multicolored ponds such as Mirror Ponds if you are in good shape.
Shoulder Season
July is a moderately high tourist month, so hotel room rates are higher than in the winter. Prices for flight and train tickets are moderate. The busy tourist season starts in the fall, so you can enjoy the area and the warm summer temperatures while there are less crowds. Many hotel rooms in the area don't provide hot water, so let us book your accommodations for you. We'll check on the quality for you.
China Highlights Tours
Take a China Highlights Jiuzhaigou combo package tour. A tour of Jiuzhaigou or Huanglong can be easily combined with south-central China attractions like a Yangtze River tour, seeing the pandas in Chengdu, or a Li River cruise in Guilin. You can relax in the sun on a cruise ship following a mountain hike.
Tour Rize, Zechawa, and Huanglong: Our 3-day Jiuzhaigou Tour will help you enjoy Jiuzhaigou and nearby Huanglong Valley. We can help you select the best hotels in the area, and our guides can arrange a tour you'll really like.
Further Reading
Jiuzhaigou Climate Information by Month
Questions and Answers About Jiuzhaigou Weather in July
sheily Lee
2013-06-18
Show Answer
Hi! My husband and I are planning to take a short trip to Juizhaigou from July 17 to 21. Does it rain every day and do we have enough time to cover this place in such a short time? Please advise. Thank you in advance.
Apr-Jun is the raining season for Zhangjiajie, while mid of Jul is the hot summer time so it barely rain during that period, even it rains a bit, please rest assure that it does not influence sightseeing much.
Yes, 5 days could cover the essence of Zhangjiajie. Please feel free to e-mail me if you decide to go, along with the information of your tour planning and requirements for hotel standard etc.
Delia Xie replied on 2013-06-19
April Offer $25 Coupon
Send your inquiry before Apr. 30, 2014, and we will email you a $25 coupon.
The coupon is valid till Dec. 31, 2014, for paying tour packages worth $250 or up.
The coupon cannot be used for paying flight tickets, train tickets, hotel rooms and day trips.
Travel Advice or Question? Ask us here

China Highlights