Tachuan Village
Summary
Tachuan Village is considered to have one of the best autumn scenes in China.
Overview
Tachuan (literally meaning "Pagoda and Creek") Village, also called Tashang (meaning "above the pagoda"), was built align with the shape of the mountain to create a pagoda shape. The hundred-year-old folk houses were well-arranged upon the mountain, tier upon tier, making it all look like a pagoda if seen from above. Limpid creeks wind their way through the village, adding vitality to the tranquil atmosphere of the village. That's how the village got its name with the pagoda-like houses and the creaks.
Tachuan Village boasts numerous ancient giant trees, such as Chinese tallow trees, maples and camphor tree. Many of them have grown for hundreds of years that it needs several people hand in hand together to surround the trunk. The best time to visit Tachuan village is autumn (October and November), when the tree leaves turn multi-colored, creating a gorgeous sight, attracting many visitors and photographers.
Tachuan Village is located only 2 kilometers or 30 minutes' hike from Hongcun Village, another famous ancient village in Huangshan area. Check out our Yellow Mountain and Tachuan Village Tour.
Touring Activities
Sightseeing, hiking and photography
Local Specialty
Laba Tofu features local flavor. Laba means the eighth day of the twelfth month of the traditional Chinese calendar, and it is when the Spring Festival (traditional Chinese New Year) is coming near. Every year on this day, every household at Tachuan Village would sun-dry the tofu, which are called "Laba Tofu". The tofu is made from quality soybean, cut into round or square pieces and wiped with salt water. A hole is scooped in the middle but not through the tofu, and salt is put into the hole. Then it is basked in the sun till the water dry up and the salt is absorbed into the tofu. Laba Tofu tastes soft, salty and fragrant.
Nearby Attraction
Hongcun Ancient Village is only 2 kilometers or 30 minutes' walk away. Our Yellow Mountain and Tachuan Village Tour includes a visit to Hongcun Villabe, or feel free to Contact us for a customized tour.
Related Links
Questions and Answers About Tachuan Village
April Offer $25 Coupon
Send your inquiry before Apr. 30, 2014, and we will email you a $25 coupon.
The coupon is valid till Dec. 31, 2014, for paying tour packages worth $250 or up.
The coupon cannot be used for paying flight tickets, train tickets, hotel rooms and day trips.
Travel Advice or Question? Ask us here
You might like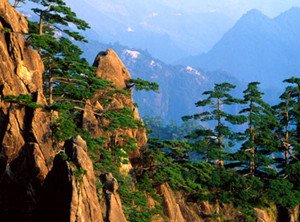 Photography Tips at the Yellow Mountains

China Highlights
Huangshan Travel Guide
Huangshan Top Attractions