Suzhou Transportation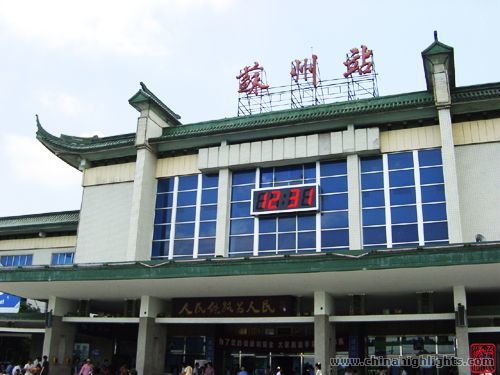 Being an important historical and tourist city, Suzhou is easily accessible by air, rail and road. Its location along the Beijing-Hangzhou Grand Canal means the city also enjoys good waterway transportation.
Air
Suzhou is served by a small airport, Guangzhou. However it only has a few flights from Foshan each week. Most tourists who want to come to Suzhou often fly to Shanghai and then take a bus or train onwards to Suzhou. There are regular bus services from Shanghai to Suzhou (duration approximately 1 hour). In addition there are plenty of trains running from Shanghai to Suzhou.
Click here to search China Domestic Flight Schedule and Airfare
Railway
Suzhou is a major stop along the Beijing-Shanghai railway line and there are more than 40 daily train services which stop at Suzhou Railway Station. There are daily services to and from Beijing, Shanghai, Xian, Guilin and many more main tourist areas in China to and from Suzhou. The Suzhou Railway Station is located on the north side of the city.
City Transportation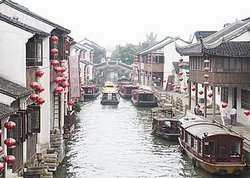 The Boats of Suzhou City Transportation
Being a developed city, Suzhou has good public transportation. Public buses routes run into all parts of the city. Fares are flat rated, usually 1 Yuan for a non-air-conditioned bus and 2 Yuan for an air-conditioned one. There is no fare collector on the bus, so please ensure that you have small denominations of change ready for the driver when boarding.
Taxi
Taxis are convenient and are generally a hassle-free alternative to public transportation. There are lots of taxis looping the city so there is usually no problem to flag one down to stop for you. The starting price is 10 yuan for 3 kilometres, over 3 km, 1.8 yuan/per km for a Santana and 1.4 yuan/per km for a Xia Li cab.
Rickshaw
These man-powered vehicles are a good and cheap way to get around. The starting price is 2 yuan, rising to between 3 to 5 yuan for a longer trip. You can usually negotiate the price when taking a pedicab.
Bicycle
The easiest way to tour around Suzhou is by bike. Pedalling from garden to garden is painless, even pleasant. This is a very popular mode of transport for the many tourists who want to explore the gardens in the city.
Ship
Boats running along the Great Canal can take visitors up to the north, Zhejiang, Yangzhou( two well-known cities in the area) or down to Hangzhou in the south. Boat travel from Suzhou to Hangzhou has become increasingly popular due to the amazing country scenery witnessed during the journey.
Bus/Coach Transportation
There are totally 5 long-distance bus stations having services to the nearby cities and beyond. The largest one is Suzhou South Gate Long-Distance Bus Station. There are plenty of buses heading to Shanghai, Hangzhou, Wuxi, Zhouzhuang, Tongli, Yangzhou, Ningbo and Nanjing to and from Suzhou. The ticket fare and time from Suzhou to some cities are: 70 yuan and 2.5 hours for Nanjing, 72 yuan and 3 hours for Yangzhou, 69 yuan and 2 hours for Hangzhou amd 119 yuan and 4 hours for Ningbo.
The Five Long-Distance Bus Stations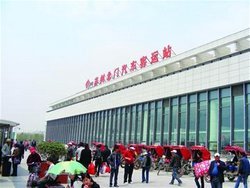 Suzhou North Long-Distance Bus Station
Suzhou North Long-Distance Bus Station
Chinese name: 苏州汽车北站 Suzhou Qiche Beizhan
Buses mainly depart to: Shanghai and some cities in Jiangsu Province Anhui Province, Shandong Province, Henan Province, Zhejiang Province, Guangzhou Province, Shaanxi Province, Fujian Province
Address: Xihui Road (西汇路)

Suzhou South Gate Long-Distance Bus Station
Chinese name: 苏州南门汽车客运站 Suzhou Nanmen Qiche Keyun Zhan
Buses mainly depart to: Hangzhou, Ningbo, Wenzhou, Huzhou, Jiaxing in Zhejiang Province, Nanjing, Yangzhou, Huaian, Suqian, Lianyungang in Jiangsu Province, and Shanghai
Address: 601 Nanhuan East Road (南环东路601号)
Suzhou New District Long-Distance Bus Station
Chinese name: 苏州新区汽车客运站 Suzhou Xinqu Qiche Keyun Zhan
Buses mainly depart to: Wuxi, cities in north part of Jiangsu Province and some cities in Henan Province, Hunan Province, Shandong Province, Sichuan Province, Hebei Province, Liaoning Province, Anhui Province, Fujian Province,
Address: 78 Jinshan Road (金山路78号)
Wuzhong Long-Distance Bus Station
Chinese name: 吴中汽车客运站 Wuzhong Qiche Keyun Zhan
Buses mainly depart to: Shanghai, Hangzho, Huzhou, Guangde, Anhua, Huaining, Wenling, Deqing, Xinshi, Yibing, Zhengzhou and Huangshan
Address: 10 Guangjian Road, Wuzhong District (吴中区广建路10号)
Weitang Long-Distance Bus Station
Chinese name: 渭塘汽车站 Weitang Qiche Zhan
Buses mainly depart to: Changshu, Zhuji, Jiangshan, Kaihua, Heqiao, Shangrao, Fengli Baju, Jiaoxie, Lvsi, Haozhou, Lujiang, Fuyang, Qingdao and Huaifang
Address: the crossing of Chenghu Road and Zhenzhu Hu Road (澄湖路和珍珠湖路交叉口)
Note: Passengers can call 0512-65776577 to consult more detailed information about the bus schedule, and the hot line service is available from 6am to 8:30pm.

China Highlights
Planning a trip? Ask us here 800-2682918 (USA & CA)
86-773-2831999 (Int'l)
Q:
Jennifer
Asked on 2013-04-29
Reply
My husband and I are visiting in suzhou and need to go to wuxi airport tomorrow to fly to beijing. So what are the options to go from suzhou to wuxi airport? Bus or train?
Dear You could take a shuttle bus from New City Garden Hotel to Wuxi airport. New City Garden Hotel is located at NO.1 Shishan Road, Suzhou New District. The bus sets off at 6∶30、9∶30、15∶00、16∶30. It takes about 40 minutes. Lussie Lu Replied on 2013-05-02
Q:
monica
Asked on 2013-03-16
Reply
we are flying to shanghai on sunday and plan to visit suzhou on Tues, going by bullet train. we are staying near Pudong, whichtrain station is the most convenient from there, and which station should we go to in Suzhou. We plan to visit the gardens, take a boat ride, then return to shanghai same day,
Hi Monica, there are bullet trains from Shanghai Railway Station or Shanghai Hongqiao Railway Station. Please check details via here: http://www.chinatrainguide.com/ Shanghai Railway Station is quite near Pudong.
Whitney Liao Replied on 2013-03-17
Q:
Julia
Asked on 2013-01-06
Reply
Hello, I am currently in Suzhou and would like to take a bus to Tianmu Lake Yushui Hot Spring Hotel in Liyang next weekend. Can you tell me what is the best way to get there? Thank you,
Hi Julia,
It is Christy from China Highlights, your travel advisor. I'm happy here to help you.
You could go to the North Bus Station or South Bus Station in Suzhou to Liyang. The bus is available every day from 07:05am, every 1.5 hours a bus. Price for your reference is RMB50-60. Arrived Liyang Bus Station, you can call a taxi (RMB70-90) to Tianmu Lake Yushui Hot Spring Hotel(In Chinese:天目湖御水温泉度假酒店). Pleas show the Chinese to taxi driver since they do not understand English. Good luck!
Christy Luo Replied on 2013-01-06
Q:
soheng
Asked on 2012-12-27
Reply
May I know how to get to bullet train station from Shanghai(Putong) Airport? I intend to take bullet train from Shanghai to Suzhou. How far away is Suzhou bullet train station from Renaissance Hotel. What are the interesting places in Suzhou which are worth visiting? How many days should I stay there before returning to Shanghai? Kindly advise. Thanks
Hi Soheng, from Shanghai(Putong) Airport, you can take Metro Line 2 to Hongqiao Railway Station. Then take bullet train to Suzhou. http://www.chinahighlights.com/shanghai/map/shanghai-subway-map.htm
Sorry, I didn't find any result for the distance from Renaissance Hotel to Suzhou bullet train station. You can try it on Google map.
Attractions in Suzhou: The Grand Canal, Panmen Gate, Lingering Garden, Wangshi Garden, Hanshan Temple, Humble Administrator's Garden, Tongli Water Town, etc. You can spend 2-3 days there.
Our Suzhou tours: http://www.chinahighlights.com/suzhou/tours.htm
If you are interested in any of them, please feel free to contact me.
Whitney Liao Replied on 2012-12-30
Q:
Maria Lopes
Asked on 2012-10-09
Reply
From Shanghai how can i do a tour visiting Tongli and Jinxi? TY
Hi Maria, there is direct bus from Shanghai to Tongli. You can also take bullet train to Suzhou first, then transfer bus to Tongli. There is no direct transportation from Shanghai to Jinxi. We can arrange this tour for you with private car and English speaking guide, for both Tongli and Jinxi. How do you like it? Whitney Liao Replied on 2012-10-09
Suzhou Travel Guide