Three Gorges Dam
The Three Gorges Dam Project was completed in 2009. Situated at Sandouping Town of Yichang City, Hubei Province, the Three Gorges Dam is the largest hydro-power station in the world with an annual energy output of 84.7 billion kilowatt-hours. The Three Gorges Dam includes three areas: the dam itself, a hydroelectric, and a system of locks. The height of the Three Gorges Dam is 185 meters (607 ft) above the sea level. The dam is about 2,300 meters (7,546 ft) long and about 115 meters (377 ft) wide. With a water capacity of 39.3 billion cubic meters, the dam will hold a huge reservoir which will efficiently prevent flooding in the middle and lower portions of the Yangtze River.
The 1,000-square-kilometers (386 square miles) reservoir is an artificial lake showing visitors a picturesque view in sunny days that the wide blue lake and the vast azure sky merge at the horizon. The dam would discharge flood during the flood period (July and August), if you are just visiting the Three Gorges Dam at that time, you will enjoy the marvelous spectacle of flood discharge. In July 2010, the flood peak arrived Three Gorges Dam with the speed was 36,000 cubic meters per second, the dam opened 9 spillways to release the flood, so as to function in an emergency. Through the 9 spillways, shot forth 9 water columns (50-meter or 164 ft long) in the water mist. At last, they turned into whitecap and disappeared in the waves.
There are two good places to watch the dam. 185 Platform gets its name because of its height–185 meters (607 ft), equivalent to the height of the dam. Dam Viewing Point is the best position to have a view on the dam and the marvelous spectacle of flood discharge.
As a modern wonder, the Three Gorges Dam together with Gezhou Dam form a new landscape adorning the Yangtze River together with other natural scenery (like The Lesser Three Gorges, Wu Gorge and Shennong Stream), ancient relics (such as White Emperor City and Qu Yuan Ancestral Temple).
Features
With an area of 15 square kilometers (5.8 square mils), the Three Gorges Dam Scenic Area consists of five parts: Exhibition Hall of the Three Gorges Project, Tanzi Ridge, 185 Platform, Memorial Garden and Dam Viewing Point.
Located in the middle section of Xiling Gorge, one of the three gorges (the other two are Wu Gorge and Qutang Gorge), the three gorges form the most beautiful sections of the Yangtze River.
As one of the largest dams in the world, hence a reservoir covers an area of 1,000 square kilometers (386 square miles) formed, which is also an attractive landscape.
A Yangtze Cruise will pass the Three Gorges Dam.
The Three Gorges Dam Scenic Area is a tourist attraction combining modern project, nature scenery and cultural landscapes.
Tanzi Ridge
Tanzi Ridge is located in the surveying point for the Three Gorges Dam Project with a 262.5 meters (861 ft) height above sea level. So it is the best position to have a panorama of the Three Gorges Dam Project. The shape of Tanzi Ridge is just like a crock, hence its name Tanzi (means crock in Chinese) Ridge. The Tanzi Ridge is divided into three storeys according to the increase of height. Visitors can enjoy the relievos, the 800-million-year old stone (more than 20 ton weight) from the bottom of the Yangtze River, a huge book sculpture recorded the introduction of the Three Gorges Dam Project, etc.

History and Benefits
It has taken 17 years to complete the entire project including three stages, from 1993 to 2009. During the first phase (from 1993 to 1997), the main channel of the Yangtze River was blocked and its water diverted into a side channel, so that the dam construction could take place. The second phase lasted 6 years from 1998 to 2003. During this period, the work was focused on constructing the cofferdam (a temporary barrier that keeps water out of a normally submerged area), the locks, and the hydroelectric plant. By the end of 2003, the first and the second phases had been successfully completed. During the third phase (from 2003 to 2009), the installation of all machinery, the construction of the power station and the dam on the right bank were finished.
Of course, the construction of the Three Gorges Dam Project has brought a huge controversy relating to economic, technical, environment, migration, tourism and the protection fields. The construction of the dam has flooded archaeological and cultural sites and displaced some 1.3 million people, and is causing significant ecological changes, including an increased risk of landslides. Hence the dam has been a controversial topic both in China and abroad.
Till today, we need to face the benefits as well as the problems from the Three Gorges Dam Project. For one hand, it brings many benefits such as flood control, power generation, navigation and tourism; for another hand, it also causes some problems like sediment problem, environmental problem, migration problem, and landscape losses.
Travel Essentials
Ticket price: 105 yuan per adult.
How to get there: Every day in Yichang City, there are tourist shuttle buses departing from No.80, Dongshan Avenue (东山大道80号) or Liuzhashou Tourist Reception Center (六闸首游客接待中心) to the Three Gorges Dam Tourist Area. Travelers can take city bus line 3, 4, 9, 21 and 100 to No.80, Dongshan Avenue; or take city bus line 1, 10, 21, 100, 101 to Yemingzhu Station, then change bus No.8, and get down at Liuzhashou Tourist Reception Center.
Nearby Attractions
Wu Gorge: the second of the Three Gorges and is flowed through by Yangtze River, famous for its mountains covered with forests, and changeable clouds and mists wreathing around the tops.
The Chinese Sturgeon Museum: is an institution dedicated to the preservation of rare fishes named Chinese sturgeon living in the Yangtze River.
Huangling Temple: one of the oldest buildings in the Three Gorges area, it was first built in the Spring and Autumn Periods over 2500 years ago.
Related Readings
Recommended Yichang Tours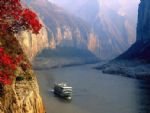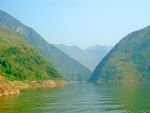 China Highlights
Planning a trip? Ask us here 800-2682918 (USA & CA)
86-773-2831999 (Int'l)
Q:
raymond ringhoff
Asked on 2012-12-11
Reply
need to know what the hero''s statue-dayer in the chinese ancient water control at 3 gorge dam I was there last year but I am not sure of the spelling In my notes i have it spelled statue-dayer is it statue-bayer displayed inside?
Hi Raymond, which hero, please? Is it Dayu?
Whitney Liao Replied on 2012-12-12

hi whitney liao not sure if its DAYU could be all I know is when I went to the 3 gorges dam then into the chinese ancient water toer control area there was this statue I may have spelled it wrong in my notes thats why I need your help with spelling also I would like to know more about china highlits since I hope to make another trip to china next year need this info to finish my china story trip an add to my first travel book thank you ray ringhoff guest Replied on 2012-12-12
Hi Raymond, sorry, I am not able to provide the information you need. But we can tailor-make the China tour for you. Please kindly advice below the information for tour construction: In order to give you an accurate quotation please help me with below the information: 1. Number of people in your group including yourself 2. Length of stay in China 3. Inbound / outbound city 4. Starting date of the tour 5. Places or attraction that you want to visit 6. Class of Hotel: 3 / 4 / 5 star After getting further information from you, we will send you a detailed itinerary. Whitney Liao Replied on 2012-12-13
Q:
Doreen Erfe
Asked on 2012-12-05
Reply
Hi, we will be in Shanghai on May 5, 2013 andwould like to have a 2 day cruise along Yangtze to see the Three Gorges Dam. We are a four in our group. Would it be possibleto have a 2 -day cruise going there? From thecruise, we want to proceed to Xian.
Hello Doreen, there is no 2-day cruise along Yangtze River. The shortest cruise is from Chongqing to Yichang or Chongqing to Wuhan, both need 4days and 3 nights. You can take either of them, then head to Xian. Please check our Yangtze River Cruise here:http://www.chinahighlights.com/yangtzecruise/
Whitney Liao Replied on 2012-12-06
Q:
Natalie
Asked on 2012-11-06
Reply
Hey i am going to have to study for my school about the Yangtze River can you help me get some facts about is
Hi Natalie, we suggest that you take a tour to the Yangtze River to have a true experience. Then you will collect more reliable information. Because any information we searched from the Internet is also available to you.
Whitney Liao Replied on 2012-11-07
Q:
Kathy Elwell
Asked on 2012-10-29
Reply
Hi, my sister and I will be in Xian next March, is it possible that we could visit the Three Gorges Dam from there..? Also can we get to see the I think it is called the Nine Valleys?Thank you very much.Regards Kathy
Hi Kathy, the Three Gorges Dam and the Nine Valleys are far far away from Xian. In Xian, you can visit the Terracotta Warriors and Horses, Big Wild Goose Pagoda, Mount Hua, etc.
Whitney Liao Replied on 2012-10-30
Q:
Erica
Asked on 2012-10-28
Reply
Hi, my family and I will be in Shanghai for a few days and wanted to know if there was a 2 day tour to the Three gorges that would included transportation to and from Shanghai.
Hi Erica, yes, 2 days is enough. We can tailor make this tour for you. Please kindly let me know the exact date that you'd like to take this tour. And the number of people that will be in your group. Then we will send you a detailed quotation.
Whitney Liao Replied on 2012-10-31

Thanks so much for your quick reply, The dates of this trip would most likely be Monday November 5th to Tuesday November 6th, 4 adults. Also I wanted to make sure that this quotation would be including transportation from Shanghai to the 3 gorges and the transportation back to Shanghai? Would it include hotel accomadation for the one night and food as well? guest Replied on 2012-10-31
Hi Erica, yes, the quotation would be including transportation from Shanghai to the 3 gorges and the transportation back to Shanghai, as well as hotel accomadation for the one night and food. Whitney Liao Replied on 2012-11-01
Yichang Travel Guide