Great Wall Water Pass
Summary – Why visit Shuiguan (水关)
The Shuiguan (Water Pass) Great Wall is part of the military defensive system of the Badaling Great Wall. It is the eastern section of the Badaling Great Wall, and also the strongest and best preserved one. The Great Wall at Shuiguan is famous for its precipitous cliffs and oddly shaped rocks. Hiking at the Shuiguan is an ideal supplement to your visit at the Badaling Great Wall.
The pass functioned to defend against invaders by the force of torrential water flowing through between two mountains, which form a pass, hence the name 'Shuiguan', translated as the 'Water Pass'.
Features
History: The Shuiguan Great Wall was built during the Ming Dynasty (1368 - 1644). It was open to the public in 1995 after repairs.
Dimensions: The Great Wall at Shuiguan stretches 6.8 kilometers (4.2 miles) along winding and steep mountains contours, with stone blocks and grey bricks. It has 7 watch towers and 1 arrow tower. The arrow tower measures 15 meters (50 feet) high and 12 meters (40 feet) wide.
Sights: Besides the Great Wall, there are some sites located at the foot of the Shuiguan, including Stone Buddha Temple, Genghis Khan Palace, and Luotuo Peak (Camel Peak). Not far away there is a section of one of China's earliest railways.
Travel Essentials
When to go
The scenery of the Great Wall varies with the seasons and each season has its pros and cons. Click here for what you can expect on the Great Wall near Beijing.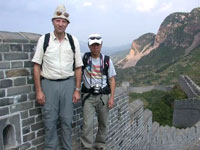 See the top sights of Beijing, including the Great Wall at Mutianyu.
Includes Mutianyu, Gubeikou, Jinshanling, Simatai and Huangya Pass.
See the top sights of China's Golden Triangle, including the Great Wall at Mutianyu.
Transport
The Shuiguan Great Wall is located 40 kilometers (25 miles) northwest of Beijing. China Highlights use high-quality air-conditioned private transport to take the hassle out of getting to the wall.
What to Wear
Dress for hiking and dress for the weather. Choose comfortable footwear with good grip and support for the feet. Layers of clothes that can be taken on and off allow for greater comfort and temperature control.
Wear/bring sun protection in the summer and dress for sub zero temperatures in the winter. It can feel much colder on the wall than down in the valleys because of altitude and exposure.

What to Bring
Bring breathable waterproofs for protection from rain and wind. Umbrellas may be used here as the ascents and descents are not difficult, but may be inconvenient in strong winds. Bring a camera and money for souvenirs and refreshments. Bring snacks and water if you want to walk a long portion of the wall.
Nearby Attractions

The Badaling Great Wall is only 2 kilometers (1.3 miles) away.
If you want to see more of the Great Wall near Beijing, see here for a list of the sections.
There are also many attractions to see in Beijing City.