Guangzhou Transportation
Guangzhou is the transportation hub of Southern China. The new Guangzhou Airport is an important International airport in China. Each day there are flights to all parts of China and some foreign countries. Guangzhou's highway system is also well developed. The region's sprawling road can take visitors to the whole country. There is also good water transportation system in which the Huangpu Port is a very important large port in Southern China.
Check out Guangzhou - Shenzhen transportation, Guangzhou - Hong Kong Transportation, Guangzhou - Zhuhai - Macau Transportation and Wuhan - Guangzhou transportation.
Guangzhou is an important transfer station during a journey to China. Travelers flying to Guangzhou may need to wait around half a day or one day before boarding their next flgiht. and then you can check out how to spend this half day or one day in Guangzhou.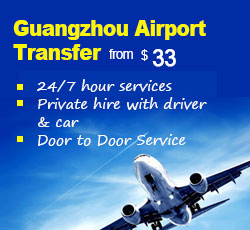 Guangzhou Airport Transfer, from $33 p/p
Guangzhou Baiyun Airport is 6 kilometers (about 4 miles) from Guangzhou urban area. In China, the passenger throughput of Baiyun Airport is only ranked after Beijing Capital Airport. Besides airlines to every part of China, there are 16 international air lines linking Guangzhou with Los Angeles in the USA, Amsterdam in Holland, Sydney and Melbourne in Australia, Osaka and Tokyo in Japan Paris in France, Seoul in South Korea, Lagos in Nigeria and South and Southeast Asian countries (including Vietnam, Laos, Burma, India, Singapore, Malaysia and Indonesia). It costs about 30 minutes taking a taxi from urban area to the airport costs, and the fare is about 20 yuan. Shuttle bus is also available, costing 3 yuan per person, and the shuttle bus sets out when the bus is full. Check the timetable of the airport shuttle buses or book a flight ticket.
There are five railway stations in Guangzhou: Guangzhou Railway Station, Guangzhou South Railway Station, Guangzhou East Railway Station, Guangzhou North Railway Station and Guangzhou West Railway Station. Guangzhou Railway Station is in Huanshi Road (环市路), and it is the largest and the most important station in Guangzhou, at present. Trains departing to Beijing, Wuhan, Nanjing, Chengdu, Chongqing, Xi'an, Lhasa and many other cities in China. Read more.
There is a developed highway system in Guangzhou. Guang-Fo(Guangzhou-Foshan) Highway and Guang-Hua Highway were put into use in succession. Now, there are about 20 big long-distance bus stations in Guangzhou including the major ones of the Provincial Bus Station, Fangcun Bus Station, Guangzhou Passenger Transport Center, Tianhe Bus Station and Yuexiu South Bus Station, offering plenty of coaches to different cities and counties in and out of Guangdong Province. Read more.
Guangzhou is located beside the Pearl River, and it is one of the most famous port cities in China. The Pearl River is the second largest navigable canal in China, only ranked after the Yangtze River. Passengers can take ship to Hong Kong, Macau and Haikou.
There are totally many ports in Guangzhou, including Humen Port, Xinsha Port, Huangpu Port, Nansha Port and many other inner ports. The ship routes links Guangzhou to hundreds of ports including domestic ports and abroad ports. Most of these ports are cargo ports. However, three ports provides service of passenger transport: Panyu Lotus Mountain Port provides high speed passenger liners to Hong Kong China Ferry Terminal in Hong Kong daily, Huangpu Port offers ships to Xiuying Port in Haikou and Nansha Port operates ships to Macau Maritime Ferry Terminal in Macau. Read more.
Jetfoil
Passenger also can take a jetfoil: a five-star Premier Jetfoil with exclusive and luxurious services of superb quality coming and going among Macau, Hong Kong, Hong Kong Internatinonal Airport, Shenzhen Baoan International Airport, Shenzhen Shekou Port and Guangzhou Nansha Port. The newest five-star Premier Jetfoil is equipped with the latest LED lighting system, top- quality Samsung onboard entertainment system, VIP Cabin which comes with a self-controlled air conditioning and lighting system and free WiFi service. Passengers of VIP Cabin can use the online meal reservation service, reserving on www.turbojetbooking.com 24 hours prior to sailing time for specified meal choice. Check out more information about jetfoil transport among Guangzhou, Hong Kong, Shenzhen and Macau.
City Transportation
Buses
In Guangzhou there are about 8,000 buses, most of which are air-conditioned buses. Hence the ticket fare is different: 1 yuan for common buses, and 2 yuan for air-conditioned buses. In addition, ticket fare for some buses run pass collage town, Luoxi Bridge and Yongzhou Ridge is 3 yuan. These buses are mostly available from 06:00 to 22:00.
For passengers' convenience, Guangzhou also equipped with night buses (Night 1–Nigh 41), most of which are available till 01:50 in the night and some of them even run overnight. Ticket fare (for the distance under 21.5 kilometers or about 13 miles) is 1.5 yuan per person for common buses and 3 yuan per person for air-conditioned buses, and that for the distance above 21.5 kilometer is 2.5 yuan and 4 yuan orderly.
Taxis
At present, Guangzhou has about 16,000 taxies but demand is also huge particularly during peak hours from 8 am to 9 am and at lunch and dinner. Taking a taxi follow the principles of "marked prices": The flag down fare is 7 yuan for the first 2.3 kilometers, and it is 2.6 every additional kilometer after that.
Subway
Guangzhou's subway network covers much of the city center. The ticket ranges from 2 Yuan to 12 Yuan. Currently, Lines 1 and 2 are the most useful to tourists, because these two lines run east-west and north-south respectively across the city center.
Questions and Answers About Guangzhou Transportation
said salem
2014-03-12
Show Answer
hi i''ll visit Guangzhou in spring canton fair i book in xin yue xin hotel in 329 huanshi road which bus go there and where is bus station in guangzhou air port
Hi Said, sorry, I don't know which bus go to your hotel. Please consult your hotel for this information. There is no bus station in Guangzhou Airport. But there is a Metro Station.
Whitney Liao replied on 2014-03-14
Teresa
2014-03-12
Show Answer
What is the best way to go to chimelong hotel from the airport ?
Hi Teresa, I suggest that you take a taxi from the airport. Whitney Liao replied on 2014-03-14
Louise
2013-07-25
Show Answer
I''m changing trains at Guangzhou to get to hong kong, how long will I need to transfer? I''m not sure how big the station is or how long I will need for exit formalities. Thanks
Hi Louise, sorry, I don't know. It depends on the number of passengers. The station is quite big, but the number of passengers are unstable. Maybe you need 1-2 hours for transfer.
Whitney Liao replied on 2013-07-25
Julie Fong
2013-07-12
Show Answer
Hi Lynn, I plan to travel to Guangzhou for 4 nights after my visit to Hong Kong (will stay in YMCA Salisbury HongKong) in January 2014 with another 3 adult children. What is the best transportation to go to Guangzhou? If we go by train to reach Guangshou east Railway Station, how do we go from the staion to Beijing Road?
Dear Julie, The easy and cheap way is to take a train from Hong Kong to Guangzhou east railway station. It takes about 2.5 hours. From Guangzhou east railway station to Beijing Road, it is about 10 km. You could take a taxi to get there directly, it costs about CNY40/US$6.5 per car. Or you could take Line 1 subway from Guangzhou east railway station to Gongyuanqian station which is about 500 meters from Beijing Road. Lussie Lu replied on 2013-07-13
francesco
2013-06-05
Show Answer
Good morning, I would like to know if there are long-distance direct BUSES from Beijing to Guangzhou and if it is a valid alternative to train. Thank you! Francesco Moro, Padova, Italy
Hi Francesco, their are no buses from Beijing to Guangzhou, but there are lots of trains.
Whitney Liao replied on 2013-06-08
April Offer $25 Coupon
Send your inquiry before Apr. 30, 2014, and we will email you a $25 coupon.
The coupon is valid till Dec. 31, 2014, for paying tour packages worth $250 or up.
The coupon cannot be used for paying flight tickets, train tickets, hotel rooms and day trips.
Travel Advice or Question? Ask us here

China Highlights