Tibet Weather in May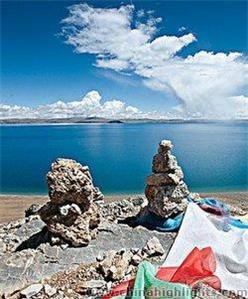 Beautiful scenery of Lake Namtso in May
Weather: In May, expect bright sunshine and dry cool weather. The monsoon doesn't start till summer, and Mt. Everest is especially clear. Eastern Tibetan attractions are generally accessible.
Spring in Tibet don't really start until May when the ice begins to melt and trees and grass starts to turn green. It turns much warmer in Lhasa. The minimum temperature is 5 °C (41 °F), and the maximum temperature is 19 °C (67 °F).
Clothing: Around Lhasa, light winter clothes are still needed. The high altitude dry weather means that it feels warmer than the temperature. Bring lighter clothing also. Sunglasses and suntan lotion are needed to protect against the glare and strong ultraviolet light.
Things to do: See the attractions in Lhasa, and travel outside Lhasa (elevation 3,490 meters (11,450 ft)) along the Friendship Highway such as Kathmandu, Shigatse (elevation 3,900 meters), and Gyantse (elevation 3,100 meters). Go up to higher altitude mountain areas such as Yamdrok Lake. It is wise to spend at least a few nights in Lhasa to acclimatize before heading to higher elevation places along the Friendship Highway.
The Saga Dawa Festival falls on April or May or June depending on their lunar calendar. At the foot of Mt. Kailash near Kailash Kora in western Tibet, there is a big flagpole raising spectacle.
High Season: May is part of Tibet's high travel season. Chinese tourists come in during their May Day vacation period that starts on May 1. Let us help you obtain tickets for trains and flights, and plan your personalized spring tour of Tibet.
Tibet Weather by Month
Questions and Answers About Tibet Weather in May
NMary
2013-05-05
Show Answer
Avg. temperatures in Hartford CT in June
Dear NMary, I regret that I am not familiar with the situation about Hartford CT. I only found the average temperature in a week. It will be 11-23℃(51.8-73.4℉), it will be rainy. In June, I think you could take some shirts and T-shirts. Lussie Lu replied on 2013-05-05
April Offer $25 Coupon
Send your inquiry before Apr. 30, 2014, and we will email you a $25 coupon.
The coupon is valid till Dec. 31, 2014, for paying tour packages worth $250 or up.
The coupon cannot be used for paying flight tickets, train tickets, hotel rooms and day trips.
Travel Advice or Question? Ask us here

China Highlights