Tibet Weather in April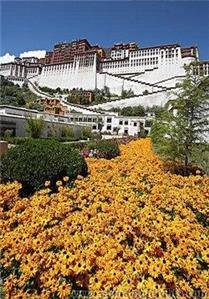 Beautiful scenery of Potala Palace in April
Weather: In April, the weather continues to warm up. In Lhasa the minimum temperature is 1 °C (34 °F), and the maximum temperature is 16 °C (60 °F). It is sunny, dry, cold and windy in Lhasa. You can start to places inaccessible in the winter. The weather in eastern Tibet is generally fine for travel.
Clothing: Generally, winter clothes are still needed. Sunglasses and suntan lotion are needed to avoid the glare and strong ultraviolet light.
Things to do: See the attractions in Lhasa, and travel outside Lhasa (elevation 3,490 meters (11,450 ft)) along the Friendship Highway such as Kathmandu, Shigatse (elevation 3,900 meters), and Gyantse (elevation 3,100 meters). It is wise to spend at least a few nights in Lhasa to acclimatize before heading to higher elevation places along the Friendship Highway.
A scenic highlight of the months of April and May is the relatively clearer view of Mt. Everest.
Be aware: Travel to high altitude areas to the north and the far west may still be restricted. Traveling to such places may be unadvisable due to weather conditions.
Low Season: If you don't like crowds of tourists, it is one of the best travel months. April is part of Tibet's low travel season. However, tickets for trains and flights are usually available. Hotel rates are also more reasonable. If you are planning to visit Lhasa in March, you can save a lot of money. Let us help you plan a personalized spring tour of Tibet.
Tibet Weather by Month

China Highlights