Itinerary
Day 1
Arrive in Chengdu, Flight not included
Airport Transfer (Chengdu)
Day 2
Wangjiang Park, Jinli Old Street, Sanxingdui Museum in Guanghan
Wangjiang Park (1.5 hours): Wangjiang Park is located two kilometers east of Chengdu, on the south bank of the Jinjiang River. The park is renowned because the famous poet, Xue Tao (768-831), once lived here. She originally came from Chang'an and later moved to Chengdu with her father. And also famous for it's Bamboo.

Jinli Old Street (1 hour): Once the commercial heart of the old kingdoms this ancient street has been fully restored in traditional Sichuan style. Picturesque, bustling, and cheerful, you can sample local arts and craft, traditional Chinese goods, food and delicacies, and even a Starbucks, local style.

Sanxingdui Museum in Guanghan (2 hours): Founded in 1992, this museum occupies an area of 7000 square kilometers, and has a exhibition of the cultural relics excavated from No1 and No2 sacrificial pits of Shang Dynasty (from 16th-11th century B.C.). There are thousands of pieces of invaluable relics such as bronze ware, jade ware, gold ware, pottery, and bone ware on the exhibition, where you can get a closed look and learn more about the ancient China.
Day 3
Bifeng Valley Panda Centre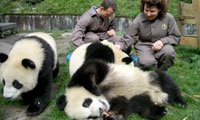 Bifeng Valley Panda Centre (2.5 hours): Bifeng Valley is a new home to Giant pandas after the earthquake in 2008. The center is one of the best places to see panda with refreshing air and luxuriant bamboo. Now there are about 20 pandas in the center. A Panda Volunteer Program is provided. Some of the tasks that volunteers may do include feeding the pandas or helping the panda take a cool bath (extra fee requires). The Valley is also a tourist attraction with integration of leisure, holiday- making, and recreation.
Day 4
Hotel to airport Transfer (Chengdu)
Depart Chengdu, Flight not included