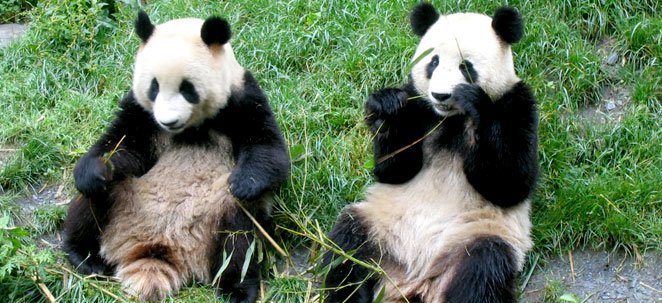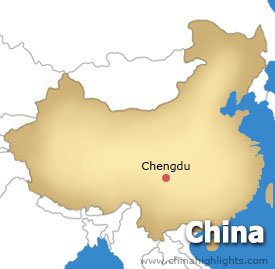 Itinerary
Your private guide will pick you up at your arrival station or airport, and your professional driver will transfer you direct to your hotel. They will help you check in. What you only need to do is sitting back and relaxing.
Day 2
The Sanxingdui Museum, Jinli Ancient Street, and Wangjiang Park Tour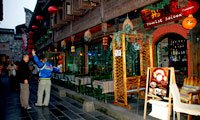 You will set off to Sanxingdui Museum this morning, escorted by your private guide and driver. The drive takes about 1 hour. This museum is constructed based on city ruins with thousands of years' history. Covering an area of 12 square kilometers, the museum exhibits lots of historical relics unearthed there, including the 2.62-meter-high bronze man, 3.95-meter-high bronze tree, and many other rare treasures.
Lunch is at a Chinese restaurant serving Sichuan-styled dishes. You can ask for dishes cooking with less chili pepper or without pepper.
After lunch you will start your Chengdu urban area discovery to Wangjiang Park and Jinli Ancient Street. Located on the south bank of the Jinjiang River, the Wangjiang Park was used to be place of where the former residence of a famous female poet Xue Tao (768—831) was located. The verdant bamboo forest there is another highlight. Jinli Ancient Street was once the commercial heart of the old kingdoms, and it has been fully restored in traditional Sichuan style. Picturesque, bustling, and cheerful, you can sample local arts and craft, traditional Chinese goods, food and delicacies, and even a Starbucks built with local style.
Day 3
The Bifengxia Giant Panda Base Tour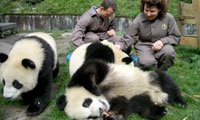 After being picked up from the hotel, it takes about 3 hours to drive to Ya'an Bifengxia Panda Breeding Center. This is the world's largest giant pandas base and the best place to see giant pandas in the natural environment they inhabit.
Upon arriving, check in at the local hotel and lunch; and then visit the Giant Panda Breeding Center. Meet your mentor who is one of the keepers at the center. A work uniform will be issued which allow entry to the garden at any time. The mentor and guide will give a full introduction of the pandas.
Kind reminder: A physical examination is required if you apply the Panda Volunteer Program. Please contact your trip advisor for the details.
Day 4
The Bifengxia Panda Breeding Center Volunteer Experience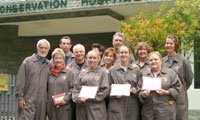 Today you will spend a full day for Giant Panda volunteer work experience at this world's largest giant panda base. With the help and instructions of the mentor, you will clean the pandas living areas or feed the panda. Work is from 8:00 to 12:00 and from 14:00 to 17:20.
Kind reminder: Schedule may change in the event of unforeseen circumstances. Pandas have their own behavior and life style. Some of your keeper work may change as not to disturb their peaceful life. We hope you understand.
Your private guide and driver will help you check-out and transfer you to your station or the airport on time. They will assist you with your luggage and check in to ensure that you will have a stress-free departure. We trust that you have enjoyed your time in China and we look forward to serving you again.