Top Five Tips for a First Trip to China
China is a vast and interesting country. Are you planning your first travel to China? This article can give a general understanding of the language barrier, tourist itinerary, weather, bargaining , and food culture for your first trip to China.
Contact us to have us design a customizable tour for you, which will allow you as much time as you want for tasting delicious Chinese food, experiencing traditional Chinese food culture, and even making Chinese dishes after you have seen the sights.
1. Break the Language Barrier
The language barrier should be the number one hurdle to overcome for a foreigner when traveling to China. In fact, many Chinese people begin learning English in their primary schools (especially the generation after the 80s and 90s in urban areas); therefore, if you speak English clearly and slowly, you will not have a difficult time finding help in urban areas.
However, the language barrier is still completely impenetrable at times, because travelers might not always count on finding someone speaking English. Here, China Highlights has listed several tips for overcoming the language barrier when traveling to China.
Learning Chinese before you arrive in China will give you more confidence. Chinese Mandarin (普通话 /poo-tong-hwah/) is a default language in almost every part of China.
China Highlights has developed a few pages to help you learn learning some simple but practical Chinese, and included a video to show you how to ask for directions, and eat in a Chinese restaurant.
2. Focus Your Tourist Destinations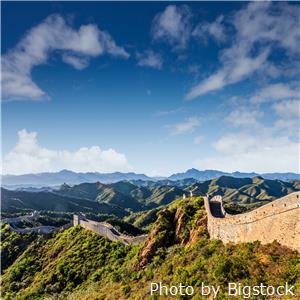 The Great Wall
China is vast and contains spectacular natural landscapes and cultural landscapes, including the world's highest mountains, some of the world's largest deserts, massive grasslands, graceful karst landform along the Li River, numerous historical sites, and distinctive ethnic villages.
For travelers to visit al ofl the essences in China in several days is impossible.
For a first trip to China, the most recommended tourist destinations are Beijing, Shanghai, Xi'an, and Guilin.
Beijing: China's capital city of Beijing has numerous world-class sites. There, you can climb one of the eight wonders of the world, the Great Wall, visit a grand imperial palace, the Forbidden City, enjoy a massive place of heaven worship, the Temple of Heaven, and see the Summer Palace, one of the most famous of China's four gardens.
Experience ancient old Beijing life by walking along the hutongs.
Shanghai: China's largest and modernist cit, Shanghai has historical sites (Jing'an Temple, Jade Buddha Temple, and Yuyuan Garden), modern architectures (Jinamo Tower, Oriental Pearl TV Tower, and Shanghai World Finicial Center), and elegant water towns (Zhujiajiao Water Town). Shanghai is near Hangzhou (only 41 minutes by bullet train), and you can extend your Shanghai tour to Hangzhou, to visit the renowned West Lake.
Xi'an: The birthplace of Chinese culture, Xi'an has plentiful historical sites and ancient architectures, including the Terracotta Army, the Ancient City Wall, and the most challenged mountain: Mount Hua.
Guilin: Guilin has one the world's most beautiful national parks, the Li River Scenic Area which offers graceful watery wonders with karsts, limestone cones, cylinders and hills. In Guilin's Longji Rice Terraces, enjoy the magnificent rice terraces and experience the customs of the Zhuang and Miao minorities.
3. An Itinerary Designed for Annual Weather Patterns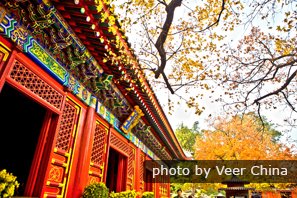 The Autumn Colors in Beijing Fragant Hill Park
China has the greatest range of weather of any country on the planet. Because climate conditions vary widely from region to region, travel to China's tourist destinations based on their weather and the best times to travel. The following information contains an itinerary designed for the annual weather experienced in most of China's popular destinations.
January: North China (Harbin and Jilin). The Harbin International Ice and Snow Festival is held from January 5 to February 5 every year, when you can appreciate ice sculpture almost everywhere in Harbin. Appreciating the wonder of rime in Jilin and skiing in North China are two other recommended things to do.
February: Hainan Island. Most of China's tourist locations are still chilly in February. However, Hainan embraces its visitors with warm sunshine, coconut graves, and a leisurely bay.
March: Regions south of the Yangtze River. Spring flowers appear and it drizzles at times, making the regions of Shanghai, Yangzhou, Suzhou, and Hangzhou more graceful and more worthy of a visit.
April: Guilin, Xi'an, and the Yellow Mountains. April is a moth for appreciating blossoms; any location with blossoms is a great tourist destination. Visiting Guilin during April lets you appreciate the peach blossoms and enjoy the unique karst landforms which are decorated with verdancy along the Li River.
May: Yunnan Province (Shangri-La, Lijiang, and Kunming) is a place where you can retrace the ancient life, enjoy clean blue skies, visit mysterious Tibetan monasteries, and appreciate prosperous azaleas and massive snow-capped mountains.
June: Zhangjiajie. The highlights in Zhangjiajie are peculiar hills (the prototype of Hallelujah Mountain in Avatar originated there) in the Wulingyuan Scenic Area, and the challenged toughened glass cliff path of Tianmen Mountain.
July: Dalian, Qingdao, Weihai, Yantai, and Long Island. Coastal cities are nice choices for a cool tour during China's hot summer. Notice that Qingdao holds an international beer festival every year in mid-August.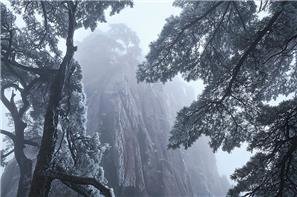 The Snow Scenery of the Yellow Mountains
August: Tibet. Take an adventure tour to Tibet, visit the magnificent Potala Palace, horse around on the vast grassland, and pay a visit a local family for a memorable experience.
September: Xinjiang and Beijing. The melons and fruits in Xinjiang are ready to taste in September, and the weather cools down in this month.
October: Jiuzhaigou. The whole Jiuzhaigou Scenic Area is decorated with colorful trees, including golden, red, blackish green, and yellow, which are reflected on light blue pools.
November: Guizhou. One of Miao's most ceremonious festivals, the Lusheng Festival, is held this month. Visiting the Miao villages which are near hills and by rivers, and experiencing the colorful Miao customs, can help you better understand the Miao minority. The weather in November around Beijing is cool and comfortable.
December: Hong Kong. December marks the peak discount season, and shopping during this month can save you a lot of money and is enjoyable.
Recommended tour for first-timers: Eight-Day Essence of China Tour
4. Bargaining in Chinese
You will come across many vendors selling souvenirs or food at almost every tourist destination in China, and they may 'stick' to your hands. If you are not planning to buy any of these things, do not ask about price. If you do ask, the vendors may follow you for a long way. Generally, when you are bargaining, cut prices by 2/3.
Here, China Highlights teach you some simple Chinese for refusing and for bargaining. Remember, saying these words with warm smile is recommended. Pretend that the goods are dispensable to you when bargaining with a vendor.
If vendors do not accept your price, pretend to leave and refuse to buy their goods. They might call you back and sell to you at your price (time for practicing your acting skillJ).
不要了, 谢谢 (búyàolē, xièxiè): No, thanks.
这个多少钱 (zhègè duōshǎo qián): How much is this?
太贵了 (tàiguì lē): It is too expensive.
少点吧 (shǎodiǎn bā), or 便宜点 (piányì diǎn): Can you come down a bit?
5. Tasting Chinese Food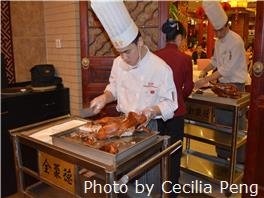 Roast Duck
China has a profound food culture. Every region in China has a distinct style of cooking. For first-timers to China, China Highlights suggests that you not miss the roast duck in Beijing (北京烤鸭), steamed pork buns in Shanghai (上海灌汤包), dumplings and Chinese hamburgers in Xi'an (西安饺子&肉夹馍), and Guilin rice noodles (桂林米粉). Learn how to use Chinese chopsticks.
Try the street snacks: Some tourists might be reminded to avoid the street snacks. However, the street snacks are often the best features of a city's culinary experience.
For example, try Beijing's egg cakes, which are only found in morning for breakfast and priced at only 5 yuan for each. Guilin's barbecue stands are, only found in the evening and each string cost about 1 or 2 yuan.
China's cuisines are divided into approximately eight categories that represent eight distinct regional cuisines. Moreover, the country offers a lot of fantastic food. We have listed some them below.
Exploring Food (food is cooked in unique ways)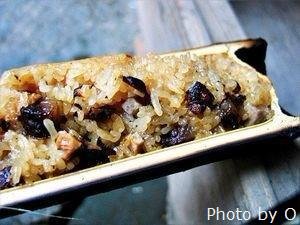 Bamboo Rice
Bamboo rice (竹筒饭, zhútǒng fàn): Put rice, meat, and some water into a section of green bamboo, then heat the bamboo in a charcoal fire. The dish is very fragrant from the aroma of the bamboo and the food.
Five-colored sticky rice (五色糯米饭 wǔsè nuòmǐfàn): The classical food of Zhuang people. During every Qingming Festival, the Zhuang worship their ancestors with stick rice cook in five colors: black, red, yellow, white, and purple.
Strong-smelling preserved bean curd (臭豆腐, chòudòufū): The food is really smelly, but it tastes verly good. The strong-smelling preserved bean curd in Changsha is the most famous through out the country.
Food for the Brave
You might never hear that these are edible food; many Chinese people cannot accept these types of food.
Bee pupa (蜂蛹, fōng yǒng): Frying and stir-frying are the main ways to cook bee pupa.
Snake meat (蛇肉, shéròu): Cantonese and Hong Kong people are very found of snake meat. Making soup is the most popular way to cook snake meat.
Dog meat (狗肉, gǒu ròu) and cat meat (猫肉, māoròu): Dog meat and cat meat are often cooked in a hot pot. In China, eating dog meat is more common than eating cat meat.
The Crazy Food
These kinds of food are crazy and cruel, and most Chinese people do not see or try them.
Pig brain (猪脑, zhūnǎo): Steamed clean pig's brain with walnuts is believed to improve nutrition to people's brains. This dish is not very crazy in China.
Spider (蜘蛛, zhīzhū), black beetle (蟑螂, zhāngláng), chilopod (蜈蚣, wúgōng), scorpion (蝎子, xiēzǐ) and grasshopper (蚱蜢, zhàměng): These small animals are often fried and eaten, and are not common in China. You might come across these dishes in regions inhabited by ethnic groups.
Monkey brain (猴脑, hóunǎo): This might be the cruelest dish in the world!!!! China has abandoned the food for legal and moral reasons.
Related Links

China Highlights
Questions and Answers About Top Five Tips for a First Trip to China
riyaz
2013-09-12
Show Answer
Hi I m riyaz from india I m a muslim and planning to visit Shanghai and Beijing for 10 days. Actually I m planning to import cars accessories. So could I find car accessories in china in wholesale price? Plz help
Hi,
We are a tour agency on line and I am sorry we do not know any information about the car accessories.
When would you come to China? If any tour enquiry in Shanghai and Beijing, just feel free to let us know.
Regards,
Coco
Coco Yang replied on 2013-09-16
mainak mukherjee
2013-05-30
Show Answer
at shanghai now,can you organise cheapest short trip on sat,sun for 2 days
Hi mainak, no problem to arrange it. How many people will travel with you and what kind of hotel would you like to stay in, please?
Whitney Liao replied on 2013-05-30
Helen
2013-04-10
Show Answer
HiWe are planning a trip to China in July and will be visiting 3 places Beijing, xian and shanghai. There will be 4 adults in our group and we would like an idea of cost to hire a driver/car for a couple of days in each city to view the tourist thingHope you can helpHelenWe will be arriving in Beijing on the 7 July 2013
Hi Helen, no problem to arrange the a van & driver for you in each city. Do you need an English speaking tour guide? Our driver cannot speak or understand English. What attractions in each city would you wish to visit, please? And how many days will you stay in China? Do you need us to arrange hotels for you? If yes, what class: 3/4/5?
Whitney Liao replied on 2013-04-12
David Young
2012-11-02
Show Answer
Hi, we are a family of 4 and we are UK nationals. What are the visa requirements for us to travel to mainland China and Hong Kong? We are thinking of doing a trip in July 2013.
Dear Sir or Madam, In general, you need a tourist visa. There are some information about visa on our website. Please click: http://www.chinahighlights.com/travelguide/visa-application/ We don't apply China visa for our clients, I suggest ask the details from China Embassy in your country. Here is their official website: http://www.chinese-embassy.org.uk/eng/ Lussie Lu replied on 2012-11-03
ms chong
2012-10-18
Show Answer
5 days tour to shannghai & suzhou
Hi Ms chong, glad to arrange this tour for you.
In order to give you an accurate quotation please answer a few questions so that we can construct an itinerary that gives you what you want at the best possible price.
1. Number of people in your group including yourself / any children / how old if any
2. City or cities of entry/exit
3. Start date of Tour
4. Class of Hotel: 3/4/5 star
5. Estimative total budget per person.
After getting further information from you, we will send you a tentative itinerary.
Whitney Liao replied on 2012-10-18
April Offer $25 Coupon
Send your inquiry before Apr. 30, 2014, and we will email you a $25 coupon.
The coupon is valid till Dec. 31, 2014, for paying tour packages worth $250 or up.
The coupon cannot be used for paying flight tickets, train tickets, hotel rooms and day trips.
Travel Advice or Question? Ask us here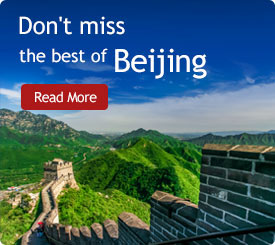 The Most Popular Articles
The Latest Travel Articles