What to Pack for a China Trip?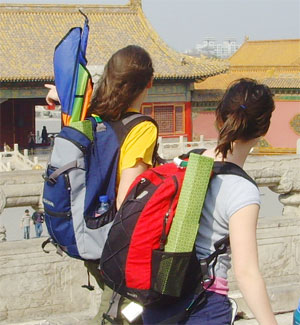 We advise travelers to pack as slightly as possible as most travel necessities can be bought at your destinations in China.
Read senior travelers, women travelers, students travelers, and traveling with kids for more helpful tips.
The packing list
The passport with all necessary visas and travel documents. We recommend that a copy of all documents be kept separately to the original documents in case original document are lost. Copies are very useful for identification purposes.
Casual outdoor clothing depending on the time of year that you travel and your destination. A pair of good walking shoes is necessary. Most tours involve plenty of walking, sometimes on hard or uneven surfaces and stairs.Many attractions are also quite exposed to the weather – sun, wind, rain etc; for example the Forbidden City has many large open spaces, and many of the Temples have large courtyards between their halls and pagodas.
'Carry On' luggage for air travel in China is limited to 2 pieces for first class travelers and one piece for business and economy class travelers. The dimensions of each shall not exceed 20X40 X55cm and the total weight of the above two pieces shall not exceed 5 kg. The carry on items in excess of the above mentioned shall be checked-in as checked baggage according to regulations.
Wallet.
Credit cards.
Traveler's checks.
Airline, Cruise or Train tickets
First-aid kit
Medicine and vitamins.
Hat, Sunscreen, lip creams and sunglasses, depending on the season and your destination. If you will go to places with high elevation such as Tibet, parts of Sichuan, Yunnan and Xinjiang provinces, these items are vital to protect your skin and eyes as the high altitude and the thin atmosphere allows the sun's solar radiation to strike the earth with unusual intensity.
Address and telephone number list. A list of e-mail addresses, mailing addresses and telephone numbers will help keep you in touch. Type them onto a sheet instead of taking a your whole address book. It will save weight.
Itinerary with confirmation numbers and addresses and phone numbers of the places you'll be staying.
Insect repellent. Especially for summer months and for travelers who are visiting rural areas.
Do not bring expensive jewelry and watches.
Medical records, daily necessities such as bathroom requirements are readily available throughout China and you may wish to save space by purchasing these items while you travel.
If you are taking a more adventurous trip, it's a good idea to take your own silk sleeping bag liner and lightweight travel towel along with a reasonable supply of tissues, torch, personal toiletries.
Chargers for your mobile phone, digital camera etc. An electrical transformer could be useful. China uses 220V electricity for 110v devices cannot be used on this system.
China Highlights
Questions and Answers About What to Pack for a China Trip?
Marg
2013-04-24
Show Answer
Coming from Canada,I have purchased an adapter plug.How does the voltage compare?Can I just plug my camera charger into the adapter plug and that is it?
Hi Marg, the voltage compare is 220V. You can use it, no problem.
Whitney Liao replied on 2013-04-26
Babi
2013-03-20
Show Answer
Hi, what are the options to make international calls from China? Can I get a mobile phone and mobile connection for ISD calls easily?
Dear Babi, Different company provide different rate, if you need to rent a cell phone, our company can do it. Please click here to reise the details and book it on line directly. Please click: http://www.chinahighlights.com/travelguide/phone-rentals/ We also could provide wi-fi rental service, click: http://www.chinahighlights.com/travelguide/wifi-rentals/ Lussie Lu replied on 2013-03-21
daniel
2013-03-03
Show Answer
Hi! Hope all is well. I am going to Chenjiagou to train at a Taiji Academy for 3 weeks. I arrive at Zhengzhou airport at around 11PM April 2nd. Will there still be buses/taxis running at this time? What is the best way to get from the airport to Chen Village? Are there special buses or shuttles? Any assistance would be greatly appreciated! Thank you.d.
Hi Daniel, they may not be any buses/taxies available at that time. And there are no special buses or shuttles to Chen Village. You can rent a car to get there.
Whitney Liao replied on 2013-03-07
Whitney, ni hao! Thank you for responding. I guess I may have to stay the night in Zhengzhou. If I can grab a taxi from the airport at that time, I will. I understand that Chenjiagou is about 3 hours away from the airport, although a new bridge over the Yellow River cuts the trip in half. Would you know how much this ride would cost approximately? Thanks again! :-) guest replied on 2013-03-07
Hi Daniel,sorry, I really don't know the price. It is not calculated by miles. You have to negociate with the driver. I think it would be more than CNY1,000. Whitney Liao replied on 2013-03-14
munga
2013-01-18
Show Answer
am planing to visit guangzhou soon can u help me to know where to shop computer accesories at wholesale price
Dear Munga,
You can try to take subway No. 3 to Gangding stop, the biggest computer shops are around that area. These ones are the most famous ones for your reference---太平洋电脑城、百脑汇电脑城、颐高数码广场、总统数码港. Good luck shopping!
Candy Wei replied on 2013-01-19
April Offer $25 Coupon
Send your inquiry before Apr. 30, 2014, and we will email you a $25 coupon.
The coupon is valid till Dec. 31, 2014, for paying tour packages worth $250 or up.
The coupon cannot be used for paying flight tickets, train tickets, hotel rooms and day trips.
Travel Advice or Question? Ask us here