Top 5 China Ski Resorts
Despite the fact that China's ski resorts are still relatively unheard of among foreign tourists, the ex-pat community living here, especially the British, Australians and Americans, have long since discovered that China not only has some decent ski slopes, but that the slopes are in fact a fun place to meet others, and of course ski gear can be rented on site. Below is detailed information of China's Top 5 ski resorts. See China Highlights' ski tours if you want to combine your China tours with some skiing activities.
Also read top ski resorts in Beijing.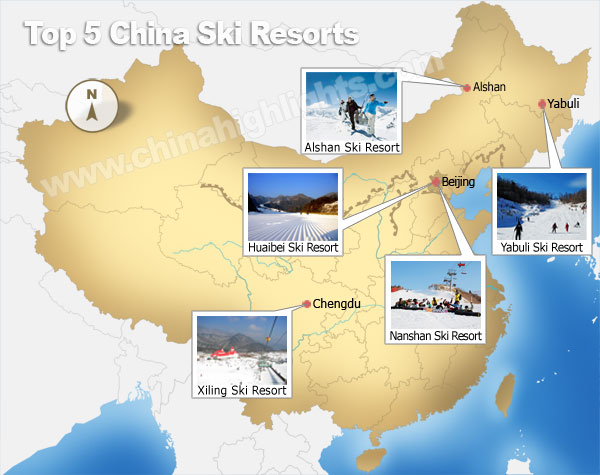 1.

Yabuli Ski Resort - the Largest Ski Resort in China
Ybuli Ski Resort
Location: Heilongjiang Province in northeast China.
Season: Mid November. - Late March
Trail vertical drop: From 200m to 1200m with the average drop of 700m
Skiing Market: suitable for all particularly for those experienced skiers.
More information about Yabuli Ski Resort
Features: ski glade surrounded by the Great Wall
Location: 70 kilometers from downtown Beijing (about 1 hour's ride) in the Jiugukou (Nine Valleys Pass) Natural Scenic Area.
Season: December to March
Lift: 4
Trail: 6
Skiing Market: beginners
More information about Huaibei Ski Resort
Features: The best and largest ski resort close to Beijing.
Season: Mid December to March
Location: 62 kilometers away from Beijing.
Trail: 10
Ski Board: Yes
Skiing Market: suitable for all
More information about Nanshan Ski Resort
Check out more about top ski resorts in Beijing.
Features:China's best alpine ski resort.
Season: Mid December to March
Location: At Xiling Snow Mountain 120 kilometers away from Chengdu in Southwest China's Sichuan Province.
Highest mountain: 5364 meters
Trail: 7, 10 kilometers in length
Skiing Market: suitable for all
More information on Xiling Ski Resort
Features: Resort surrounded by forests
Season: November to April
Location: On the border of Inner Mongolia in China and Mongolia itself, 3-4 hours by bus/train from Ulanhot.
Skiing Market: Suitable for skiers of every level.
More information about Alshan Ski Resort

List of Major Ski Resorts in China

China Highlights
Questions and Answers About Top 5 China Ski Resorts
Nicole
2013-11-05
Show Answer
Hi, which is the nearest ski resort to Nanjing, Suzhou or Hangzhou?
PEDRO VILLA
2013-11-03
Show Answer
can u tell me how much is da cost at the largest resort for two people. plane flight as well.
Club Med Yabuli Resort is the one probably , the cost is about 1039$/per for 3 nights 4 days skiing tour , including accommodation. i can arrange the tour for you if are interested in.
the best time to visit Yabuli is January and Febuary.
Lily Guo replied on 2013-11-04
Yulia Blinova
2013-03-11
Show Answer
Hello,Will there still be any skiing resorts open close to Beijing on March 16-17th?
Dear Sir or Madam, I've asked some of ski resorts, they also closed business. Lussie Lu replied on 2013-03-12
Rahul
2013-01-25
Show Answer
I am planning a trip after vacation i.e. 18th February to shanghai and Zhengzhou for business. During the weekend where I can plan a short visit. I am travelling alone.
Hi Rahul, we are more than happy to help plan your China tour. Please kindly inform:
1. How long you will stay for each city
2. Class of hotel
3. Attractions you wish to visit
Then we will send you a detailed itinerary.
Whitney Liao replied on 2013-01-28
Eugene
2013-01-21
Show Answer
Hi, is nanshan ski still open till middle or late march? I am planning a trip for maybe the 2nd and 3rd week of March in 2013.
Hi Eugene, it is not available at that time. The snow melts in late February.
Whitney Liao replied on 2013-01-22
April Offer $25 Coupon
Send your inquiry before Apr. 30, 2014, and we will email you a $25 coupon.
The coupon is valid till Dec. 31, 2014, for paying tour packages worth $250 or up.
The coupon cannot be used for paying flight tickets, train tickets, hotel rooms and day trips.
Travel Advice or Question? Ask us here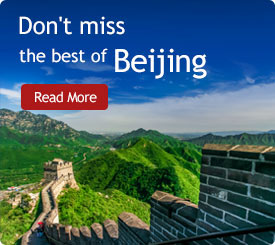 The Most Popular Articles
The Latest Travel Articles