Shopping in China
What to Buy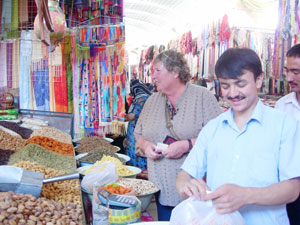 Most travelers want to take home some bargains or mementos. With so many options available, shopping can be time consuming, confusing and exhausting. The following tips may make it easier for you:
Don't buy everything in the first day or two. Each city has its own specialty. Some of the best buys are:
Beijing: Cloisonné; Fresh water pearls
Xi'an: Replicas of the Terra Cotta soldiers; Tangsancai ( Tang Dynasty hand painted China); Antique Furniture
Shanghai: Silk carpets
Hangzhou: Longjing Tea; Silk
Suzhou: Silk
Guilin: Scroll paintings; China Southern Sea Pearls
Yunnan: Mounted Butterflies; Pure tea; Dali Batik (tie-dyed fabric)
Xinjiang: Carpets; jade articles
Tibet: Thang-ka(tanka)(Sheep skin wall hangings)
Tips
Shopping Is Not Obligatory
Don't feel obligated to shop. Our guides offer shopping opportunities as a courtesy but if you're not interested, say so. Some of them may be quite enthusiastic, thinking this is what you want, so don't be embarrassed to tell them directly and immediately that you don't want to go shopping. You'll often find several attendants trying to help you make a purchase. This doesn't mean you have to buy; it's OK to say no, or just to look around.
Outside tourist spots or on the road, there might be some vendors who follow you and try to sell you something. If you are not interested, just ignore them and keep going. See Avoiding Tourist Traps.
Be Cautious of Fake Items
Shopping is great in China and you can expect to be able to buy many things at a much better price that at home. Please however be warned that if a bargain price for a world famous brand seems too good to be true…….. it probably is!
Antique buyers should know that many experts have been disappointed to find that their find of a lifetime is beautiful but fake. Antiques should be officially certified to be exported legally. The penalties are severe. Keep all receipts, certificates and official documents that are received when you purchase any antiques. Antiques are those items over 120 years of age.
Bargaining
Bargaining is a national pastime in China so you will find that most retailers except for department stores, large shopping malls will be prepared to bargain. Check out Smart Shopping - How to Bargain in China.
Prepare some small change for buying inexpensive stuff. Vendors are usually reluctant to find change for a 100 yuan note.
Import Restrictions
You should check the import restrictions in your home country as some items may attract tax on arrival in your home country, especially if it is mailed or shipped separately.
Q: Am I allowed to bring back purchased electronics to the USA in my luggage?
A: There is no problem in taking electronics back to the USA. You would need to consider excess baggage (if you intend to take a lot) and duty which would be collected by US Customs on entry. The passenger would need to check the duty free limit which each passenger is allowed. The passenger would also need to ensure the electronics are packed well to prevent breakage.
In addition, when you make the decision, you need to double check the electronics you buy can also work in the USA (voltage, etc.). You can also see customs and regulations page for more information.

China Highlights
Planning a trip? Ask us here 800-2682918 (USA & CA)
86-773-2831999 (Int'l)
Q:
Cas
Asked on 2013-09-01
Reply
Hi I am travelling to china in January, and I have a severe food allergy to shellfish and fish. Would it be impolite to have this information printed on a card to show waiters and food sellers.
Dear Cas,
It is totally no problem to let waiters and food sellers about your special request about food. Here, I write your special request in Chinese so that you can show them when you have meals. "您好,我对贝类和鱼类严重过敏,不能吃这些食物。谢谢!"
Nancy

Nancy Deng Replied on 2013-09-01

if you want buy from China,and am a chinese people,i suggest you check this website,they free return by no reason in 30days,their website accept paypal payment www.commodityocean.com, Emporio Armani watch casio watches,tissot watches,Louis Vuitton handbags,brand jewelry,herve leger bandage dresses,sex lingeries all from www.commodityocean.com guest Replied on 2013-11-27
Q:
sylvia
Asked on 2013-08-04
Reply
Hi.. Im planning on going to guilin and yangshuo next week. Need your opinions on how much can i bargain if i shop there? Especially at west street market (xie jie) . Around how many% from the price that the vendor / seller give? Thanks alot.
Dear We listed some tips about how to bargain in China for reference, I hope it is useful for you. Please click this link: http://www.chinahighlights.com/travelguide/article-how-to-bargain-in-china.htm Lussie Lu Replied on 2013-08-05
Q:
Al
Asked on 2013-07-09
Reply
Hey there...Leaving for China on the 15th....will visit Beijing, Xi''an, Dengfeng,Zhengzhou and Shanghai....What''s considered small change for me to carry for venders out side of the major shopping areas.....Also out side of the must see spots in each city (ie: great wall, terracotta warriors, etc) can you suggest some interesting places...I understand all will be interesting
Hi Al, Thanks for your inquiry.
The small change for you to carry for vendors can be 1/2/5/10 Yuan, some of those amount would be okay. For bigger amount of money, take 2-3 pieces of 100 Yuan would be good.
You are right. Each place would be interesting. E.g. the Shaolin Temple, the Great Wall, the Terracotta Warriors and Horses, the Oriental Pearl Tower, etc. I would like to make a proposal for your reference. In order to give you an accurate quotation please help me with below the information:
1. Number of people in your group including yourself? Any kids or elderly people?
2. Length of stay in China?
3. Entry/ Departing city?
4. Starting date of the tour?
5. Class of hotel: Economy / Deluxe / Superior?
After getting further information from you, I will send you a detailed itinerary, okay?
Whitney Liao Replied on 2013-07-10
Q:
ayman
Asked on 2013-05-26
Reply
this is my first visit to China. I''ll go to Beijing during next July. is it enough to visit only Beijing or do you have a recommendation to visit another city in china? I want to know the most famous and interesting cities to visit and also the most famous cities for cheap shopping for clothes, ... etc. What is the maximum money should appear in front of the seller during purchase. is it safe to leave the money and passport in the hotel.
Hi Ayman, Beijing, Shanghai, Xian, Guilin, Chengdu, Jiuzhaigou, etc. There are too many interesting places worth visiting in China. You don't have to present too much money in front of the seller. It is not safe either. Put all your money in your credit card it ok. Don't leave your money or passport in the hotel.
Whitney Liao Replied on 2013-05-28
Q:
Naeelah Vally
Asked on 2013-04-14
Reply
Hey! Might be going to China in July this year - my main aim of the trip is shopping! We will be living in Guangzhou, is that the right place to shop for clothing, shoes, jewellry, make up? Also, which website offers info about china or who do I ask for any info about halaal food etc? Thank you
Hi Naeelah, yes, Guangzhou is the right place. For shopping in Guangzhou, please check here:
http://www.chinahighlights.com/guangzhou/shopping.htm
For halal food, please check here: http://www.chinahighlights.com/guangzhou/restaurant.htm
Whitney Liao Replied on 2013-04-15