Shopping in China
What to Buy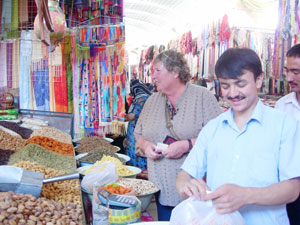 Most travelers want to take home some bargains or mementos. With so many options available, shopping can be time consuming, confusing and exhausting. The following tips may make it easier for you:
Don't buy everything in the first day or two. Each city has its own specialty. Some of the best buys are:
Beijing: Cloisonné; Fresh water pearls
Xi'an: Replicas of the Terra Cotta soldiers; Tangsancai ( Tang Dynasty hand painted China); Antique Furniture
Shanghai: Silk carpets
Hangzhou: Longjing Tea; Silk
Suzhou: Silk
Guilin: Scroll paintings; China Southern Sea Pearls
Yunnan: Mounted Butterflies; Pure tea; Dali Batik (tie-dyed fabric)
Xinjiang: Carpets; jade articles
Tibet: Thang-ka(tanka)(Sheep skin wall hangings)
Tips
Shopping is not obligatory
Don't feel obligated to shop. Our guides offer shopping opportunities as a courtesy but if you're not interested, say so. Some of them may be quite enthusiastic, thinking this is what you want, so don't be embarrassed to tell them directly and immediately that you don't want to go shopping. You'll often find several attendants trying to help you make a purchase. This doesn't mean you have to buy; it's OK to say no, or just to look around.
Be cautious of fake items
Shopping is great in China and you can expect to be able to buy many things at a much better price that at home. Please however be warned that if a bargain price for a world famous brand seems too good to be true…….. it probably is!
Antique buyers should know that many experts have been disappointed to find that their find of a lifetime is beautiful but fake. Antiques should be officially certified to be exported legally. The penalties are severe. Keep all receipts, certificates and official documents that are received when you purchase any antiques. Antiques are those items over 120 years of age.
Bargaining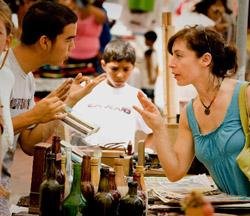 Bargaining is a national pastime in China so you will find that most retailers except for department stores, large shopping malls will be prepared to bargain. Check out Smart Shopping - How to Bargain in China.
Import Restrictions
You should check the import restrictions in your home country as some items may attract tax on arrival in your home country, especially if it is mailed or shipped separately.
Q: Am I allowed to bring back purchased electronics to the USA in my luggage?
A: There is no problem in taking electronics back to the USA. You would need to consider excess baggage (if you intend to take a lot) and duty which would be collected by US Customs on entry. The passenger would need to check the duty free limit which each passenger is allowed. The passenger would also need to ensure the electronics are packed well to prevent breakage.
In addition, when you make the decision, you need to double check the electronics you buy can also work in the USA (voltage, etc.). You can also see customs and regulations page for more information.

China Highlights
Planning a trip? Ask us here 800-2682918 (USA & CA)
86-773-2831999 (Int'l)
Q:
Naeelah Vally
Asked on 2013-04-14
Reply
Hey! Might be going to China in July this year - my main aim of the trip is shopping! We will be living in Guangzhou, is that the right place to shop for clothing, shoes, jewellry, make up? Also, which website offers info about china or who do I ask for any info about halaal food etc? Thank you
Q:
Purple
Asked on 2013-04-14
Reply
I plan to sell some chinese products as replica ice watch, bag. saroeng, scarf etc. Where do you think the best place I can get? Thanks.
Hi Purple, sorry, we are a travel agency. I don't know this business information.
Whitney Liao Replied on 2013-04-15
Q:
yasar
Asked on 2013-04-04
Reply
i am planning to buy wedding dress to my sister.can you please suggest some best shops,cheap shops/reasonable price shops near hengshan road.shanghai or anyother nearby locality.
Hi Yasar, sorry, we are a travel agency based in Guilin China. I don't have the detailed information for wedding dress shops in Shanghai. Please go there personally or consult some local people there. Nice day!
Whitney Liao Replied on 2013-04-10
Q:
Sanchit
Asked on 2013-03-30
Reply
Hello I''m planning to get a trip to china around june..I want to buy watches...Are there any places in china to get original watches and shoes too ?
Hi Sanchit, yes, Guangzhou and Shanghai are recommended.
Whitney Liao Replied on 2013-04-02

would there only be original watches available or copy watches would also be locally available? and please tell me the approx price guest Replied on 2013-04-09
Hi Sanchit, there are both original and copy watches available. Sorry, I don't know the approx price as we are a travel agency in Guilin, China. Besides, different suppliers have different price with different quality. Whitney Liao Replied on 2013-04-10
Q:
Geraldine
Asked on 2013-03-21
Reply
Hi, I plan to visit China in 3 days. I will only have about $500.00 on my credit card. Will that be enough to shop for Jade, or little stuff. And also I am a full figure lady, do you have clothing and shoes. Thank you.
Hi Geraldine, it depends on how many jades you plan to purchase. Sorry, we don't have clothing and shoes. We are a travel agency in China, if you need any tour service, please feel free to contact me.
Whitney Liao Replied on 2013-03-22