Top Reasons to Visit Guangzhou
Guangzhou, once known as Canton, the capital of Guangdong Province, is the host venue for the busy Canton Fair. Thousands of travelers come to Guangzhou for the wonderful scenery in this large metropolis, but also the authentic and tempting Yue Cuisine, and the local culture, like Cantonese Opera.
Being the most important port on the Pearl River after Hong Kong, Guangzhou boasts convenient ferry transport to Hong Kong and Macau. Baiyun International Airport is one of China's largest, making it an excellent place to enter or leave China.
Attractions
You can find scores of gorgeous natural parks and historic spots interspersed in this modern city, such as White Cloud Mountain and Chen Ancestral Shrine. Modern buildings and theme parks in the urban area, like Canton Tower and Chimelong Holiday Resort, mark Guangzhou as an international-level developed city.
Canton Fair
Canton Fair is the largest trade fair in China with the most complete variety of goods, including health products, internet & computer's products, and garments. China Highlights can help you book hotels to your requirements, and provide a specific travel guide of Canton Fair to you.
Authentic Yue Cuisine
Yue Cuisine or Cantonese food, one of China's Eight Regional Cuisines, is well represented by Guangzhou dishes. Tenderness and slightly sweet taste are its features. Do you want to eat like a local in Guangzhou? Enjoy morning teatime with your friends or families in the local restaurants, and taste the authentic dim sum.
Shopping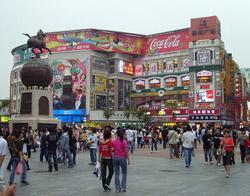 a busy shopping street in Guangzhou
There are many shopping streets and shopping centers in Guangzhou covering everything that you might need. You may meet considerable discounts at the seasonal cross-overs.
Cantonese Opera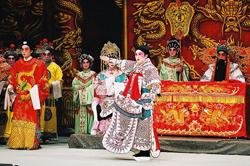 Cantonese Opera
Classic Cantonese Opera is regularly performed in some theatres in Guangzhou, including Jiangnan Theatre in Haizhu District. After a long day tour of Guangzhou city, taking a rest in a theatre and watching a traditional performance is relaxing.
Guangzhou, the center of China's largest city cluster where many of the world's clothes and electronic goods are made, would be an interesting city to visit on a tour of China. It is also a popular destination for an extended tour alongside Beijing and Shanghai. China Highlights can help you design unique tours of Guangzhou with the best hotels, restaurants, and tour guides for you.
Related Links

China Highlights
Planning a trip? Ask us here 800-2682918 (USA & CA)
86-773-2831999 (Int'l)
Q:
Mohtar
Asked on 2013-10-15
Reply
Ia am from Malaysia. I am visiting Guangzhou for 5 days as a tourist. Do I need a visa
Dear Mohtar, Thank you for you inquiry. If you will landed in Hong Kong and go to Guangzhou via Hong Kong, you will just need a 144 hours convenient visa .(http://www.chinahighlights.com/travelguide/visa-application/) If you will landed Guangzhou directly, you will need a China visa. Doris Huang Replied on 2013-10-17
Q:
Bumi
Asked on 2013-10-04
Reply
Hello, can I use my Chinese visa to enter Macau and Hong Kong? There is no Macau or Hong Kong embassy in my country. Thanx
Dear Bumi,
Most of visitors from over the world don't need visa to visit Hongkong or Macau. I don't know which country you are coming from. But please note that you will apply double entre visa if you to and re-back from Hongkong or Macau. Enjoy your trip.
Regards
Christy
Christy Luo Replied on 2013-10-05
Q:
cin seow
Asked on 2013-04-12
Reply
I''m planning a trip to guangzhou,how can go to macau from guangzhou . Is it far or need to overnight there?
Dear cin, You could take a bus at Guangzhou Dongfang Hotel, located at No. 120 Liuhua Road, Yuexiu district(越秀区流花路120号). It takes about 3.5 hours and it costs about CNY150/US$24. Lussie Lu Replied on 2013-04-15
Q:
Eileen Chua
Asked on 2013-02-28
Reply
Hello, I got the same question with the below traveller. I will be heading to Hongkong from Guangzhou. As you stated by train. Can I know which train station would it be at where I can buy ticket to Hongkong? And at where would I alight at hongkong? Thanks in advance. Hope to receive your reply as soon as possible :D
Dear Eileen, You could buy the train ticket at Guangzhou east railway station, the train also sets off from there and arrive at Kowloon Hung Hom railway station. Lussie Lu Replied on 2013-03-01
Q:
zi92
Asked on 2013-01-27
Reply
how to get to hongkong from guangzhou?
Dear Sir or Madam, You could take a train or Flight from Guangzhou to Hong Kong. It is an easy way to take a train. It takes about 2 hours and it costs about US$31 per person. You could buy the ticket at the train station easily. Lussie Lu Replied on 2013-01-27