Hong kong Facts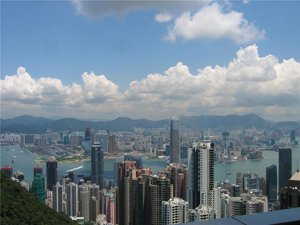 Name: Hong Kong (香港; heūng góng)
Meaning: "Fragrant Harbor"
Features
A world financial and business center
Gateway to China
Asian international hub
One of the world's major tourist cities
Shopping Paradise
Main Attractions
Disneyland Park
Most Popular Souvenirs and Local Products
Silk, Antiques, Porcelain, Clothing, Gold, Electronics
History
Former small colonial territory became a world commerce and financial hub.
214 BC: The Qin Empire conquered the area.
1276: The last Song Dynasty emperor fled to the Kowloon area during the Mongol invasion.
1839: The British Empire conquered Hong Kong Island.
1898: The British Empire leased Lantau Island and the New Territories area for 99 years.
1941: The Japanese Empire conquered Hong Kong.
1997: Hong Kong was returned to China and became a Special Administrative Region of China.
Geography
Significance of city: World's third most important financial center, world's third busiest port, freest capitalist economy, one of the world's top ten tourist cities, world's most vertical city
Nearby cities: Shenzhen (0 km/0 mi), Macau (65 km/40 mi), Guangzhou (134 km/84 mi), Dongguan (84 km/45 mi)
Municipality terrain: Hong Kong Island, Lantau Island, and South China sea; mainly hilly and mountainous terrain on the peninsula and two big islands and hundreds of islets
Average altitude: 89 m (292 feet)
Location Information
Municipality location: 22.15N to 22.55N, 113.83E to 114.39E, South China.
Municipality population: 7,061,000 (2010)
Special Administrative Region area: 1,104 sq km (426 sq mi)
Population density: 6,396/sq km (16,575/sq mi)
North to south distance of territory: 45 km (28 mi)
East to west distance of territory: 50 km (31 mi)
City center: 22.31N, 114.17E, at King's Park in Kowloon
Climate
Highest recorded temperature: 36.1 °C (99 °F)
Lowest recorded temperature: 0 °C (32 °F)
Humid subtropical, annual precipitation: 2,383 mm (93.9 in)
Known for generally jot summers, mild winters, and occasional tropical storms or typhoons in the summer and fall.
Economy
Average annual income: (2010) 369,168 HKD (47,390 USD)
Development: It is among the world's wealthiest economies and is ranked in the top ten of the world's cities in many economic aspects; in 2011 it was ranked the most competitive economy in the world.
Industry: 90.9% tertiary industry (finance, trade, services), 9% secondary (industry), 0.1% primary (agriculture)
CBD: Central District (22.28N, 114.15E)
Shopping Streets: Ladies Market in Mong Kok, Temple Street in Yau Ma Tei, Jardine's Crescent in Causeway Bay
Transportation
Hong Kong International Airport served 50,000,000 passengers in 2010. It handles the most cargo in the world; and it was named the World's Best Airport at the 2011 World Airport Awards
10 line MTR system links most of the populated areas
Light Rail system
Tramways system on Hong Kong Island
Questions and Answers About Hong kong Facts
ayman adenwala
2012-12-11
Show Answer
i and my husband are planning to come for honeymoon to hongkong can u plz tel me hw much wil it cost if we r planning for 8 dys ?
Dear Sir or Madam, The level of consumption in Hong Kong is high, we usually arrange 1-day or 2-day tour for our clients, they could do some shopping by themselves in the rest time. The cost for traveling depends on your travel date, hotels. We have listed some tour packages and hotels for reference. Please click: Tours: http://www.chinahighlights.com/hong-kong/tours.htm Hotels: http://www.chinahighlights.com/hotel/hong-kong-hotels/ Lussie Lu replied on 2012-12-11
April Offer $25 Coupon
Send your inquiry before Apr. 30, 2014, and we will email you a $25 coupon.
The coupon is valid till Dec. 31, 2014, for paying tour packages worth $250 or up.
The coupon cannot be used for paying flight tickets, train tickets, hotel rooms and day trips.
Travel Advice or Question? Ask us here

China Highlights
Hong Kong Travel Guide