How to Plan a One-Day Middle-Budget Shopping Tour in Hong Kong
It makes sense to head to Hong Kong for shopping for clothing, electronics, jewelry, art, and handicrafts. The best bargain malls and shopping streets are described below. A day tour itinerary detailing specific places to go for specific kinds of products and where to have meals is described that will hopefully make your day entertaining and enjoyable.
Lots of competition for your dollars keeps prices down. Hong Kong is so filled with shops, boutiques, street markets, and modern ritzy malls that it's hard to think of places where you can't shop.
The lower taxes, proximity to China, and lower labor costs also make shopping in Hong Kong advantageous compared to shopping for comparable items in Europe, Australia, Canada or America. By price comparison at the suggested malls and patient bargaining at the street markets, you should be able to find bargains.
Summary
On this day tour, we'll start at Nathan Road's Golden Mile and Ladies Market in the morning, then go to CityGate Outlets Mall for brand-name stores in the afternoon, and then end at Temple Street Night Market in the evening.
Morning
Computers & electronics — Star House (100 meters from Star Ferry) and Ladies Market
Jewelry, artwork, souvenirs, assorted items — Nathan Road shops
Bargain shoes, clothes, accessories — Ladies Market
Tsim Sha Tsui has the greatest concentration of independent shops in Hong Kong. The major shopping area of Nathan Road (彌敦道) runs from Salisbury Road on Victoria Harbor to MongKok Station. You'll find great shopping opportunities, interesting sites and attractions, and good places to eat.
You could walk the approximately two-mile distance from Salisbury Road to Mongkok Station where Ladies Market is in less than an hour while you see some famous sights. Or you could use the convenient bus 7 (4.2 HKD (0.54 USD)) that travels along Nathan Road or the MTR that travels under it.
Get free maps, promotions, discounts, and mall guides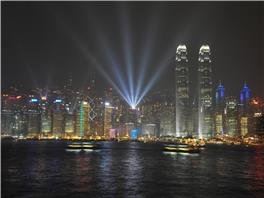 Victoria Harbor
First head to Victoria Harbor in TST and go to the Star Ferry's Hong Kong Tourist Board office for free but valuable attraction and shopping information, promotions, and coupons. The literature is available in Chinese, Japanese and English, and they will help you plan your time, find what you want, and get bargains.
Transport: Walk a few minutes from Tsim Sha Tsui MTR Station, take bus 7, or take the Star Ferry.
Start Shopping
We suggest starting to shop near the Tsim Sha Tsui Station around the ChungkingMansions. You might be surprised by throngs of tourists milling outside, Africans standing around and South Asians hustling.
Chungking Mansions is an interesting place to visit, but we advise that you avoid shopping there unless you see a real bargain. Shop for better quality and better deals at Ladies Market, Temple Street, or City Gate Outlets.
Caution: Be careful with your belongings. The small shops in the Miramar and Chungking Mansions have a reputation for selling fake products and substandard goods to foreign tourists.
Just across the street from the Chungking Mansions is the big iSquare Mall. It is a little pricey, but with a great assortment of stores in its 31 floors.
Breakfast
Just to the right of the main door of the Chungking Mansions and up the escalator is a fast food restaurant called Cafe de Corals that is a favorite of locals because the service is quick. It is clean, air-conditioned, and cheap. Chinese breakfast noodles and a drink cost about 20 HKD (2.50 USD).
Walk North
After about 200 meters you'll see Kowloon Mosque that is closed to the public. Behind it is big public Kowloon Park where you can enjoy a break. 250 meters further up is the Miramar Mall with about a hundred stores known for middle-priced clothes. Across the street is the Park Lane Shopper's Boulevard. 100 meters further north on the right side is the beautiful St. Andrews building that is open to the public so you can see it.
Ladies Market
Another 150 meters north is Jordon Station. You can continue shopping and walk past hundreds of stores to Mongkok or simply go directly to Mongkok via the MTR.
Sai Yeung Choi Street at Exit D2 of Mong Kok Station is known for cameras, lenses, and electronics.
The main Ladies Market street is the next street west called Tung Choi Street. There are bargains on Chinese factory outlet clothing, accessories, and factory rejects. You'll see brand names such as Giordano, Bossini, and Baleno. Carefully check articles for defects, holes, etc.
50 meters further west is Fa Yuen Street with a wealth of bargains on sports clothing, brand names and the latest fashion if you are prepared to search and examine carefully. Most shops only take cash, won't make exchanges, and don't provide fitting rooms.
Afternoon
Clothing, shoes, sports clothes and equipment
Go to CityGate: Take the MTR from Mong Kok to Tung Chung, via a transfer at Lai King Station.
Lunch
The Food Republic food court at the mall supplies a large variety of international cuisine at prices around 50 HKD (6.50 USD) for lunch.
Shopping
You'll find 80 different brand name outlets. These are quality goods, not factory rejects. Their claim is that prices are 30 to 70 percent below regular prices. There are for example: Bally, Brooks Brothers, Burberry, Calvin Klein, Giordano, Adidas, Nike, Puma, and Esprit. There is also a Fortress for electronics, but it isn't a discount store.
Hours: Most stores are open between 11 am and 10 pm.
Evening
Souvenirs, clothing, electronics
Cheap jewelry, artwork, handicrafts
Temple Street Night Market
Go back to Jordan Station on the MTR and walk a few minutes over to Temple Street. This is agood place to go to end a day of shopping. You can browse through a plethora of items ranging from inexpensive Chinese clothes to watches, children's clothing, and accessories.
The night market is a Hong Kong shopping highlight. The street stalls begin to open about 2 or 3 pm depending on the weather, and they close about 11 pm.
Dinner
Enjoy a meal on the street. The Chinese food is average quality, and you'll probably have a memorable time.
Shopping Festivals
The Hong Kong Tourism Board helped to set up a shopping festival that runs from early August to mid-September. You can find bargains on end of season fashions. The tourism board also publishes an annual shopping festival guide and valuable coupons. If you are coming for the shopping, this is a good time to come, and the weather is fine too.
Look for coupons and promotions at the Tourism Board offices at the TST Star Ferry and on Victoria Peak.
Let us help you plan a personalized Hong Kong tour for you or tailor make the travel arrangements for you.
Related Links
Questions and Answers About How to Plan a One-Day Middle-Budget Shopping Tour in Hong Kong
Linda van der Linde
2014-01-08
Show Answer
We are in Hong Kong on the 3rd of March from 13hoo- 22h45.Can you advise me where we can shop for kids and ladies clothes and see a bit of Hong Kong?Regards
Hi Linda, sorry, we are a travel agency, we are not able to offer this information to you. If you need any tour service, please feel free to let me know. Kind regards, Whitney Whitney Liao replied on 2014-01-13
tina baulch
2013-09-17
Show Answer
Hi I am travelling with three girls aged 16, 8 and 6. We are staying at Hong Kong Disney. How much should we plan for spending on meals and general spending?
Dear Tina,
Thanks for your question. The expense in Disney land is quite high. For example, a bottle of Coke cost around US$4 and a simple Chinese lunch costs around US$16-20 per person.
Nancy

Nancy Deng replied on 2013-09-17
April Offer $25 Coupon
Send your inquiry before Apr. 30, 2014, and we will email you a $25 coupon.
The coupon is valid till Dec. 31, 2014, for paying tour packages worth $250 or up.
The coupon cannot be used for paying flight tickets, train tickets, hotel rooms and day trips.
Travel Advice or Question? Ask us here

China Highlights
Hong Kong Travel Guide