Huangshan Weather in February
February is very cold, with an average temperature of –1.3 °C (29.7 °F). The maximum and minimum temperatures are 8 °C (43 °F) and –4 °C (25 °F). The average precipitation reaches 111.9 mm, so you may encounter a lot of snowy weather. Take an umbrella when climbing the mountain.
Be sure to take clothing that can keep you warm and protect you from the cold weather at the top of the mountain, such as a cotton dress with an overcoat. Also wear hiking shoes and thick socks to stay warm and avoid slipping on the way.
In February, you can enjoy the traditional Chinese Spring Festival and the Lantern Festival, and appreciate local dancing and singing. At the same time, also experience various interesting traditions of China's New Year. Don't forget the beautiful snow-covered mountain, and be aware that since a great many tourists visit this month, tourist sites may be crowded. See our Huangshan Tours.
Huangshan Climate Information by Month
Questions and Answers About Huangshan Weather in February
Ilma
2012-08-17
Show Answer
Hi, I would like to know if the West Sea Canyon is open to visitors between mid of October and mid of November. Is this period favorable for seeing autumn foliage and maybe some snow at the same time? Can you tell me about hotels'' rate at this time of the year. I''m planning to stay one week at Beihai hotel and another one at Bayiun hotel.
Hi Ilma, 1.Yes, it is open to visitors between mid of October and mid of November. 2.Yes, this period is favorable for seeing autumn foliage and maybe some snow at the same time. 3.The rate at this time of the year is about CNY1,100. If you would like it, we can tailor make this tour for you, with private car and tour guide. Whitney Liao replied on 2012-08-19
Eric Khor
2011-09-18
Show Answer
How is the temperature in Huangshan on Feb.2012?Is it suitable to visit.
Dear Eric, Regarding your question about the temperature in Huangshan (the Yellow Mountain) in February, the average high temperature is about 9℃ (48℉) at that time, the average precipitation is about 5mm in February. For my own experience, it is too cold to visit there in February; it is freezing up on the mountain. However, if you would like to see the spectacular snowscapes, they can be seen every where at that time. Most people won't visit Huangshan until May, so it is the low season, the mountainside is much less crowded and it is much cheaper to travel. If you wish to go there in February, please prepare warm winter clothes, including fleece or down. Our website provides detailed introduction of Huangshan, please visit: http://www.chinahighlights.com/huangshan/ for more information ;) Robert Travel Advisor Robert Hui replied on 2011-09-18
April Offer $25 Coupon
Send your inquiry before Apr. 30, 2014, and we will email you a $25 coupon.
The coupon is valid till Dec. 31, 2014, for paying tour packages worth $250 or up.
The coupon cannot be used for paying flight tickets, train tickets, hotel rooms and day trips.
Travel Advice or Question? Ask us here
You might like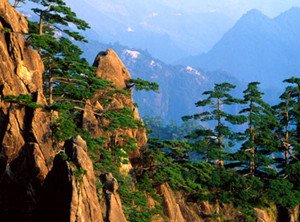 Photography Tips at the Yellow Mountains

China Highlights
Huangshan Travel Guide