Lhasa Transportation
Lhasa can be accessed by air, train, or by bus, but it is most convenient for tourists to get to Tibet by air.
Air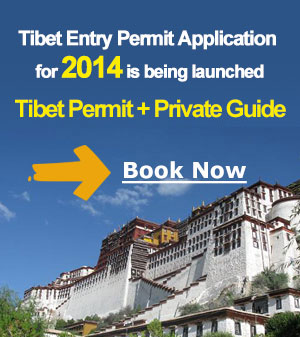 Lhasa's Gonggar Airport is 97 kilometers from Lhasa City. It takes about one hour to get to downtown Lhasa by bus, and the fare is 20 to 25 yuan. Buses from Shigatse or Tsetang to Lhasa also stop at the airport. At Gonggar Airport there are flights to Chengdu, Beijing, Shanghai, Chongqing, Xi'an, Xining, Guangzhou, Chamdo, Kunming, and Katmandu.
Flights to/from Chengdu are the most regular and reliable. Tickets in and out of Lhasa are hard to obtain a week before and after the Shoton Festival.
Gonggar Airport flight information: Tel. 0891-6246465.
Lhasa's air ticket booking office: 1 Nangre Road; Tel: 0891-6833446; 0891-6822393 (at night).
Railway
The Lhasa Express is the world's highest railway line. It runs from Xining in Qinghai Province, past China's largest lake, Qinghai Lake, to Golmud.
Oxygen is released into the cabins at Golmud to prevent altitude sickness and is on hand in canisters for the Golmud to Lhasa leg. This leg of the journey offers breath-taking scenery, and takes in a couple of railway world records: the highest passenger railway (Tanggula Pass, 5,072m/16,640ft) and the highest railway tunnel (Fenghuoshan, 4,905m/16,093ft).
There are trains to Lhasa from Beijing (48 hours), Xi'an (36 hours), Chongqing (47 hours), Chengdu (48 hours), and Xining (25 hours).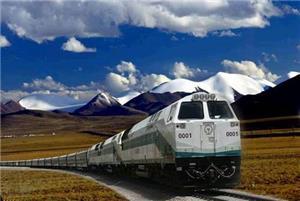 Lhasa Express is the world's highest railway line.
It is extremely hard (to the point of impossibility) to buy a train ticket into Tibet during peak travel time from May to October. The service charge for obtaining a ticket is ridiculously high, as expensive as 1,000 yuan (around 150 USD), higher than the ticket itself. Even you are willing to pay that money, you can't be guaranteed a ticket.
Lhasa Bus Station
Lhasa Long Distance Bus Station is located at the junction of Minzu Road and Jinzhuzhong Road.
Getting Around
Getting to and from the Airport
Most tourists are picked up from or driven to the airport as part of their tour.
Airport buses greet all incoming flights. The ticket price is 25 yuan (3.8 USD).
Airport buses leaves between 05:30 to 13:00 each day from the courtyard in front of the CAAC building on Niangre Road (娘热路), a few minutes' walk east of the Potala Palace. Tickets are sold on the bus. Seats are in high demand, so get on early to guarantee a seat.
A taxi to or from the airport costs about 200 yuan.
Taking a minibus is the cheapest way to get around in the city. The fare is 2 yuan no matter how far you go. Both buses 1 and 2 run from Norbulingkha to Lhasa Long Distance Bus Station. Buses 3 and 5 go to Dreprung Monastery and 4 goes to Sera Monastery. There are privately run minibuses or jeeps following certain fixed routes and the fare is also 2 yuan. Most of them stop at Tibet Hospital in Jokhang Square.
Taking a taxi should cost you 10 yuan no matter where you go in the city. You can share a taxi with others in Lhasa. The price is 10 yuan per drive as long as you don't go outside the city. So don't hesitate to hail a taxi with passengers on board. Actually, it is very hard to find an empty taxi.
Taxis are hard to hail in Lhasa at night or on rainy days. The demand is very high, and you may need to wait for around 10–20 minutes to get one.
But if you want to go out of town, you'd better negotiate with the driver over the price. For Dreprung Monastery, you ought to pay about 20 yuan.
Tricycle cabs are common on the streets of Lhasa, and are an interesting sight. If you want to ride one, just wave your hands. Riding a tricycle is a good way to enjoy the the city at a slow pace. A tricycle usually takes two people and the price varies from 4 yuan to 7 yuan for short trips. Before getting on don't forget to negotiate the price.
Questions and Answers About Lhasa Transportation
Rahul Kumar Ruben
2014-03-01
Show Answer
Do we need passport to go to Lhasa from India? I am a student and I and my friends are planning to go there and we don''t have passport. Can we get permit or something? We are planning to travel by road from New Delhi.
Hi Rahul, yes, you need a valid passport and a Tibet Permit for entering Tibet. If you need any tour service, please feel free to contact me. Whitney Liao replied on 2014-03-03
ibrahim arafat
2014-02-28
Show Answer
there is any option came china from nepal by bus and how much cost?
Hi Ibrahim arafat,
Greetings from Cecilia at China Highlights Travel!
Yes, you can take an express bus from Nepal to China, Tibet. I am sorry that I have no information here about the cosit for the express bus. Kindly note you have to apply China visa, tibet entry permit in Nepal in advance before entry into China.
Regards,
Cecilia
Cecilia Peng replied on 2014-03-02
Cherry
2013-03-27
Show Answer
I''ve read some travel books and learned that I can cross the Tibet-Nepal border overland by train or by bus. How many hours is the bus ride from Lhasa to the Tibet-Nepal border? How much is bus fare? What about the train? Is it safe to do so. Do the buses and trains generally respect the departure and arrival schedules?I plan to fly to Lhasa from Hong Kong. After the Lhass tour, then overland to Nepal. What are the bus and train schedules? Do they run everyday? I heard it''s a challenge to buy bus or train tickets during the high season. I need to arrive Kathmandu, Nepal no later than noon on May 17. Should I book the bus or train ticket ahead of time. What are your recommendations? Thanks.
Dear Cherry, There is no train from Tibet to Tibet-Nepal border. I regret that I did not find the direct bus starting from Lhasa. In general, our client will go to Zhangmu(樟木)at first, then rent a van with other tourist to the border. It takes about 4-5 hours from Zhangmu to the border as the the condition of the road is not very good. If you have arranged Tibet tour already, I suggest you ask your travel agency arrange the transport for you. Lussie Lu replied on 2013-03-27
RAJ
2013-03-17
Show Answer
hi, my name is RAJ.I WANT TO GO FROM KATHMANDU TO LASHA AND THEN BEIGING .WHAT IS THE PROCEDURE TO ENTRY,COST AND DURATION? THANK YOU
Hi RAJ, entering Tibet needs a Tibet Permit. Right the moment, we don't know when it is available.
Whitney Liao replied on 2013-03-19
Wui Cheng
2013-02-23
Show Answer
Hi Leon,I want to take the bus from Lhasa to Kathmandu. I am HK resident so do not need a Tibet permit. Is this bus still running ? Thanks.
Hi Wui, I tried to call the bus station in Lhasa, but there was no one to answer the phone. Their phone number is 86 -891-6947216.You can try to call them tomorrow. If the bus is not available, you can take bus from Lhasa to Zhangmu(the border) then you can rent a car with other tourists at the border and go to Kathmandu.
Leon Long replied on 2013-02-25
April Offer $25 Coupon
Send your inquiry before Apr. 30, 2014, and we will email you a $25 coupon.
The coupon is valid till Dec. 31, 2014, for paying tour packages worth $250 or up.
The coupon cannot be used for paying flight tickets, train tickets, hotel rooms and day trips.
Travel Advice or Question? Ask us here

China Highlights
Lhasa Travel Guide