China's Five Most Beautiful Rice Terraces
Rice terraces are slopes claimed from nature for cultivation in hilly or mountainous areas. Some are hundreds (or even thousands) of years old. There are many rice terraces in China, and the most famous two are: Longji Rice Terraces in Guilin, and Yuanyang Rice Terraces in Yunnan Province. China Highlights has listed China's best five rice terraces in different provinces, so that you can choose the most suitable one based on your itinerary. We include how to get there, the best time to visit, and the best places for photography. The following rice terraces are listed according to popularity.
1. Longji Rice Terraces: Best in All Four Seasons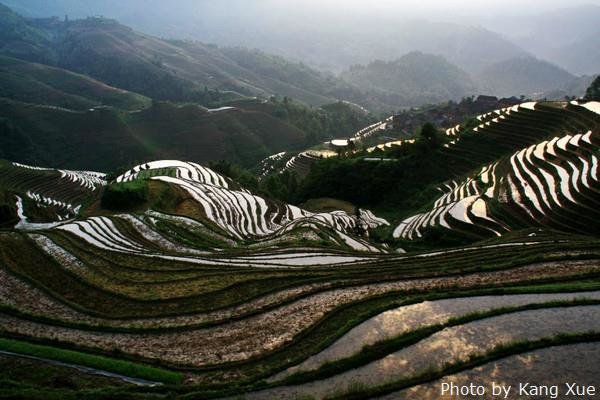 The Longji Rice Terraces (a.k.a. the Longsheng Rice Terraces) have become one pf the most important tourist destinations in Guilin. They are located in Heping District, Longsheng County, Guilin Prefecture, about 80 kilometers (50 miles) north of Guilin. The Longji Rice Terraces are at an altitude of 300–1,110 meters (1,000–3,700 feet), and the gradients of some rice terraces reach 50°. The massive tiers upon tiers of rice terraces attract numerous photographers every year.
There are numerous Zhuang and Yao villages among the terraces. The wooden houses there are all built in unique Zhuang or Yao style, and the women there all wear typical ethnic clothing. Eexperience their ethnic cultures and customs.
How to get there: There is no direct bus from Guilin to Longji Rice Terraces. You need to take a bus from Guilin Bus Station to Longsheng, and then transfer to another for Longji Rice Terraces. Lastly transfer to a Longji bus (With your ticket, you can choose a bus to the spot you want within the scenery area). Traveling with a tour group is much more convenient, because the transportation is so complicated. You can have us tailor-make a tour for you. Hiking around the rice terraces is really popular.
Best time to visit: Longji Rice Terraces is so graceful that it worthy visiting four times in different seasons. For mirror-like irrigated terraces: go mid-April to late June; for green terraces: go July to mid-September, when the rice plants are verdant; for golden terraces: go late September to mid-November, harvest time for the yellow rice; and for silvery terraces (this really magnificent scenery comes by chance, not by routine): go late December to early February, when there may be snow.
For photography: The sunrise at Longji Rice Terraces should not be missed. Hotels are available in Longji Terraces. Stay at least one night there, get up early in the morning (as early as 4 o'clock in the morning), hike to a high place, and wait for the moment when the sunshine pierces the horizon.
Recommended tour: Two-Day Essence Tour of Longsheng (maily focusing on Longji Rice Terraces)
2. Yuanyang Rice Terraces: Amazing in January and February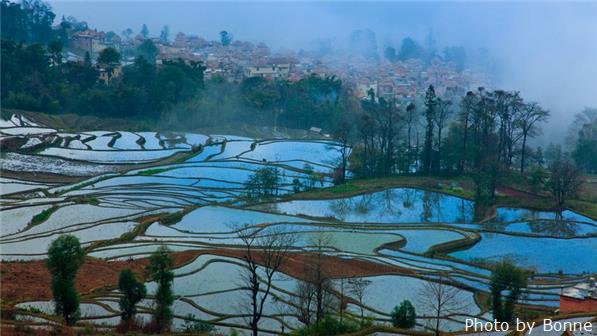 The Yuanyang Rice Terraces are situated in the southern Ailao Mountains, dug out by the Hani people. Different from the Longji Rice Terraces above, the Yuanyang Rice Terraces do not have so manty layers, but they are outstanding for their grandiose area, having slighter slopes. Besides the majority of Hani people, there are some other ethnic groups living in the terrace area, including Yi, Dai, Yao, Zhuang , and Miao. It is said these different minorities reside in different layers according to altitude. Hani-style houses look like mushrooms. They are characteristic minority dwellings, though not as uniformly designed and built as those in Longji.
How to get there: The road passes through mountainous areas, so you need to prepare for possible carsickness. Traveling with a travel agency can bring a lot of convenience, because you need not worry about the transportation. There are four buses a day from Kunming to Yuanyang's old town: Xinjie Town (close to the terraces), and it takes about 8 hours. You can also go to Jianshui Ancient Town first (about a 3-hour drive from Kunming) and spend some time there, then transfer a bus to Yuanyang's new town: Nansha Town (a 3-hour drive), and finally by bus to Yuanyang's old town (28 kilometers from Nansha Town). The terrace area is really large. You will need to catch or rent a local minibus (approximately 150 yuan/half day, 250 yuan/day) to travel between different spots.
Best time to visit: December to March (after the harvest, when the terraces have been irrigated) is good for appreciating Yuanyang Rice Terraces, and the best time is from January to March, when seas of clouds on the terraces are more likely. In early spring (from late February to March), the terraces are decorated with lots of flowers, including pink peach blossom and white pear blossom. Besides an umbrella, warm clothes are necessary, because the temperature differenced there are big.
For photography: Here is a list of popular photography places in the Yuanyang Rice Terraces: For sunrises and rosy dawns: Duoyishu Scenic Spot (多依树); for seas of clouds and sunrises among clouds: a high place near Xinjie Town; for the closest views of terraces and for sunsets: Longshuba Scenic Spot (龙树坝); for sunsets: Bada Scenic Spot (坝达); and for a bird's eye view of the terraces (with an effect similar to aerial photography): Mengpin Scenic Spot (勐品, a spot in Laohuzui Scenic Area: 老虎嘴). Besides natural scenery, the unique mushroom-shape Haini houses, and the Hani costumes, are great for photography.
Check out our classic tour package for the Yuanyang Rice Terraces to include other attractions not far away.
3. Jiabang Rice Terraces: Mysterious Terraces with Cloud and Mist
Guizhou Province is a good place to experience ethnic cultures and customs; there are many ethnic villages in Kaili and Southeast Guizhou. There are five rice terrace areas in Guizhou, and the most famous one is the Jiabang Rice Terraces in Southeast Guizhou. In Jiabang, the picturesque natural scenery of rice terraces is combined with the peaceful and unique wooden Miao houses.
The Jiabang Rice Terraces were cut from the hill terrain in, with hundreds of layers. You can appreciate mirror-like terraces in spring, verdant terraces in summer, and gold terraces in autumn. The wet weather gifts Jiabang Rice Terraces mysterious scenery with cloud and mist almost every early morning.
The Jiabang Rice Terraces are about 80 kilometers (50 miles) from Congjiang Town (从江县城), and Congjiang Town is about 257 kilometers (160 miles) from Kaili. So if you plan to have an in-depth tour of Kaili to visit the ethnic villages, you could extend your tour to Jiabang. Due to the complicated transportation, independent travel is not recommended.
You can contact us to have us tailor-make a tour including Jiabang Rice Terraces and other China's popular tourist destinations
4. Yunhe Rice Terraces: China's Most Beautiful Terraces
The Yunhe Rice Terraces are in Chongtou District of Yunhe County, Lishui Prefecture, Zhejiang Province, East China, and are only 5 kilometers (3 miles) from Lishui City. They are recognized as the most beautiful rice terraces in China. The entire area of Yunhe Terraces is 51 square kilometers (20 sqaure miles), covering mountains, hills, and valleys. The altitude of the terraces ranges from 200 to 1,400 meters (650 to 4,600 feet), which gives Yunhe Rice Terraces amazing scenery, with seas of clouds in the early morning, especially during spring and summer. Being further north, you are more likely to see terrace scenery with snow or rime in the winter.
In the Yunhe Rice Terraces, the best times for photography are early morning and at dusk. What's more, you can learn about and experience the culture and customs of the She ethnic group (畲族), a minority with a very small population in China. Transportation: It is takes about 2 hours from Wenzhou to the Yunhe Rice Terraces, and 3 hours from Hangzhou to the terraces. You can check out our popular Hangzhou tours or Hangzhou's attractions to see other popular attractions around Hangzhou.
5. Ziquejie Rice Terraces: Magnificent but Remote Rice Terraces
The Ziquejie Rice Terraces are an almost undiscovered heritage of ancient rice farming. They are honored with the appelation: the Terrace Kingdoms, because of their large areas (the largest terrace covers about 2 square kilometers or 250 acres), and various locations. The Ziquejie Rice Terraces have the grace of the Longji Rice Terraces, the magnificence of the Yuanyang Rice Terraces, and the steepness of the Banaue Rice Terraces in the Philippine. Similar to the Longji Rice Terraces, the Ziquejie Rice Terraces show different landscapes in different seasons.
Ziquejie Rice Terraces is situated in Shuiche District, Xinhua County, Loudi Prefecture, about 285 kilometers from Changsha City (about a 6-hour drive, so prepare for possible carsickness). If you plan to travel there, you should spend at least one night there. Prepare for more basic accommodation conditions in Shuiche or in Xinhua (the best hotel is a two-star hotel). In Hunan Province, there are another two highlights worth a visit: Wulingyuan Scenic Area, in Zhangjiajie, and Fenghuang Ancient Town. We at China Highlights can customize tours for you, carefully considering your requirements.
Related Links

China Highlights
Questions and Answers About China's Five Most Beautiful Rice Terraces
April Offer $25 Coupon
Send your inquiry before Apr. 30, 2014, and we will email you a $25 coupon.
The coupon is valid till Dec. 31, 2014, for paying tour packages worth $250 or up.
The coupon cannot be used for paying flight tickets, train tickets, hotel rooms and day trips.
Travel Advice or Question? Ask us here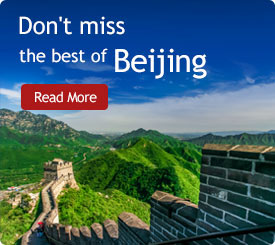 The Most Popular Articles
The Latest Travel Articles