West Lake Gragon Well Tea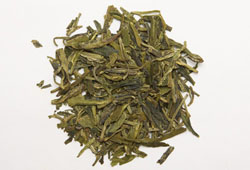 West Lake Dragon Well is called Dragon Well for short. The tea of this name is produced in the mountainous regions around Longjing (Dragon Well) Village to the southwest of West Lake in Hangzhou Prefecture, Zhejiang Province. Dragon Well Tea has four wonderful features, its color, its fragrance, its flavor and its shape. It is emerald in color, thick in fragrance, sweet and refreshing in flavor and its leaves are the shape of a sparrow's tongue. The compounds contained in Dragon Well Tea, such as amino acid, catechu (an astringent substance used in medicine, dyeing, tanning, etc.) and vitamins, have the effects of stimulating the production of bodily fluids, quenching thirst, refreshing, speeding up thinking, aiding digestion, removing greasiness, reducing inflammation and detoxification.
Hangzhou is one of the best places to experience tea culture. Tourists can visit Hangzhou National Tea Museum, which vividly depicts the evolution of Chinese tea over a span of thousands of years and the colorful tea culture. Also, the West Lake Dragon Well Tea Plantation located near the museum provides closer experience with Chinese tea and its culture.
Guilin Tea Science and Research Institute located near Yao Mountain is also worth a visit. Here you will get to know different types of tea, the production process, and enjoy a tea ceremony while sipping a warm cup of tea.
Contact Us for tailor-Made China Tea Culture Tours

China Highlights
Planning a trip? Ask us here 800-2682918 (USA & CA)
86-773-2831999 (Int'l)
Q:
donna
Asked on 2012-12-26
Reply
I will be in hangzhou in may we have our hotel booked, but would like someone to help us visit the lake, get to lunches, and visit the tea plantations. Can you reccomend someone to help us?Donna
Hi We can arrange an English speaking tour guide for you. What is the exact date you need it and the number of people in your group, please?
Whitney Liao Replied on 2012-12-27