Blue Whale Cruise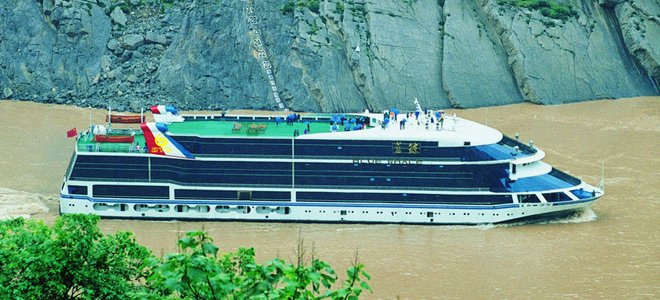 Select your cruise dates
2

Book

3

Expert reply

4

Your cruise is ready!
Select your cruise dates
(price per person, twin sharing basis)
Cruise
Map & Itinerary

Cruise
Introduction

First Navigation
Latest Renew
Length
1995
2010

96.5

m
Width
Passengers


16.4m
208
Blue Whale, a five-star Yangtze cruise ship, really looks like a blue whale, due to the external decoration of its hull. Its internal decoration is luxurious, with the full range of luxury cruise facilities.
After lengthy refurbishment and modification Blue Whale has become more luxurious. Spacious rooms with private balconies allow passengers to enjoy the natural scenery of the Yangtze River, while offering comfortable accommodation. The expansive public area offers the perfect setting for rest and recreation, where passengers can feel closer to nature.
The restrained luxury is sophisticated, but not too ostentatious. Each room has plenty of space and a large bed. You can relax on the walking deck, sunbathing in the deck chairs and breathing in the breeze. The cruise's professional service is full of hospitality and attention to detail. You will be surprised by the delicious Western food and Chinese food, especially the authentic Sichuan dishes and Huaiyang cuisine.
Facilities: business center, meeting room, sauna room, fitness center, reading room, treatment room, indoor viewing hall, sunshine room, coffee house, chess and cards room, song and dance hall, multifunctional hall, beauty salon, massage parlor, bar.
​Dining Hall

Tea Room

Night Performance


Fengdu Ghost City and White Emperor City are optional shore excursions.