Victoria Grace Cruise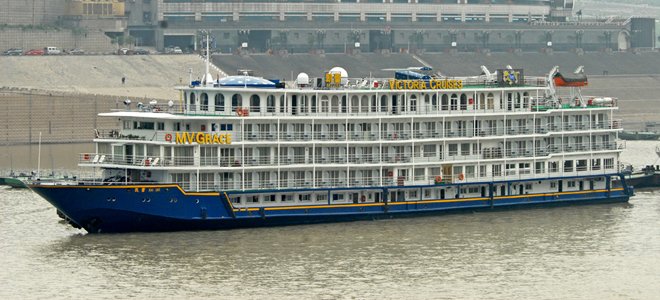 Select your cruise dates
2

Book

3

Expert reply

4

Your cruise is ready!
Select your cruise dates
(price per person, twin sharing basis)
Cruise
Map & Itinerary

Cruise
Introduction

First Navigation
Latest Renew
Length
1996
2010

85.5

m
Width
Passengers


14.4m
198
The Victoria Grace(was named Victoria Empress) offers passengers cozy accommodations, and impeccable service. The newly reconstructed vessel provides a travel experience that focuses on the river destinations, its scenery, natural history and culture.
Features
Designed for maximum passenger comfort, the Victoria Empress offers handsomely decorated accommodations, imported marble bathrooms, and enhanced stylish interiors exuding European refinement. Deep blue carpets and richly polished wood banisters grace the interior of the ship.
All the Victoria Cruises feature professional, multi-lingual, western cruise directors and well-trained local staff. The ship is equipped with conference hall, gym, sauna, beauty salon, smoking room, children's playroom, library, sun deck, swimming pool, Chinese and western dining rooms, business center, bar, elevators and gift shop.
Each cabin is equipped with a private balcony and a bathroom, and HBO and BBC broadcasts. The size of a standard cabin is 14.4 square meters. Facilities in the cabin include satellite TV, mini bar, safe box, shower and bathtub, socket adapter, toiletries and hairdryer. Rooms are not internet equipped and the ship has internet cafes which can be used for a fee(RMB 150/per person for whole cruise ).
Note: The shore excursion to Fengdu Ghost City has changed to the Relocation Village. If you still want to visit Fengdu Ghost City, we can arrange it for you.
Deckplans
Info
Sun Deck

Recreation Deck

Bridge Deck

Promenade Deck

Main Deck
Lobby

Restaurant

Bar

Fitness Center