Victoria Selina Cruise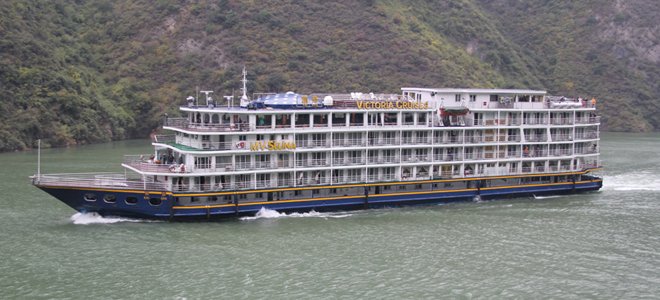 Select your cruise dates
2

Book

3

Expert reply

4

Your cruise is ready!
Select your cruise dates
(price per person, twin sharing basis)
Cruise
Map & Itinerary

Cruise
Introduction

First Navigation
Latest Renew
Length
1994
2011

89.4

m
Width
Passengers


16.4m
218
Victoria Selina, the beautifully furnished cabins and suites of the Victoria Selina boast imported marble bathrooms, authentic Shanghainese cotton bedspreads and pillowcases, and private balconies for viewing the scenery of the gorges.
Features
With sky blue lighting glowing from the periphery of high ceilings, private balconies, and elegant decor throughout the ship's interior, passengers sail in comfort as they experience the scenery, natural history, and culture of the Yangtze. All Victoria Star cruises feature professional, multilingual, Western cruise directors and well-trained local staff.
The ship's facilities include a conference hall, a meeting room, a gym, a sauna, a library, a sundeck, a smoking room, a clinic, a beauty salon, Chinese and Western dining rooms, a business center with internet, fax and copy printing, a shop, elevators, and Karaoke.
A standard cabin is 19 square meters and is equipped with one bedroom and a private bathroom. In-room facilities include a satellite TV, BBC, HBO, a closet, a mini bar, a shower and bathtub, a socket adapter, toiletries, and a hairdryer.
Note: The shore excursion to Fengdu Ghost City has changed to the Relocation Village. If you still want to visit Fengdu Ghost City, we can arrange it for you.
Cabins
Info
Superior Cabin

Executive Suite

Shangri-La Suite

Deckplans
Info
Pinnacle Deck

Observation Deck

Bridge Deck

Promenade Deck

Main Deck
Lobby

Restaurant

Yangtze Club

Deluxe Suite