Yangtze 1 Cruise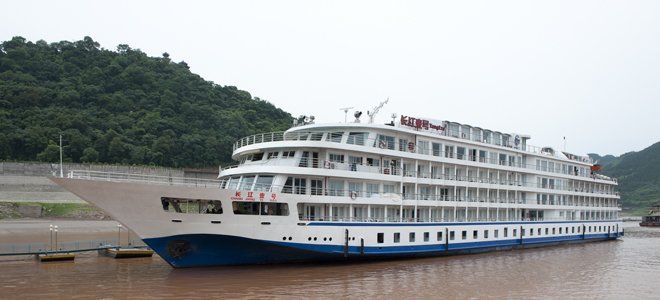 Select your cruise dates
2

Book

3

Expert reply

4

Your cruise is ready!
Select your cruise dates
(price per person, twin sharing basis)
Cruise
Map & Itinerary

Cruise
Introduction

First Navigation
Latest Renew
Length
2006
-

104

m
Width
Passengers


16m
218
The Yangtze 1 is exquisitely designed and decorated to ensure customers a comfortable and enjoyable cruise. The food served on the ship is of great variety, and includes Western cuisine, Chinese food, and local specialties produced along the Yangtze River.
Features
A trip with the Yangtze 1 is both a scenic and culinary adventure because of the variety of food served on board. The ship is equipped with sightseeing elevators to allow travelers to enjoy the best scenery along the river.
The Yangtze 1's main facilities include a business center, a sauna and massage room, a book bar, a cigar bar, a gymnasium, a recreation room, and multifunctional conference room. The ship has installed a high-tech navigation system and remote control devices to ensure safe navigation, and it devotes all of its power to providing a luxurious, homelike, and comfortable experience on the water for its guests.
There are 101 standard rooms, six deluxe suites, and two presidential suites. All are equipped with satellite TV, central air conditioning, a telephone, a solid radio and acoustic system, and an independent bathroom.
On the basis of five-star standards, at the same time taking into full consideration the needs of human nature, Yangtze No.1 demonstrates the characteristics of green environmental protection, safety and comfort, leisure and health on its design. Lobby, bow, sun deck have fully reflected its bold innovation on construction. It introduced the design essence of offshore super cruise, and has many incomparable strong points over other Yangtze cruise ships. The design concept of cold sea was introduced. The 4-story grand atrium lobby presents a magnificent view, which leads you into extravagant dreams like castles.
Restaurant

Night Performance Stage

Multifunctional Bar

Sun Deck


Fengdu Ghost City and White Emperor City are optional shore excursions.