Yangtze Gold 1 Cruise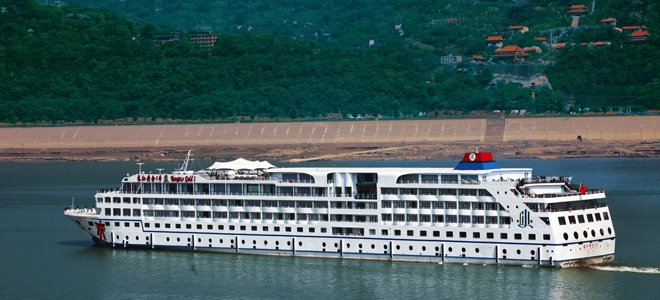 Select your cruise dates
2

Book

3

Expert reply

4

Your cruise is ready!
Select your cruise dates
(price per person, twin sharing basis)
Cruise
Map & Itinerary

Cruise
Introduction

First Navigation
Latest Renew
Length
2011
-

136

m
Width
Passengers


19.6m
350
Yangtze Gold 1 is the largest and most luxurious cruise on the Yangtze River. It is equipped according to the standard of a deluxe 5-star ship, and is able to provide all the comforts that you may expect.
Features
Yangtze Gold 1 is a new 5-star deluxe cruise ship commencing service in May 2011. It is designed and equipped according to international 5-star hotel standards, including a luxurious revolving open air lobby. The length of the ship is 136 meters and is 19.6 meters wide. There are 148 cabins onboard, accommodating a total capacity of 350 passengers. Each cabin has a private balcony with full-length observation window and is furnished with unique and refined interior decoration.
Facilities onboard include commercial pedestrian streets, an open-air swimming pool, Chinese and western cafeteria, mini-golf course, dancing halls, bars, banquet halls, beauty salon, massage room and a large-scale movie theater. Rooms are not internet equipped and the ship has internet cafes which can be used for a fee(RMB20/hour and RMB300/per person for whole cruise).
Deckplans
Info
Sun Deck

Recreation Deck

Bridge Deck

Promenade Deck

Main Deck
Lobby

Restaurant

Multifunctional Hall

Sun Deck