Beijing Facts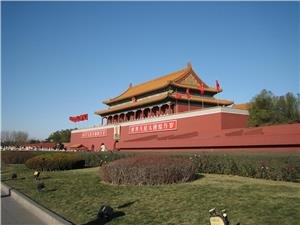 Tian'anmen
Name: Beijing (北京Běijīng /bay-jing/)
Previous names: Peking, Beiping, Dadu, Jingcheng, and Yanjing
Beijing, China's second largest city after Shanghai, dominates the north of China, despite its proximity to the ports of Tianjin Municipality, China's third largest city.
Features
The world's longest wall and biggest ancient architecture, the Great Wall
The world's largest palace, the Forbidden City
Northern terminus of China's Grand Canal
Main Attractions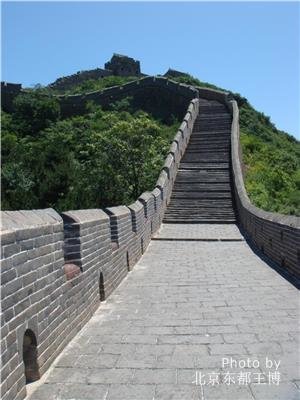 The Great Wall
The Great Wall: Badaling, Mutianyu, Simatai, etc. sections
The Forbidden City, The Temple of Heaven, Tiananmen Square, The Summer Palace, The Ming Tombs, The Hutongs
Most famous food: Beijing duck
Most popular souvenirs and local products: Cloisonné, inside-painted snuff bottles, eight treasures inkpads, antiques, Chinese painting and calligraphy
History
Capital of 8 notable dynasties and governments:
221 BC Yan State Capital, Warring States Period
1271 first a national capital for the Yuan Dynasty
1402 Became Ming Dynasty (1368–1644) capital
1644 Qing Dynasty capital
1912 Republic of China capital
October 1, 1949 People's Republic of China inaugurated by Mao Zedong
2008: hosted the Olympic Games
Geography
Significance of city: capital of the People's Republic of China; political, educational and cultural center, China's No.1 tourist city, China's second largest city.
Nearby cities: Tianjin (120km/75mi), Shijiazhuang (230km/140mi), Qinhuangdao (270km/170mi).
Municipality terrain: Huabei Plain, 32% plain, 68% mountains, 180 km (110 mi) from the Bohai Sea at Tianjin.
Average altitude: 44 meters (144 feet)
Main rivers: Yongding, Chaobai and the North Canal.
Location Information
The Forbidden City.

Municipality location: 39.45N to 41.06N, 115.42 to 117.26E, North China
Municipality Population: 19,600,000
Municipality Area: 16,800 sq km (6,487 sq mi)
Built up area: 3,200 sq km (1,200 sq mi)
Core districts and inner suburbs area: 1,400 sq km (540 sq mi)
City proper population: 11,700,000
City proper population density: 7,400/sq km
North to south distance (including suburbs): 64 km (40 mi)
East to west distance (including suburbs): 64 km (40 mi)
City center: Tian'anmen (39.9087N, 116.3974E), between Tian'anmen Square and the Forbidden City
Climate
Wangfujing Walking Street.

Highest temperature: 42 °C (109 °F)
Lowest temperature: -27 °C (-17 °F)
Dry, annual precipitation: 570 mm (22 in)
Known for air pollution (improved dramatically since the 2008 Olympics) and dust storms
Economy
Average annual income (2008): 36,000 RMB (4,600 USD)
Industry: 73% tertiary industry (especially finance), also automobile and real estate, pharmaceuticals, electronics, and materials engineering.
CBD: Guomao Area (39.91N, 116.46E), Chaoyang District
Shopping Streets: Wangfujing Street
Transportation
Facts of major cities and attractions in China
Questions and Answers About Beijing Facts
BRie
2014-03-18
Show Answer
Heyyyyy How is Beijing? My mom wants to know how it is there.
Hi BRie, Beijing is a great city to go. There are a lot of things to see and interesting things to do. E.g. you will see the Great Wall, the Forbidden City. You can take a boat in the Summer Palace, or take a rickshaw in the traditional Hutong, etc. Welcome to Beijing. Whitney Liao replied on 2014-03-19
JHJH
2013-01-28
Show Answer
is it worth it to come to beijing?
Hi JHJH, absolutely yes. The Great Wall is one the 8 wonders in the world. And the forbidden city is one of the best preserved palaces in the world. Whitney Liao replied on 2013-01-29
adel
2013-01-23
Show Answer
hi,i am looking for oil body massage in beijing, any help please
Deaer Sir or Madam, I am not familiar with this thing, but the hotel will provide this service in general. You could check it when you arrive in Beijing. Lussie Lu replied on 2013-01-24
maya
2012-11-19
Show Answer
is there any natural habitat around Beijing like lake or river or any pretty scene?
Hi Maya, you can visit the Summer Palace, Beihai Park, Jingdong Grand Canyon, etc.
Whitney Liao replied on 2012-11-20
mimi
2012-09-18
Show Answer
shunyi district in Beijing is which part of Beijing?
Hello mimi, yes, shunyi district is part of Beijing. It is at the northeast of Beijing. The Beijing Capital Airport is also in shunyi district. Will you go to shunyi district? Please let me know if there is anything i can help you.
Simon Huang replied on 2012-10-09
April Offer $25 Coupon
Send your inquiry before Apr. 30, 2014, and we will email you a $25 coupon.
The coupon is valid till Dec. 31, 2014, for paying tour packages worth $250 or up.
The coupon cannot be used for paying flight tickets, train tickets, hotel rooms and day trips.
Travel Advice or Question? Ask us here

China Highlights
Beijing Travel Guide