Beijing Roast Duck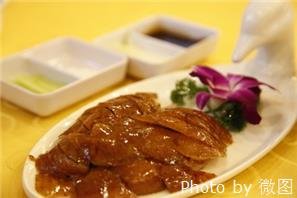 A saying that is often heard is: "There are two things you must do in Beijing: eat Beijing Roast Duck and see the Great Wall." Therefore, tasting Beijing Roast Duck is a key part of any Beijing Tour. Beijing Duck has even been dubbed "the number one delicious food in the world."
The duck must be of the white Beijing variety and of superior quality, a "force-fed duck" that weighs about three kilograms. When roasting the duck, compressed air is injected into the duck between its skin and flesh to make the skin glossy and shiny. By using less smoky, hard wood fuel like fruit tree branches (pear, peach or date branches for instance), the duck has a fruity flavor and is red in color.
The manner of serving and eating Beijing Duck is also unique. The chef presents you the whole duck before taking it away for slicing. One duck may produce about 120 very thin slices, each containing both meat and skin. The duck slices are brought back to the table with some thin pancakes, green onion or shallot, sweet soybean paste and fresh cucumber, and sometimes garlic paste and sugar. The good way to enjoy the Beijing Duck is as follows: take a piece of the pancake in one hand, then put three or four slices of the duck onto the pancake with each of the above mentioned vegetables and seasonings. The soybean paste is most important. Finally roll up the pancake and eat it.
Nearly every part of the duck can be prepared as food. Quanjude Roast Duck Restaurant serves the so called All Duck Banquet, in which the bone of the duck together with cabbage and Chinese water melon is made into a fresh white soup and is served at the end of the banquet.
To enjoy the Beijing Roast Duck, you can visit the famous Quanjude Roast Duck Restaurant or the Bianyifang Roast Duck Restaurant. See must-taste Chinese foods.
Also read
Quanjude Roast Duck Restaurant Beijing
.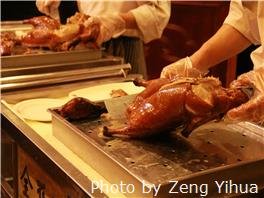 The Beijing Roast Duck is not only popular in China but also abroad. The former US Secretary of State Dr. Kissinger, for instance, is extremely fond of Beijing Roast Duck. He takes every possible chance to taste it. He thus plays an important role of advertising Roast Duck in the States and many restaurants there try to serve this delicacy. An interesting story is heard in the US about the duck. At first the cooking method for roast duck was against the state food legislation of California, therefore it was banned. To solve the problem Roast Duck was sent to California University for testing. The test results showed that Peking Duck was safe as food. What surprised others was that the Roast Duck was so delicious that the scientists in the lab ate up all the tested duck. Roast Duck had long been a best seller in Beijing restaurants.
The Bush family, the family of two former US Presidents, are widely known to be real Beijing Roast Duck lovers. Their tradition of eating Roast Duck started from President Bush Senior in the 1970s when he was working in the US Embassy of Beijing. Returning home, he still can not resist the temptation of this food and often enjoys it with his whole family at a restaurant called Beijing Restaurant in North Virginia. His love for the duck has already been passed down to his sons and grandchildren. Of course, celebrities who have visited this restaurant include many others. Good examples are the Philippines President, a Thai Queen, princes from Saudi Arabia, the former US Minister of Defense, as well as former and current US State Secretaries Generals Powell and Rice. The hundreds of picture hanging inside the restaurant are the best evidence.
Questions and Answers About Beijing Roast Duck
SH LEE
2011-12-27
Show Answer
I plan to visit beijing on date 31 March 2012 to 6th April 2012 almost 7days,may I know the weather.the place should I visit and food should I test.I will arrive airport at 1am should I trust the taxi will bring me to hotal.
Hi Lee, you can click here to see the weather forecast of Beijing: http://www.weather.com.cn/en/weather/101010100.shtml. It's winter time, I suggest that you take your winter cloth with you. Please click here to know more about Beijing:http://www.chinahighlights.com/beijing/. I think you can trust your the taxi driver. Our airport transfer is US$24 per person based on 2 people in the group. Please let me know if you are interested in our service Michael Hu replied on 2011-12-28
lo leng leng
2011-02-21
Show Answer
How's the weather like in April, coz i am planning to visit Beijing during April,2011.
Hi Lo Leng Leng, The weather is warm in April. The temperature is about 10-23°C in the daytime. It will be cool in the night. You'd better take your coat, in case of catching a cold. There are some former dates about the temperature on our website for reference. Click here: http://www.chinahighlights.com/beijing/weather/april.htm Beijing is a big city and it's convenient for purchase the clothes that you need. If you don't take suitable clothes, you also can buy some easily. We specialize in arrange a customized China tour. If you don't book a tour with any other travel agent, we can design a tour for you. There are some Beijing tours on our website. Click here: http://www.chinahighlights.com/beijing/tours.htm You also can tell us your need and we will design a tailor-made tour at your need. Lussie Lu replied on 2011-02-22
April Offer $25 Coupon
Send your inquiry before Apr. 30, 2014, and we will email you a $25 coupon.
The coupon is valid till Dec. 31, 2014, for paying tour packages worth $250 or up.
The coupon cannot be used for paying flight tickets, train tickets, hotel rooms and day trips.
Travel Advice or Question? Ask us here

China Highlights
Beijing Travel Guide