Chengdu Weather in September
Weather: The weather is warm and rainy at the beginning of the month, but it cools down and stops raining so often as the days of September go by. The average daily high temperature is 25 °C (77 °F), and the average low temperature is 19 °C (66 °F). It is occasionally a little hot during the first week. There is about 119 mm of total rainfall. See the current weather and forecast>>
Clothing: Bring summer clothing and a light jacket/pullover for the cool weather. If you go out at night, long trousers, a long shirt and a sweater or jacket will keep you warm. Although September sees far less rain than in July and August, an umbrella is recommended.
Things to Do
The cooler weather makes September a good month for sightseeing in Chengdu. It is one of the best months for visiting weather-wise.
The Mid-Autumn Festival: The annual holiday is the second biggest traditional Chinese festival. It usually falls in September, but occasionally the public holiday is in early October. It is a full moon festival and a harvest festival. Moon cakes featuring the fruits and nuts of the season are the favorite festival food.
If you arrive around the Chinese Mid-Autumn Festival, you should see the beautiful sweet cassia flowers in Xindu. They give off a heady fragrance of cinnamon and can be made into a delicious stimulating beverage. You can enjoy many unique dance performances and taste local snacks.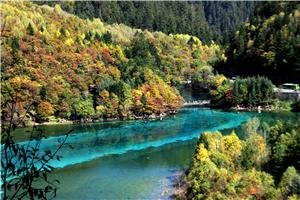 The scenery of Jiuzhaigou in September.
Jiuzhaigou: With the granite peaks of Yosemite and the hot spring pools of Yellowstone, and high mountain snow tipped peaks like in Colorado, Jiuzhaigou has excellent scenic natural beauty. The valleys dress up in their colorful best of reds and yellows, blues and greens in September and October.
Chengdu International Automobile Fair: Chengdu is on its way to become a major automobile design and production area of the world. Businessmen and engineers gather here in September. China now produces more automobiles than any other country, so the trade fair will be a major draw for both Chinese and foreigners.
A Peak Travel Month
September is generally a high travel month. If the Mid-Autumn Fest falls in the month as it usually does, then there is a great jump in the number of Chinese tourists on those days. There is also a jump in travel for the October 1st Chinese National Day holiday which means a week-long holiday for many people. We can help you book hotel rooms and flight/train tickets.
China Highlights Tours
See the best of Chengdu with our Chengdu tours. These tours can be customized and are planned through many years of experience and customer feedback.
Further Reading
Chengdu Average Daily Temperatures Based on Historical Data
Date
Average High
Average Low
September 1
81 °F
27.22 °C
68 °F
20 °C
September 2
81 °F
27.22 °C
67 °F
19.44 °C
September 3
80 °F
26.67 °C
67 °F
19.44 °C
September 4
80 °F
26.67 °C
67 °F
19.44 °C
September 5
80 °F
26.67 °C
67 °F
19.44 °C
September 6
79 °F
26.11 °C
67 °F
19.44 °C
September 7
79 °F
26.11 °C
66 °F
18.89 °C
September 8
79 °F
26.11 °C
66 °F
18.89 °C
September 9
79 °F
26.11 °C
66 °F
18.89 °C
September 10
78 °F
25.56 °C
66 °F
18.89 °C
September 11
78 °F
25.56 °C
66 °F
18.89 °C
September 12
78 °F
25.56 °C
65 °F
18.33 °C
September 13
77 °F
25 °C
65 °F
18.33 °C
September 14
77 °F
25 °C
65 °F
18.33 °C
September 15
77 °F
25 °C
65 °F
18.33 °C
September 16
76 °F
24.44 °C
64 °F
17.78 °C
September 17
76 °F
24.44 °C
64 °F
17.78 °C
September 18
76 °F
24.44 °C
64 °F
17.78 °C
September 19
76 °F
24.44 °C
64 °F
17.78 °C
September 20
75 °F
23.89 °C
64 °F
17.78 °C
September 21
75 °F
23.89 °C
63 °F
17.22 °C
September 22
75 °F
23.89 °C
63 °F
17.22 °C
September 23
74 °F
23.33 °C
63 °F
17.22 °C
September 24
74 °F
23.33 °C
63 °F
17.22 °C
September 25
74 °F
23.33 °C
62 °F
16.67 °C
September 26
74 °F
23.33 °C
62 °F
16.67 °C
September 27
73 °F
22.78 °C
62 °F
16.67 °C
September 28
73 °F
22.78 °C
62 °F
16.67 °C
September 29
73 °F
22.78 °C
62 °F
16.67 °C
September 30
73 °F
22.78 °C
61 °F
16.11 °C
Chengdu Climate Information by Month

China Highlights
Chengdu Travel Guide