Chengdu Weather in September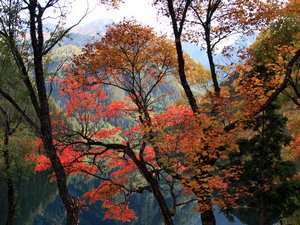 The weather is warm but is cooling down in September. The average high temperature is 25 °C (77 °F ) and the average low temperature is 19 °C (66 °F ). It is warm and occasionally a little hot during the first week, but may be cooler at the end of the month. Bring summer clothing and a light jacket/pullover for the cool weather . If you go out at night, long trousers and a light coat with a shirt will keep you warm. Although September sees far less rain than in July and August, take an umbrella .
The cooler weather makes September a good month for sightseeing in Chengdu. The city may also receive a large number of people, and tourist attractions may be crowded. If you arrive around the Chinese Mid-Autumn Festival, you will be fortunate enough to see the beautiful sweet osmanthus flower in Xindu, and can enjoy many unique dance performances and taste local snacks.
During this peak traveling month, plan your journey well or you may find hotel rooms and flights difficult to get. See our Chengdu Tours.
Chengdu Average Daily Temperatures Based on Historical Data
Date
Average High
Average Low
September 1
81 °F
27.22 °C
68 °F
20 °C
September 2
81 °F
27.22 °C
67 °F
19.44 °C
September 3
80 °F
26.67 °C
67 °F
19.44 °C
September 4
80 °F
26.67 °C
67 °F
19.44 °C
September 5
80 °F
26.67 °C
67 °F
19.44 °C
September 6
79 °F
26.11 °C
67 °F
19.44 °C
September 7
79 °F
26.11 °C
66 °F
18.89 °C
September 8
79 °F
26.11 °C
66 °F
18.89 °C
September 9
79 °F
26.11 °C
66 °F
18.89 °C
September 10
78 °F
25.56 °C
66 °F
18.89 °C
September 11
78 °F
25.56 °C
66 °F
18.89 °C
September 12
78 °F
25.56 °C
65 °F
18.33 °C
September 13
77 °F
25 °C
65 °F
18.33 °C
September 14
77 °F
25 °C
65 °F
18.33 °C
September 15
77 °F
25 °C
65 °F
18.33 °C
September 16
76 °F
24.44 °C
64 °F
17.78 °C
September 17
76 °F
24.44 °C
64 °F
17.78 °C
September 18
76 °F
24.44 °C
64 °F
17.78 °C
September 19
76 °F
24.44 °C
64 °F
17.78 °C
September 20
75 °F
23.89 °C
64 °F
17.78 °C
September 21
75 °F
23.89 °C
63 °F
17.22 °C
September 22
75 °F
23.89 °C
63 °F
17.22 °C
September 23
74 °F
23.33 °C
63 °F
17.22 °C
September 24
74 °F
23.33 °C
63 °F
17.22 °C
September 25
74 °F
23.33 °C
62 °F
16.67 °C
September 26
74 °F
23.33 °C
62 °F
16.67 °C
September 27
73 °F
22.78 °C
62 °F
16.67 °C
September 28
73 °F
22.78 °C
62 °F
16.67 °C
September 29
73 °F
22.78 °C
62 °F
16.67 °C
September 30
73 °F
22.78 °C
61 °F
16.11 °C
Chengdu Climate Information by Month

China Highlights
Chengdu Travel Guide