Chengdu Weather in August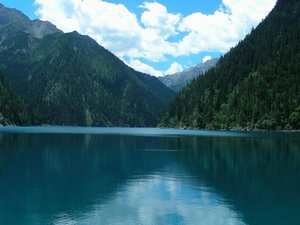 August is as hot as July. The maximum temperature during the month may reach 30 °C (86 °F), and the minimum temperature is about 22 °C (72 °F ). Sunny days are scorching. Summer clothing such as T-shirts and shorts or miniskirts are appropriate. August also sees the most rainfall of all months of the year. But don't worry about typhoons and thunderstorms, because Chengdu is seldom influenced by such bad weather. Take an umbrella in case it rains.
August is not suitable for traveling, but if you want to experience life in a summer resort , Qingcheng Hill, Jiulong Valley, and Xiling Snow Hill are recommended. As it is too hot, travelers are few in Chengdu, scenic spots are not crowded, and you can find good discounts on hotel rooms and flight/ train tickets. See our Chengdu Tours.
Chengdu Average Daily Temperatures Based on Historical Data
Date
Average High
Average Low
August 1
86 °F
30 °C
71 °F
21.67 °C
August 2
86 °F
30 °C
71 °F
21.67 °C
August 3
86 °F
30 °C
71 °F
21.67 °C
August 4
86 °F
30 °C
71 °F
21.67 °C
August 5
86 °F
30 °C
71 °F
21.67 °C
August 6
86 °F
30 °C
71 °F
21.67 °C
August 7
86 °F
30 °C
71 °F
21.67 °C
August 8
86 °F
30 °C
71 °F
21.67 °C
August 9
86 °F
30 °C
71 °F
21.67 °C
August 10
86 °F
30 °C
71 °F
21.67 °C
August 11
85 °F
29.44 °C
71 °F
21.67 °C
August 12
85 °F
29.44 °C
71 °F
21.67 °C
August 13
85 °F
29.44 °C
71 °F
21.67 °C
August 14
85 °F
29.44 °C
71 °F
21.67 °C
August 15
85 °F
29.44 °C
70 °F
21.11 °C
August 16
85 °F
29.44 °C
70 °F
21.11 °C
August 17
85 °F
29.44 °C
70 °F
21.11 °C
August 18
85 °F
29.44 °C
70 °F
21.11 °C
August 19
84 °F
28.89 °C
70 °F
21.11 °C
August 20
84 °F
28.89 °C
70 °F
21.11 °C
August 21
84 °F
28.89 °C
70 °F
21.11 °C
August 22
84 °F
28.89 °C
69 °F
20.56 °C
August 23
83 °F
28.33 °C
69 °F
20.56 °C
August 24
83 °F
28.33 °C
69 °F
20.56 °C
August 25
83 °F
28.33 °C
69 °F
20.56 °C
August 26
83 °F
28.33 °C
69 °F
20.56 °C
August 27
82 °F
27.78 °C
69 °F
20.56 °C
August 28
82 °F
27.78 °C
68 °F
20 °C
August 29
82 °F
27.78 °C
68 °F
20 °C
August 30
82 °F
27.78 °C
68 °F
20 °C
August 31
81 °F
27.22 °C
68 °F
20 °C
Chengdu Climate Information by Month

China Highlights
Chengdu Travel Guide