Chengdu Weather in November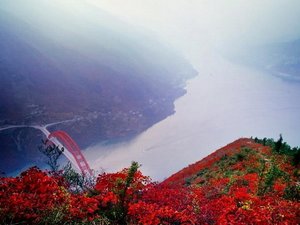 It is cool in November. The average highest temperature is around 16 °C (61 °F ) and the lowest temperature is about 10 °C (50 °C ). November rarely sees any rain, but is not dry because of the special climate of this city. The sky is cloudy and the sun rarely shines, so you may feel a bit cold. Long trousers and a coat will do, and wear socks most of the time to stay warm.
On the whole, the weather is neither too hot nor too cold, so November is ideal for the tourism industry. If you go to Xiling Snow Hill, the top of the hill may be covered with a thin layer snow, creating beautiful scenery.
If you book in advance, you can get discounts on hotel rooms and fights. See our Chengdu Tours.
Chengdu Average Daily Temperatures Based on Historical Data
Date
Average High
Average Low
November 1
64 °F
17.78 °C
53 °F
11.67 °C
November 2
63 °F
17.22 °C
52 °F
11.11 °C
November 3
63 °F
17.22 °C
52 °F
11.11 °C
November 4
63 °F
17.22 °C
52 °F
11.11 °C
November 5
63 °F
17.22 °C
51 °F
10.56 °C
November 6
62 °F
16.67 °C
51 °F
10.56 °C
November 7
62 °F
16.67 °C
51 °F
10.56 °C
November 8
62 °F
16.67 °C
50 °F
10 °C
November 9
61 °F
16.11 °C
50 °F
10 °C
November 10
61 °F
16.11 °C
50 °F
10 °C
November 11
61 °F
16.11 °C
49 °F
9.44 °C
November 12
61 °F
16.11 °C
49 °F
9.44 °C
November 13
60 °F
15.56 °C
49 °F
9.44 °C
November 14
60 °F
15.56 °C
48 °F
8.89 °C
November 15
60 °F
15.56 °C
48 °F
8.89 °C
November 16
59 °F
15 °C
48 °F
8.89 °C
November 17
59 °F
15 °C
47 °F
8.33 °C
November 18
59 °F
15 °C
47 °F
8.33 °C
November 19
58 °F
14.44 °C
47 °F
8.33 °C
November 20
58 °F
14.44 °C
47 °F
8.33 °C
November 21
58 °F
14.44 °C
46 °F
7.78 °C
November 22
58 °F
14.44 °C
46 °F
7.78 °C
November 23
57 °F
13.89 °C
46 °F
7.78 °C
November 24
57 °F
13.89 °C
45 °F
7.22 °C
November 25
57 °F
13.89 °C
45 °F
7.22 °C
November 26
56 °F
13.33 °C
45 °F
7.22 °C
November 27
56 °F
13.33 °C
44 °F
6.67 °C
November 28
56 °F
13.33 °C
44 °F
6.67 °C
November 29
56 °F
13.33 °C
44 °F
6.67 °C
November 30
55 °F
12.78 °C
44 °F
6.67 °C
Chengdu Climate Information by Month

China Highlights
Chengdu Travel Guide