Chengdu Weather in May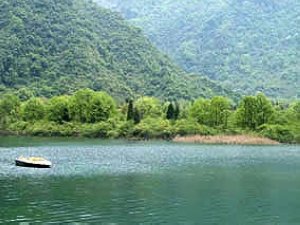 May is mild and warm, and occasionally hot . The average high temperature is 26 °C (79 °F ) and the average low temperature is 17 °C (63 °F ). It rains more during May, and is quite humid . Summer clothes like T-shirts are appropriate , but also bring a light coat or a sweater for the occasional coolness. If you go outdoors, take an umbrella in case it rains.
May remains a good time for traveling in Chengdu. The Tianpeng Peony Show may go to the middle of May, so if you enjoy the beauty of peonies, this is the ideal time to visit. Also plan to attend the dragon boat games in Longjin and enjoy the local customs of the Chinese Dragon Boat Festival.
May is a peak month for Chengdu's tourism business, especially around the National Labor Day holiday when the city is quite crowed. Hotel room prices may be higher than usual, and transportation is also busier, with train and flight tickets difficult to purchase. If you plan to visit around May 1, make your arrangements in advance. See our Chengdu Tours.
Chengdu Average Daily Temperatures Based on Historical Data
Date
Average High
Average Low
May 1
75 °F
23.89 °C
59 °F
15 °C
May 2
75 °F
23.89 °C
59 °F
15 °C
May 3
76 °F
24.44 °C
59 °F
15 °C
May 4
76 °F
24.44 °C
60 °F
15.56 °C
May 5
76 °F
24.44 °C
60 °F
15.56 °C
May 6
76 °F
24.44 °C
60 °F
15.56 °C
May 7
77 °F
25 °C
61 °F
16.11 °C
May 8
77 °F
25 °C
61 °F
16.11 °C
May 9
77 °F
25 °C
61 °F
16.11 °C
May 10
77 °F
25 °C
61 °F
16.11 °C
May 11
78 °F
25.56 °C
62 °F
16.67 °C
May 12
78 °F
25.56 °C
62 °F
16.67 °C
May 13
78 °F
25.56 °C
62 °F
16.67 °C
May 14
78 °F
25.56 °C
62 °F
16.67 °C
May 15
78 °F
25.56 °C
63 °F
17.22 °C
May 16
79 °F
26.11 °C
63 °F
17.22 °C
May 17
79 °F
26.11 °C
63 °F
17.22 °C
May 18
79 °F
26.11 °C
63 °F
17.22 °C
May 19
79 °F
26.11 °C
63 °F
17.22 °C
May 20
79 °F
26.11 °C
64 °F
17.78 °C
May 21
79 °F
26.11 °C
64 °F
17.78 °C
May 22
79 °F
26.11 °C
64 °F
17.78 °C
May 23
80 °F
26.67 °C
64 °F
17.78 °C
May 24
80 °F
26.67 °C
64 °F
17.78 °C
May 25
80 °F
26.67 °C
65 °F
18.33 °C
May 26
80 °F
26.67 °C
65 °F
18.33 °C
May 27
80 °F
26.67 °C
65 °F
18.33 °C
May 28
80 °F
26.67 °C
65 °F
18.33 °C
May 29
80 °F
26.67 °C
65 °F
18.33 °C
May 30
80 °F
26.67 °C
65 °F
18.33 °C
May 31
80 °F
26.67 °C
66 °F
18.89 °C
Chengdu Climate Information by Month

China Highlights
Chengdu Travel Guide