Chengdu Weather in April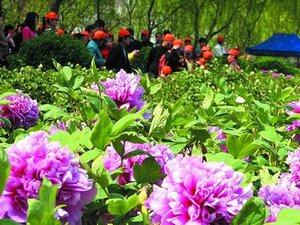 In April, the weather is generally warm and sometimes very warm. The average high temperature is 22 °C (72 °F ) and the average low temperature is 13 °C (55 °C ). It rains more in April than in previous months, and it is humid. A shirt and a light coat are enough for the beginning of the month. At the end of the month, the temperature rises and generally summer clothing is enough for sudden high temperatures. The breeze makes the days rather comfortable .
April is a good time to travel in Chengdu, and is the best month to see flowers. Take part in the Dujiangyan Drainage Festival, which shows you Chinese worship rites from ancient times. The Tianpeng Peony Show begins in April, letting you enjoy Chinese national flowers on a large scale and many folk activities.
Chengdu is at its busiest with respect to travelers during April, and tourist attractions are crowded. Discounts on hotel rooms and flights are difficult to find. Plan your trip in advance if you go during this time. See our Chengdu Tours.
Chengdu Average Daily Temperatures Based on Historical Data
Date
Average High
Average Low
April 1
66 °F
18.89 °C
51 °F
10.56 °C
April 2
66 °F
18.89 °C
51 °F
10.56 °C
April 3
67 °F
19.44 °C
51 °F
10.56 °C
April 4
67 °F
19.44 °C
51 °F
10.56 °C
April 5
67 °F
19.44 °C
52 °F
11.11 °C
April 6
68 °F
20 °C
52 °F
11.11 °C
April 7
68 °F
20 °C
52 °F
11.11 °C
April 8
68 °F
20 °C
52 °F
11.11 °C
April 9
69 °F
20.56 °C
53 °F
11.67 °C
April 10
69 °F
20.56 °C
53 °F
11.67 °C
April 11
69 °F
20.56 °C
53 °F
11.67 °C
April 12
70 °F
21.11 °C
54 °F
12.22 °C
April 13
70 °F
21.11 °C
54 °F
12.22 °C
April 14
70 °F
21.11 °C
54 °F
12.22 °C
April 15
70 °F
21.11 °C
54 °F
12.22 °C
April 16
71 °F
21.67 °C
55 °F
12.78 °C
April 17
71 °F
21.67 °C
55 °F
12.78 °C
April 18
71 °F
21.67 °C
55 °F
12.78 °C
April 19
72 °F
22.22 °C
56 °F
13.33 °C
April 20
72 °F
22.22 °C
56 °F
13.33 °C
April 21
72 °F
22.22 °C
56 °F
13.33 °C
April 22
73 °F
22.78 °C
56 °F
13.33 °C
April 23
73 °F
22.78 °C
57 °F
13.89 °C
April 24
73 °F
22.78 °C
57 °F
13.89 °C
April 25
73 °F
22.78 °C
57 °F
13.89 °C
April 26
74 °F
23.33 °C
58 °F
14.44 °C
April 27
74 °F
23.33 °C
58 °F
14.44 °C
April 28
74 °F
23.33 °C
58 °F
14.44 °C
April 29
75 °F
23.89 °C
58 °F
14.44 °C
April 30
75 °F
23.89 °C
59 °F
15 °C
Chengdu Climate Information by Month

China Highlights
Chengdu Travel Guide