Chengdu Weather in March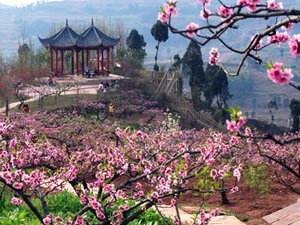 The weather is warming up during March, with an average high temperature of 16 °C (61 °F ) and an average low temperature of 9 °C (46 °F ). Some days are still cool, and occasionally get cold . The rains still fall, and on average the days are not too dry. Long trousers with a coat and a sweater are generally enough, but bring a thick coat if you go out at night. March is a good month for traveling, as flowers begin to bloom at the end of the month. A good place to see flowers in the city is during Dragon Spring, where the International Peach Blossom Festival is held. Here, you can see beautiful peach blossoms and enjoy a nice variety of art shows and flower exhibitions .
The city experiences the first peak traveling period starting in March, and large crowds begin to fill tourist attractions. Hotel rooms and flight tickets may be more expensive than usual. If you go during this time, please prepare in advance. See our Chengdu Tours.
Chengdu Average Daily Temperatures Based on Historical Data
Date
Average High
Average Low
March 1
56 °F
13.33 °C
43 °F
6.11 °C
March 2
56 °F
13.33 °C
43 °F
6.11 °C
March 3
57 °F
13.89 °C
43 °F
6.11 °C
March 4
57 °F
13.89 °C
43 °F
6.11 °C
March 5
57 °F
13.89 °C
44 °F
6.67 °C
March 6
58 °F
14.44 °C
44 °F
6.67 °C
March 7
58 °F
14.44 °C
44 °F
6.67 °C
March 8
58 °F
14.44 °C
44 °F
6.67 °C
March 9
59 °F
15 °C
45 °F
7.22 °C
March 10
59 °F
15 °C
45 °F
7.22 °C
March 11
59 °F
15 °C
45 °F
7.22 °C
March 12
60 °F
15.56 °C
45 °F
7.22 °C
March 13
60 °F
15.56 °C
46 °F
7.78 °C
March 14
60 °F
15.56 °C
46 °F
7.78 °C
March 15
61 °F
16.11 °C
46 °F
7.78 °C
March 16
61 °F
16.11 °C
46 °F
7.78 °C
March 17
61 °F
16.11 °C
47 °F
8.33 °C
March 18
62 °F
16.67 °C
47 °F
8.33 °C
March 19
62 °F
16.67 °C
47 °F
8.33 °C
March 20
62 °F
16.67 °C
47 °F
8.33 °C
March 21
63 °F
17.22 °C
48 °F
8.89 °C
March 22
63 °F
17.22 °C
48 °F
8.89 °C
March 23
63 °F
17.22 °C
48 °F
8.89 °C
March 24
64 °F
17.78 °C
48 °F
8.89 °C
March 25
64 °F
17.78 °C
49 °F
9.44 °C
March 26
64 °F
17.78 °C
49 °F
9.44 °C
March 27
65 °F
18.33 °C
49 °F
9.44 °C
March 28
65 °F
18.33 °C
50 °F
10 °C
March 29
65 °F
18.33 °C
50 °F
10 °C
March 30
66 °F
18.89 °C
50 °F
10 °C
March 31
66 °F
18.89 °C
50 °F
10 °C
Chengdu Climate Information by Month

China Highlights
Planning a trip? Ask us here 800-2682918 (USA & CA)
86-773-2831999 (Int'l)
Q:
CATHERINE
Asked on 2011-03-07
Reply
what kind of clothing shall i bring to chengdu from 9th - 16th march 2011
Hi CATHERINE, Based on the information from the Weather Forecast Bureau, the temperature is about 7-17°C in the next 7 days. It's not very cold. You'd better take your coat as it's cool in the night. If you would like to visit Chengdu, we will be glad to arrange a tour for you because we specialize in designing a tailor-made tour. There are many tour packages on our website for reference. Click here: http://www.chinahighlights.com/chengdu/tours.htm If you have any question, you can directly send your e-mail to lussie@chinahighlights.com Lussie Lu Replied on 2011-03-08
Chengdu Travel Guide