Huangshan Facts
Name: Mount Huangshan (黃山; Huángshān (/hwang-shan/))
Meaning: Yellow Mountain
Previous names: Xinan, Huizhou, Tunxi
Features
2 UNESCO World Heritage Sites
A favorite city for tourism
The Mount Huangshan is considered one of the most beautiful in China
Main Attractions
The Yellow Mountains, Hongcun Village, Xidi Village, Huangshan Hiking, Tunxi Ancient Street, Tachuan Village, Mount Huangshan Bike Racing Tournament
Most popular souvenirs and local products: Keemun Tea, Mao Feng Tea, antiques, porcelain, Chinesepainting and calligraphy, traditional writing utensils, chrysanthemums, mushrooms
Most popular local food: Mao bean curd, chrysanthemum tea
History
The city is in a region that is surrounded by mountains that made access difficult until recent decades. This preserved some of the traditional culture of the area. Nearby Mount Huangshan has long been an attraction for travellers for hundreds of years.
747 The name of the nearby mountain was changed to Mount Huangshan by imperial decree, and the mountain became a famous attraction thereafter.
1990 Mount Huangshan was listed as a UNESCO World Heritage.
2013 Two bullet train lines are scheduled to operate.
Geography
Significance of the city: 2 UNESCO World Heritage sites are nearby: Mount Huangshan (the Yellow Mountains), ancient village complex (Hongcun Village and Xidi Village). Mount Huangshan has been a tourist site for hundreds of years and is also a plant and animal preserve.
Nearby cities: Hangzhou (165 km/102 mi), Ningbo (301 km/187 mi), Suzhou (120 km/75 mi), Nanjing (270 km/168 mi), Shanghai (400 km/250 mi)
Municipality terrain: The main part of the city sits on the banks of the Xinan River amid the mountainous terrain of the Mount Huangshan.
Main rivers: Xinan River
Location Information
Municipality location: 29 °24' — 30 °24' N, 117 °02' — 118 °55' E; East China.
Municipality population: 1,470,000
Municipality area: 9,807 sq km (3,786 sq mi)
Municipality population density: 150/sq km (388/sq mi)
North to south distance of main urban area: 6.7 km (4.2 mi)
East to west distance of main urban area: 8.5 km (5.3 mi)
City center: at the confluence of the Xinan River and the Shuaishui River (29.71N, 118.30E)
Climate
Average annual high annual temperature: 33 °C (91.4 °F)
Average annual low temperature in January: -2 °C (28.4 °F)
Mild monsoon climate; varies depending on altitude; annual precipitation: 2,365 mm (93 in) Known for clouds and mists and cold nights in the mountains.
Economy
Average annual income: 20,846 RMB (3,021 USD)
Development: developing; the city is developing as a tourist and resort region and has become a transportation hub for bullet trains and expressways.
Industry: 43.2% tertiary industry (services, tourist industry), 44.1% secondary (industry, construction), 12.7% primary (agriculture)
Shopping Streets: Tunxi Ancient Street
Transportation
Huangshan Tunxi International Airport is a domestic airport.
train station for 1 rail line
bullet train lines are scheduled to begin operation by 2013.
expressways run through the municipality area.
Questions and Answers About Huangshan Facts
April Offer $25 Coupon
Send your inquiry before Apr. 30, 2014, and we will email you a $25 coupon.
The coupon is valid till Dec. 31, 2014, for paying tour packages worth $250 or up.
The coupon cannot be used for paying flight tickets, train tickets, hotel rooms and day trips.
Travel Advice or Question? Ask us here
You might like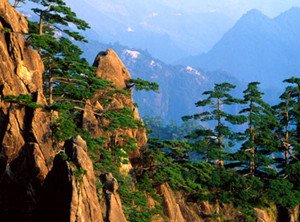 Photography Tips at the Yellow Mountains

China Highlights
Huangshan Travel Guide