Huangshan Weather
Mount Huangshan (Yellow Mountain Scenic Area) has a humid sub-tropical monsoon climate with four distinct seasons. Rainfall is plentiful, with annual precipitation at 2348 mm (inches). There are about 183 rainy days and 49 snowy days. The weather is characterized by abundant cloud and fog with heavy humidity.
Spring and autumn are short, taking up two months each (mid-March to mid-May and mid-September to mid-November respectively). Summer and winter are long, taking up four months each. The scenic area has a mountain climate, which means it is colder and wetter than the surrounding area below. Temperatures are lower at higher altitudes. Be prepared for the change of weather as you go up. Mount Huangshan is suitable for travel all year round, with seasonal beauties, though the most popular period is from April to November. See our Mount Huangshan Tour Packages and choose your time of travel.
Spring
Spring is from March to May. Huangshan has its seasonal good points all year round. The brilliantly blooming flowers and fresh, crisp air are features of spring in the Yellow Mountains. It is mostly rainy, misty and cloudy. Prepare shirts, sweaters and overcoats because temperatures are lower as you climb up higher altitudes. Wearing layers that could easily be taken on and off are convenient when you climb or hike on the mountain.
Summer
Summer time (June to September) is the tourist high season. Summer on the mountain is cool and tranquil in the clouds, but beware, you may still get burnt when the clouds clear. May through to August are the wettest months with a foot (300mm) or more of rain each. This makes summer the best time to enjoy the Sea of Clouds, one of the famous four features of the mountain (the other three are the oddly-shaped pines, grotesque rocks and hot springs). Prepare summer clothes, sun protection, but also a jacket for the night when the temperature gets lower. During summer thunderstorms, it is not suggested to use umbrellas for safety concerns; raincoats are preferable.
Autumn
The climate is most comfortable and the scenery is stunningly beautiful in autumn. Yellow Mountain is one of the best places to enjoy autumn foliage in China, looking down on the deciduous trees of the ravines and valleys. The pines of course retain their verdant needles. The first week of October is another high season, being a national holiday, so Mount Huangshan is more crowded and it costs a bit more to travel and stay at hotels. Prepare shirts, sweaters and overcoat for the season.
Winter
Winter is freezing up on the mountain and spectacular snowscapes are seen every year. It's the low season, so the mountainside is much less crowded and it is much cheaper to travel. Prepare warm winter clothes, including fleece or down.
Popular Tours to Mount Huangshan
Huangshan Climate Information by Month
Huangshan Average Monthly Temperatures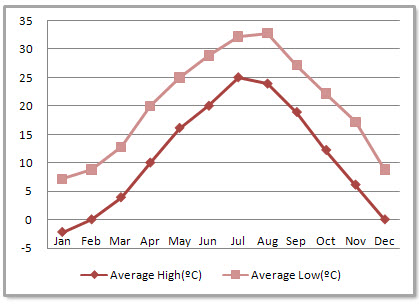 Huangshan Average Monthly Precipitation (inches)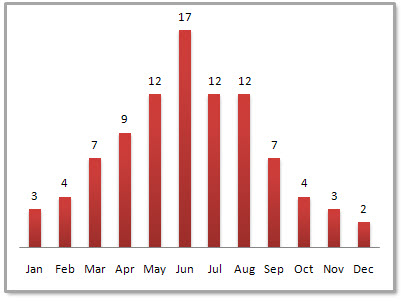 Questions and Answers About Huangshan Weather
DKL
2013-01-21
Show Answer
Hi!! I am planning a trip to Shanghai and would like to go to Hangzhou and stay on the mountain for 2 nights - could you please tell me:- Which is the best time to go for scenery - mid-May or mid-September?- Which is the best time to go for the weather - mid-May or mid-September?- Is there a chance to see the sea cloud in September?- What is the nicest, most luxurious hotel at the top of the mountain? Best for sunrise?- How far in advance does the hotel fill up?I would like to get to the mountain on my own and walk around the mountain on my own, but I may need help with trip logistics - does your company help travellers with planning their transportation from Shanghai to the mountain top, and back to Shanghai? If I need to make a stop, I would like to stop at Nanjing or Hangzhou - which is better? Also it would be nice to include a side-trip to a water-town or a nice, traditional village near the mountain before returning to Shanghai. Is this something you could help with?
Hi DKL, both mid-May and mid-September are excellent time for visiting these places. It is more likely to see the sea clouds in May.
The most luxurious hotel at the top of the mountain is Xihai Hotel. It is very convenient for viewing the sunrise.
We are more than happy to help plan the transportation from Shanghai to the mountain top and back to Shanghai for you.
If you need a stop, Hangzhou would be better. We can include a water town such as Wuzhen or Xitang for you on the way back to Shanghai.
Please kindly advise the number of people and the exact date for the tour. Then we will send you a proposal.
Do you also need a tour in Shanghai and Hangzhou? Have you booked your hotel? If not, what kind of hotel would you like to stay in, please? How long is your stay in China? I am waiting for your detailed information. Thanks & regards. Whitney
Whitney Liao replied on 2013-01-22
percy
2012-06-20
Show Answer
how far from Beihai hotel to cable car station?
Hi Percy, Thank you for your inquiry. It takes about 20-25 minutes to the Yungu cable car station(云谷缆车) on foot from Beihai Hotel. If you are interested Huangshan, you can click here to watch Huangshan Video http://www.chinahighlights.com/community/video/huangshan.asp . or search our Huangshan Tour for reference, http://www.chinahighlights.com/huangshan/tours.htm . We can arrange it or tailor-made a tour for you. Please feel free to contact me. Regards, Alice. Alice Cai replied on 2012-06-20
Nina
2012-05-25
Show Answer
I''m planning to go to Huangshan on June 8-10 by plane from Shanghai. Should I stay on the top of mountain for 1 night? And what''s the weather usually like in June?
Dear Nina, It is suggest that you stay one night on the top of the mountain so that you may have a chance to enjoy the amazing sunrise. However, if you have a limited tour budget, it is suggested that you stay at the roof of the mountain since the cost of hotels on the top of mountain is nearly twice than hotels at the roof. According to last years' data for the weather in Huangshan, the lowest temperature is19 degrees and the highest temperature is 28 degrees. As a travel agency, we are glad to arrange tours to Huangshan for you. Please feel free contact me at nancy@chinahighlights.net if you need any tour arrangement. Nancy Nancy Deng replied on 2012-05-27
Liyun
2012-03-23
Show Answer
Hi, May I know the weather forecast on mid of May in Huangshan?
The exact weather forecast on mid May in Huangshan is unknown at present. However, I can tell you the weather information about mid May in Huangshan according past years: May is generally mild, with an average temperature of 15°C (59°F). May falls during the plum rain season, so the month gets a lot of rain and has an average precipitation of 273.3 mm. Remember to take an umbrella or a raincoat, and wear a windbreaker with a shirt or a light sweater. For more detailed information, you can visit the following page: http://www.chinahighlights.com/huangshan/weather/may.htm. Lynn Ye replied on 2012-03-25
Amanda
2012-03-03
Show Answer
we are planning to go huangshan on 18th August 2012. Please advise us about the weather. Will it be too hot. what is the temperature like in celcius.
Wear long trousers and a long-sleeve blouse with a T-shirt in the morning and evening while you are indoors, or while on the mountain. If you get hot, you can take off the blouse. Canvas sneakers are suitable and convenient for walking around and climbing the mountain. Lynn Ye replied on 2012-03-09
April Offer $25 Coupon
Send your inquiry before Apr. 30, 2014, and we will email you a $25 coupon.
The coupon is valid till Dec. 31, 2014, for paying tour packages worth $250 or up.
The coupon cannot be used for paying flight tickets, train tickets, hotel rooms and day trips.
Travel Advice or Question? Ask us here
You might like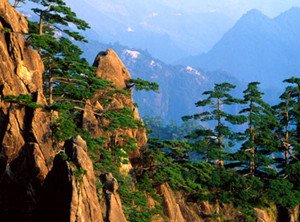 Photography Tips at the Yellow Mountains

China Highlights
Huangshan Travel Guide