Taiwan Travel Guide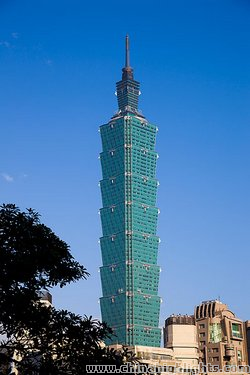 Taipei 101 Building
Visit Taiwan for a different experience of China. This large, subtropical, Pacific island has mountainous scenery and highly-developed cities. A convenient transport network provides easy access to Taiwan's national parks, cultural and historic sights, and iconic city attractions.
Taiwan's Top Attractions
Taroko Gorge — a marble-walled canyon with aboriginal tribes, shrines and temples, mountain hiking, and Taiwanese jade manufacture.
The National Palace Museum — "Taiwan's Forbidden City"
Taipei 101 — tallest tower outside the Middle East with a beautiful oriental design
Our two Taiwan tours offer a choice of the attractions of the capital Taipei or the scenic highlights around the island. Our tours are fully-customizable, or we can tailor-make a tour of Taiwan to suit your requirements.
More About Taiwan
Did you Taipei is Asia's second richest city per capita. See Taiwan Facts for more.
Taiwan Tourism Information
We have also put together information on food and restaurants, shopping, nightlife, weather, maps, and transport to help our customers and other Taipei travelers discover the best of Taipei.
Planning a trip? Ask us here 800-2682918 (USA & CA)
86-773-2831999 (Int'l)
Q:
jhbw
Asked on 2013-07-25
Reply
I wld like to go to Taiwan in early Dec. will be going with my family with 2 boys (5 & 2 years old). Is the weather too cold for them? Pls advise. Thanks
Hi Jhbw, it is not too cold for them. Just bring thick / warm clothes is okay.
Whitney Liao Replied on 2013-07-29

Hi, I would like to ask if you can recommend any backpackers area near MRT station? What's the weather around 2nd week of november? and advisable to bring coat and boots? Thank you much!:) yvesdrop Replied on 2013-09-02
I recommend the Chiang Kai-shekMemorial Hall, National Palace Museum, TAIPEI 101, Xin Guang San Yue to you. They are all within the access of MRT station. We are not able to tell you the weather around 2nd week of November. From the previous record, it is about 15-20℃(59-68℉). The suggested clothes are long sleeved shirts and a thin coat. If you go to Mount Ali, a thick coat is suggested. Whitney Liao Replied on 2013-09-02
Q:
tony
Asked on 2013-02-23
Reply
what are the locals like? we are planning a trip and we don''t want mean people
Hi Tony, they are kind, enthusiastic and polite. However, just like everywhere else, there are good people as well as mean people, just the rate different.
Whitney Liao Replied on 2013-02-24
Q:
Lina
Asked on 2013-01-13
Reply
I''m planning a trip to taipei in Jan 2014, what is the climate like? I''m coming with 2 adults, 2 child and 1 infant, can someone please recommend muslim tour for ground only.
Hi Lina, January in Taipei is comfortable. The average low and high temperatures are 13 °C (55 °F) and 16 °C (61 °F). It is the month to see plum blossoms. For Muslim tour, what attractions or places would you like to visit, please?
Whitney Liao Replied on 2013-01-13
Q:
Trisha
Asked on 2013-01-12
Reply
Are Yangmingshan National Park, Beitou and Wulai all in the same area? Meaning we can go to those 3 places in just one day?
Q:
carol
Asked on 2012-11-06
Reply
an airline is having a promo for taipei until september 2013.. now that we are experiencing climate change, what do you think is the best time for us to come and visit taipei? Thank you...
The best time to visit Taipei is from April to July, October and November.
Whitney Liao Replied on 2012-11-08
Taiwan Travel Guide

Taiwan Facts
Chinese Name: 台湾
Traditional Chinese Name: 臺灣
Chinese Pinyin: tái wān
Location: Southeast of China
Area: 36,000sq. km
Population: 18.8 million
Capital City: Taipei