Taiwan Weather in April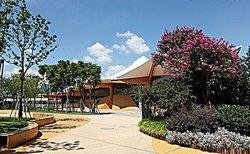 April in Taiwan
Weather: The rainy season begins with continuous drizzles towards the end of the month, but it is rather warm in April. Average low and high temperatures are 19 °C (66 °F) and 23 °C (74 °F).
Clothing: A long-sleeve shirt or even a T-shirt is enough for the day time, but at early morning or evening you will need a cardigan or sweater.
If you travel to mountainous areas, you will need a coat. Bring an umbrella and mosquito repellant, because after the rain there are many mosquitoes.
Things to Do
April is a fine time to visit outdoor places in Taiwan since the rainfall is moderate and the temperatures are pleasant. See the blooming gardens, new growth, and verdant mountains.
Taipei views from Elephant Hill Park: Just a 20 minute walk away from Taipei 101, there is a small natural park with walking paths leading to various hills. The paths are paved and lighted at night, and it offers stunning spring scenery. Elephant Hill (象山) is the main hill. It is 183 meters (600 feet) high and affords views of the city and the Taipei 101 nearby.
Explore the Ximending Night Market: Ximending is both a taste and cultural experience. It is known for its mix of Japanese and Taiwanese cultures and restaurants. There are old Japanese buildings such as Matsu Temple and Red House Theater. It is an ideal place to find souvenirs.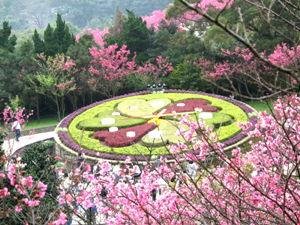 Yangmingshan National Park
If you like spring flowers, hot springs, geysers, mountains, scenic places. and natural paths...
See the flowers at Yangmingshan: In April, the cherry trees are abloom in hot pink and white flowers, and tens of thousands of azalea bushes add more red and white color to the roadsides. It doubles as a national garden area. There are hot springs, volcanic sulfur vents, and many nature trails to explore.
Yangmingshan is a big national park with world-class scenery and facilities such as campgrounds. You can walk to the sightseeing observation points that were constructed near the sulfur fumaroles. You can also go on long hikes. Mount Qixing (Seven Star Mountain) has an elevation of 1,120 meters (3,674 feet), and it is the highest point of the municipal area of greater Taipei City.
Travel: April is a high travel month. Let us help you book tickets.
China Highlights Tours
Let us help you plan a personalized Taiwan tour. If you are interested in touring Taiwan or any of these places and want to book reservations for hotels or a tour, contact us for help.
Taiwan Tour Packages: See the best of Taiwan with our Taiwan tour package. The tours are reasonably priced and can be customized to your requirements.
Taiwan Climate Information by Month

China Highlights
Planning a trip? Ask us here 800-2682918 (USA & CA)
86-773-2831999 (Int'l)
Q:
Low Pei Wah
Asked on 2013-10-28
Reply
hi,i will be travelling to taiwan next year 2014 15.04.2013 – 23.04.13,may i know how is the weather during that day / MOnth
It is very pleasant weather to travel in Taiwan in April, the temperature is between 19 ℃ to 25 ℃.
Lily Guo Replied on 2013-10-29
Q:
ky
Asked on 2013-09-02
Reply
hi,i will be travelling to taiwan next year 2014,may i know which month suitable for view blooming gardens and verdant mountains march or april 2014?
Hi, April is a fine time suitable for view blooming gardens and verdant mountains while March is a cold and rainy month suitable for staying indoors.
Simon Huang Replied on 2013-09-02
Q:
Jasmine
Asked on 2013-07-22
Reply
hi, i will be travelling to taipei for wedding shoot in mar 27-29. may i know how is the weather during end of mar and early apr? does it rain very frequently?
Dear Jasmine, Based on the former data, it is rainy season in Taibei, it usually rains during that period, but not heavily. Lussie Lu Replied on 2013-07-23
Q:
Christina Lau
Asked on 2013-07-09
Reply
Hi im traveling to Taiwan in 1st april to 8th 2014. i just realise that 4th april is children''s day, 5th is tomb sweeping day. im not sure how is my itinerary yet but wil these 2 days affect tourist? will rooms be expensive and will there be alot of jam? especially tomb sweeping day. if yes which area should we avoid the crowds. thank you.
Hi Christina, the Children's Day doesn't affect much on the tourist. But during the Tomb Sweeping Day, the hotel fare may go up and the traffic would be much heavier. To avoid the crowds, the best way is avoid these holidays.
Whitney Liao Replied on 2013-07-10
Q:
Siew Ling
Asked on 2013-01-06
Reply
may i ask wat is the best month for photo shotting in Taiwan...
Hi Siew, it is from Sep. to Nov.
Whitney Liao Replied on 2013-01-07