Taiwan Weather in February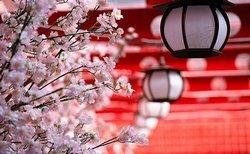 Flower Blossoms in February in Taiwan
Weather: The weather is changeable and varies in different parts of Taiwan. In the south it is mostly sunny and warm with temperature of about 25 °C (77 °F), while in the north there are several days of rain and it is colder with temperature of 10 °C (50 °F).
Clothing: A shirt, a sweater and a coat are enough to deal with winter in Taiwan. Bring an umbrella. Water-proof jackets are recommended if you travel to the north, because it is damp with occasional rainfall. In the south you only need a shirt and a coat or a sweater.
Things to Do
Chinese New Year: These traditional holidays falls in late January or twice as often in early or mid February. It is the greatest and longest holiday festival in Taiwan. It is a four-day national holiday generally. In the streets, see lion dances, temple fairs, and displays of glowing lanterns. In the air above Taipei, on the night of the full moon, watch the thousands of lit lanterns fly up in the Taipei Lantern Fair.
The National Palace Museum is a world-class museum where you can see the world's greatest collection of ancient Chinese antiques. They date from as far back as the Zhou Dynasty about 3,000 years ago. Some of the best Qing Dynasty (1644–1911) treasures are preserved there. On the mainland, many treasures were destroyed or stolen.
Skiing: Hit the ski resort on Yushan Mountain. It is the second tallest mountain in Taiwan with a 3,886 meter (12,750 feet) high peak.
Snow Scenery: Yushan Mountain has big forests and fine alpine scenery to enjoy.
Shilin Night Market: Eating hot food is a fine way to spend a cold evening. See how many of Taiwan's favorite foods, beverages and desserts you can eat.
Be aware: Chinese New Year is a very busy tourist season. Booking with hotels, transportation and tours well in advance is essential. Spring Festival period is the busiest travel time all over the country. Flights to Taiwan and between Taiwan and China may be difficult to get. Let us help you book tickets.
China Highlights Tours
Let us help you plan a personalized Taiwan tour. If you are interested in touring Taiwan or any of these places and want to book reservations for hotels or a tour, contact us for help.
Taiwan Tour Packages: See the best of Taiwan with our Taiwan tour packages. The tours are reasonably priced and can be customized to your requirements.
Taiwan Climate Information by Month

China Highlights
Planning a trip? Ask us here 800-2682918 (USA & CA)
86-773-2831999 (Int'l)
Q:
May Pang
Asked on 2013-10-16
Reply
i planing to go taiwan during chinese new year 31/01/2014-05/02/2014,can i know the weather there during this time? can i know the shopping n nite market n shop have open during chinese new year?
The temperature is around 10 ℃ to 16 ℃, it is a little bit chilly, you need to bring your warm jacket.
The night market and the big departments store will be opened in the this period.
Lily Guo Replied on 2013-10-16
Q:
Bernard Soh
Asked on 2013-10-13
Reply
Hi can please advise, I planning to go taipei on 2nd day of CNY, will the shops & night market be open during these days or will there be difficulty moving around?
Hi Bernard Soh,
Greetings from Cecilia at China Highlights Travel.
Chinese New Year is the most important festival to all the Chinese people. It is a time for families to be together. Shops and night markets will be open during this period, and it will be very crowed then.
Kind regards,
Cecilia
Cecilia Peng Replied on 2013-10-14
Q:
Nigel
Asked on 2013-09-19
Reply
hi, can you please advise what will the weather be like in Kaoxiong for next year february 2014 to march 2014 as i am planning a trip there.thks
Hi Nigel,
The weather in Kaoxiong is around rainy days, and the average temperature is 17℃-21-℃.
Nancy
Nancy Deng Replied on 2013-09-20
Q:
chang
Asked on 2013-06-01
Reply
hi. my family will visit to taiwan by this year. what is the better month to visit taiwan? pls advise. thanks.
Dear Chang, From March to May and Sep. to Nov. it is good time for travel. In Jul. and Aug. typhoon comes frequently. Lussie Lu Replied on 2013-06-03
Q:
Maria
Asked on 2013-01-17
Reply
I will be visiting Taiwan on February 18 thru March 1, 2013 How is the weather on this month and should I take a coat or just a sweater? I will be on tour to other places in Taiwan and also the capital of Taiwan.
Hi Maria, the temperature in this period is about 10 °C (50 °F) ~25 °C (77 °F). A coat and a sweater will do.
Whitney Liao Replied on 2013-01-18