Taiwan Weather in December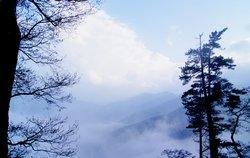 Ali Mountain Snow Scenery
Weather: Winter starts from December, but weather is generally mild, with average low and high temperatures of 13 °C (55 °F) and 18 °C (64 °F), and damp with occasional showers.
Clothing: There is a big difference in temperature between day and night. During day time a long-sleeve shirt is adequate, but in early morning and evening a coat is needed, sometimes also a sweater. If you visit mountainous areas, a sweater and a water-proof coat is recommended.
Taiwan Climate Information by Month

China Highlights
Planning a trip? Ask us here 800-2682918 (USA & CA)
86-773-2831999 (Int'l)
Q:
anna
Asked on 2012-12-27
Reply
Hi. Im going to Taichung and Taipei in early January 2013... How is the weather in Taichunng and Taipei in January. Are there any halal restaurant there?
Dear Sir or Madam, The average temperature will be 15-20℃(32-68℉). It is comfortable and you could take some thick coats. About the halal restaurants here are some options I searched on line. Taipei: 1. 安里家印度美食 Aaleja Pakistani & Indian Halal Restaurant 臺北市延吉街70巷5弄6號11號 No.6, Alley 5, Lane 70, Yanji St, Taipei City 2. 艾家清真黃牛麵館 Al-Jia Beef Noodle 臺北市忠孝東路4段223巷41號 No. 41, Lane 223, Sec. 4, Zhongxiao E. Rd., Taipei City 3. Taj印度餐廳Taj Indian Restauran 臺北市復興南路一段107巷5弄3號1樓 No. 3 Alley 5, Lane 107, Sec.1, Fuxing S.Rd., Taipei City, Taiwan Taichung: 1. 安拿朵利亞土耳其餐廳 Anatolia Turkish 台中市西區公益北街45號 No.45, Gongyi N. St., West Dist., Taichung City 403, Taiwan (R.O.C.) 2. 喜士來手工拉麵 Si Shih Lai Hand-Pulled Noodles 台中市五義街128號 No. 128, Wuyi St, Taichung City 3. 魔力屋印度料理 Bollywood Indian Restaurant 台中市西屯路3段166-73號 No. 166-73, Sec. 3, Xi Tun Rd., Taichung City Lussie Lu Replied on 2012-12-28
Q:
Serene
Asked on 2012-12-22
Reply
Hello we''ll be going Taipei fr 26/12 to 1/1 can u advised the most convenient way to travel from Taipei to Alisan? How long is the journey? How''s the weather in Alisan n the attractions.. Thanks
Dear Sir or Madam, We only have some information about Taipei. From Taipei to Alishan, you could take a bus from Taipei west station. The bus sets off on Friday or Saturday, it takes about 6 hours and the cost is about US$22 per person. During that period, the average temperature will be 17-20℃(62.6-68℉), it'll be rainy. You could take thick coats and sweaters. Lussie Lu Replied on 2012-12-24
Q:
Janice
Asked on 2012-12-21
Reply
Hello. We are going taipei from 23 dec to 27 dec. Do you have any recommendation on where to go in Taiwan in the morning? As we would be arriving in Taipei in early morning and when would be departing in the afternoon. Most shops open in the afternoon.I saw your recommendation to celebrate xmas:新光三越. Any other recommended place?Thank you in advance!
Hi Janice,
Thanks for visiting our website and your interest in our service, my name is Cecilia, I am a trip advisor at China Highlights. Here I am glad to recommend some popular sites in Taipei for you:
NationalPalace Museum: It has a permanent collection of over 650,000 pieces of ancient Chinese artifacts and artworks, one of the largest in the world. Most the treasures come from the Forbidden City in Beijing.
Taipei101: Taipei International Financial Centre 101, it is the world's tallest building. It holds the world record for height and also holds the record for the world's fastest elevator.
TaipeiStory House: It was built in 1914 by an aristocratic tea trader. Its style was said to have been inspired by a building he saw while visiting the 1900 Paris Expo. Today the house is an exhibition space for Taipei nostalgia and history. Exhibits change frequently and might include goodies such as toys, matchboxes and comic books.
2-28 Memorial Museum: Located in the 2-28 park, it offers an explanation of the events of 28 February 1947 massacre and of the repercussions that followed. Acknowledgment of the 2-28 incident was a pivotal part of Taiwan's transformation from dictatorship to democracy.
China Highlights is a tour company offer kinds of tour service, would you like us to make a Taipei tour for you? If so, please feel free to contact me at Cecilia@chinahighlights.net by telling me the number of people in you group and when you will take it.
Kind regards,
Cecilia
Cecilia Peng Replied on 2012-12-22
Q:
sim sim
Asked on 2012-12-20
Reply
We are celebrate X''mas in taipei, which is the best place for celebrate X''mas eve?Which is the best pineapple cake in Taipei?
Hi Sim, you can go to Shin Kong Mitsukoshi 新光三越, Taipei 101 X'mas Eve, the atmosphere there are very good. For pineapple cake in Taipei, here is one for you:
Chia Te佳德糕餅
Add: No.88 Section 5, Nanjing East Rd, Taipei 台北市南京東路5段88號
Whitney Liao Replied on 2012-12-20
Q:
Pearl
Asked on 2012-12-18
Reply
Hi, i''m going Taiwan from 20th dec to 28th dec. I have checked the weather forecast but different website is showing different forecast! I''m checking do i need to bring along a down jacket for my trip. I would be travelling to mostly every part of Taiwan. Thanks!