Taiwan Weather in January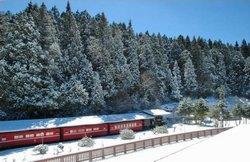 Ali Mountain Snow Scenery
Weather: January is the coldest month of the year in Taiwan, but given its geographical location it is never too cold. Average low and high temperatures are 13 °C (55 °F) and 16 °C (61 °F). January is the month to see plum blossoms.
Bring an umbrella as it rains sometimes. In the south it is usually sunny and warm, while in the north it is often cloudy and windy.
Clothing: In the early morning and evening you may need a light sweater and a jacket, but during the day when it is warmer, a long-sleeve shirt will do. Wearing layers is most convenient. Mountainous areas are quite cold and you may need a down jacket.
Things To Do

Chinese New Year: This traditional holidays usually occurs in late January or early or mid-February. It is the greatest and longest holiday festival in Taiwan. It is a 4-day national holiday generally.
In the streets, see lion dances, temple fairs, and displays of lanterns. In the air above Taipei, on the night of the full moon, watch the thousands of lit lanterns fly up in the Taipei Lantern Fair.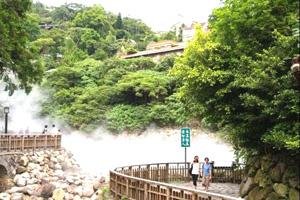 Beitou Geothermal Valley
Bask in Beitou Geothermal Valley: In Beitou Park, the warm sulfuric water of the valley is a wonder to see and smell. Though you are on the outskirts of a bustling metropolis, you can enjoy watching the water bubble up and the steamy mists float away. For a little expense you can bathe in a hot spring bath. Beitou Hot Spring Museum is free.
Skiing: Hit the ski resort on Yushan Mountain. It is the second tallest mountain in Taiwan with a 3,886 meter (12,750 feet) high peak.
Snow Scenery: Yushan Mountain has big forests and alpine scenery to enjoy.
Shilin Night Market: Eating hot food is a fine way to spend a cold evening. Shilin has the biggest night market in Taipei, and it is known mainly for the variety of food. There is a big covered cooked food market, many restaurants, and many street vendors offering snacks. See how many of Taiwan's favorite foods, beverages and desserts you can eat.
Travel: The Spring Festival period is the busiest travel time all over the country. Tickets for flights to Taiwan and between Taiwan and China may be difficult to get. Let us help you book flights.
China Highlights Tours
Contact us for a personalized Taiwan tour. If you are interested in touring Taiwan or any of these places and want to book reservations for hotels or a tour, contact us for help.
Taiwan Tour Packages: See the best of Taiwan with our Taiwan tour packages. The tours are reasonably priced and can be customized to your requirements.
Taiwan Climate Information by Month

China Highlights
Planning a trip? Ask us here 800-2682918 (USA & CA)
86-773-2831999 (Int'l)
Q:
Shirley
Asked on 2013-07-17
Reply
Thinking of visiting Taiwan during CNY next year. what will d weather n temperatures be like? Also will shops be opened if want to shop?
Dear Shirley, In Taiwan, it is not too cold every year, even in winter. The coldest season is in January, the average temperature is about 8-15℃(46.4-59℉), you could take a cotton padded clothes. From Mar. to May, it is in Spring, you could take some shirts and coats, and from Sep. to Dec. is in autumn, take some T-shirts and shorts. In July and Aug. typhoon comes frequently and you'd better avoid this period for traveling. Lussie Lu Replied on 2013-07-17
Q:
Margaret Wee
Asked on 2013-01-13
Reply
Hi, Will b visiting Taiwan on the 17th Jan, where to see plum blosssom.TqMargaret Wee
Hi Margaret, Yangming Mountain is an excellent place.
Whitney Liao Replied on 2013-01-14
Q:
Emily Yap
Asked on 2012-12-19
Reply
Hi, I am going to taipei from 2nd Jan to 8th Jan. Will it rain during this period.Plan to go Sun moon Lake from 2nd to 3th Jan.
Dear Sir or Madam, Based on the information from the weather forecast, the average is about 15-18℃(59-64.4℉)in seven days and it will rain. I am not sure if it rain in Jan. 2-8. I suggest you check the new information on this website before leaving for Taipei. Please click: http://www.weather.com.cn/en/weather/101340101.shtml Lussie Lu Replied on 2012-12-20
Q:
Deepa Bose
Asked on 2010-12-31
Reply
Dear Sir/Madam, Pl hows the temperature in Taiwan for first week of January. with regards, urs Deepa
Hi Deepa, please click the link here to see the temperature in Taiwan:http://www.cwb.gov.tw/V6e/index.htm. Michael Hu Replied on 2010-12-31