Taiwan Weather in June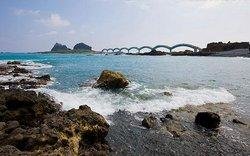 Taiwai Coast Scenery in June
Weather: Summer starts from June. It begins to feel hot, with average low and high temperature respectively at 24 °C (75 °F) and 27 °C (80 °F). In the south it feels hotter with temperature hitting 30 °C (86 °F).
Clothing: Wear summer clothes such as shorts, T-shirts and skirts, and sun protection. Bring an umbrella because it rains sometimes, especially in the south. If you plan to visit mountainous areas you will need to bring a coat.
Taiwan Climate Information by Month

China Highlights
Planning a trip? Ask us here 800-2682918 (USA & CA)
86-773-2831999 (Int'l)
Q:
Lynn
Asked on 2013-05-17
Reply
How hot will it be at June ? Like Singapore that hot ?
Dear Lynn, Do you mean the weather in Taiwan? If so, the average temperature will be 25-30℃(77-86℉), it is hot and it is a rainy season in Taiwan. It usually rains. Lussie Lu Replied on 2013-05-17
Q:
Irene Lim
Asked on 2013-01-08
Reply
Noted June is a hot season and from June to Oct is the typhoon period. Would it be save to travel from 24/6/12 to 30/6/12?
Hi Irene, it is not 100% safe. You can change another time to come. E.g. Sep.-Nov.
Whitney Liao Replied on 2013-01-08
Q:
Christy
Asked on 2012-12-10
Reply
Hi, I plan to take the wedding photo at Taiwan in year 2013. Can I know the suitable month to come if I wish the background of the photo with natural like flowers and beaches? Can I know the suitable places for photo shooting? Thanks
Hi Christy. From mid March to May is the season of cherry blossom in Yangming Mountain. The weather at that time is also good. So it may suit your wedding photos.
Whitney Liao Replied on 2012-12-10
Q:
SY
Asked on 2012-05-28
Reply
Is it a raining season to visit taiwan in June?? Some people says that April rain everyday? So, April or June is better timing to visit Taiwan?
Dear SY, The plum rain season begins towards the end of the month with continuous drizzles, so it almost raining everyday in April. Summer starts from June in Taiwan. It begins hot, with average low and high temperature respectively at 24C (75F) and 27C (80F). Bring an umbrella because it rains seldom, especially in the south. If you prefer cool weather, September to November would be better for you, then the day will sunny and cool. It is suggested that you could check the update weather in Taiwan at http://www.weather.com.cn/english/ 3 days before you come to Taiwan. Nancy Nancy Deng Replied on 2012-05-29
Q:
May Yeo
Asked on 2012-04-28
Reply
I will be visiting Taipei from 8 June to 12 June 2012, what is the suitable clothes to wear when shopping and what shoes to wear? Thanks

It becomes hot in Taiwan in June. I suggest you wear T shirt and sandal. Peter Replied on 2012-05-02