Taiwan Weather in March
March in Taiwan
Weather: Spring begins from March, and is the best time of the year to visit Taiwan, as the weather is pleasant and cool. Average low and high temperatures are 14 °C (58 °F) and 18 °C (65 °F).
Clothing: It generally feels warm during the day, and wearing a long-sleeve shirt is enough. At early morning and evening a coat or a sweater is needed. Carrying an umbrella is recommended.
Things to Do
March is a cold and rainy month. Staying indoors, going to geothermal parks, skiing, and even a tropical beach are just a few of Taiwan's variety of experiences to enjoy.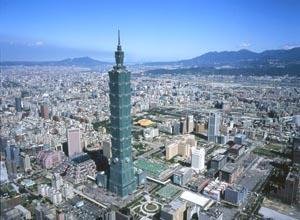 Taipei 101 Building
Taipei 101: Relax and tour the 4th tallest building in the world as of 2013. Highlights are the luxury mall at ground level, the observation deck on the 89th floor, and the Ding Xian 101 restaurant on the top floor (floor 101).
Skiing: Hit the ski resort on Yushan Mountain. It is the second tallest mountain in Taiwan with a 3,886 meter (12,750 feet) high peak.
Kenting Beach: In marked contrast to snow, Kenting National Park has a tropical climate. Swim and relax in the sun.
Bask in Beitou: In Beitou, the geothermal water of the valley is a wonder to feel and smell. Though you are on the outskirts of a bustling metropolis, you can enjoy watching the water bubble up and feel the warm steamy mists. For a little expense you can bathe in a hot spring bath.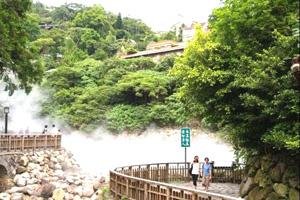 Beitou Geothermal Valley
Travel: Spring is high travel season. Flights to Taiwan and between Taiwan and China may be difficult to get. Let us help you book tickets.
China Highlights Tours
Let us help you plan a personalized Taiwan tour. If you are interested in touring Taiwan or any of these places and want to book reservations for hotels or a tour, contact us for help.
Taiwan Tour Packages: See the best of Taiwan with our Taiwan tour packages. The tours are reasonably priced and can be customized to your requirements.
Taiwan Climate Information by Month
China Highlights
Planning a trip? Ask us here 800-2682918 (USA & CA)
86-773-2831999 (Int'l)
Q:
Kelvin
Asked on 2013-10-03
Reply
hi, i am planning a trip to Taipei in the first week of March 2014. based on past statistics, will the day temperature be below 20℃? also, noting that it usually rains in March, will it be the kind of heavy downpour or just drizzling? will it last for just a short while, or a couple of hours or even the whole day? thanks!!
The March of TaiPei has very pleasant weather normally , the temperature is between 23℃ to 26℃, it may rain some times, but only quick shower, it won' last last time
Lily Guo Replied on 2013-10-04
Q:
Casalin Cheong
Asked on 2013-08-02
Reply
I am planning to have a trip to Taiwan on mid of March next year for cherry blossoms season, is that really fully crowded everywhere? May i know on March period more crowded or December period? Thanks a lot.
Hi Casalin, yes, it will be very crowed everywhere. On March period is more crowded than December period.
Whitney Liao Replied on 2013-08-02

Thanks for your answer. If i change my plan to visit Taiwan on December, is that got beautiful scenery can see during the winter time? especially 阿里山,阳明山,清境农场,太鲁阁 etc. thank you. guest Replied on 2013-08-02
Q:
Justina
Asked on 2013-07-27
Reply
Hi. I will be travelling to taiwan next year from 4th-10th march 2014. What type of clothings should i bring for my travels? Thanks in advance.
Hi Justina, spring clothes will do.
Whitney Liao Replied on 2013-07-30
Q:
Christina
Asked on 2013-06-08
Reply
hi there im planing to visit taiwan next year and im still deciding whether to visit end of march or beginning of april... which is better time to visit?? hopefully least rain will be best. thanks
Dear Christina, It is in Spring from March to May. The average temperature will be 20-25℃(68-77℉) in the end of Mar. It is comfortable for traveling. You could take some shirts and coats. In addition, during Spring, it usuall rains, you'd better take an umbrella. Lussie Lu Replied on 2013-06-08
Q:
lily goh
Asked on 2013-02-02
Reply
Hi i will be going to taipei on 27 to 31 . is there anymore cherry blossoms can we see during those date. if there is i wish can joy your day tour
Hi Lily, if it is the month of March, then surely you will see the cherry blossoms during that time. If it is Februay, I am afraid it is not available yet.
Whitney Liao Replied on 2013-02-04