A Brief Introduction to China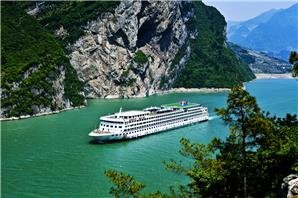 Yangtze River Cruise
China is situated in eastern Asia on the western shore of the Pacific Ocean, with an area of 9.6 million square kilometers. China's continental coastline extends for about 18,000 kilometers, and its vast sea surface is studded with more than 5,000 islands, of which Taiwan and Hainan are the largest.
Land Formation & Rivers
China's land drops off in escarpments eastward to the ocean, letting in humid air currents and leading many rivers eastward. Among the 220,000 kilometers of rivers the Changjiang (Yangtze), Huanghe (Yellow River) and Zhujiang (Pearl River) are the most famous. Yangtze River Basin is the cradle of Chinese civilization, as the many cultural-historical sites along the banks of the Yangtze River attest. a cruise up/down the Yangtze, is something that any tourist to the region would not want to miss, as it offers unique encounters with China's rich cultural heritage as well as some spectacular vistas that will remain forever etched in one's memory. Check out 2014 Cruise Calendar to explore the Yangtze River, and to explore China's brilliant ancient culture. See all China's cruises.
China has beautiful scenery, with mountains and ranges, highlands, plains, basins, and hills. The highlands and hill regions account for 65 percent of the country's total land mass, and there are more than 2,000 lakes. The highest mountain peak is Qomolangma (Everest) in Tibet, the highest in the world, 8,848 meters above sea level; the lowest point is the Turpan Basin, 154 meters below sea level.
Mountains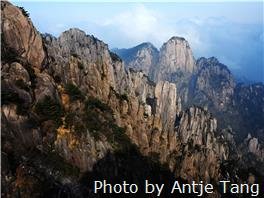 The Yellow Mountains
There are thousands of mountains of various sizes scattered across China's vast territory. Among them, the most famous scenic mountains include: the Yellow Mountain (Huangshan) in East China's Anhui Province, Mt Tai (Tai Shan) in East China's Shandong Province, Mount Emei in West China's Sichuan Province, Hua Shan, close to Xi'an, in West China's Shaanxi Province, and Lushan in East China's Jiangxi Province. Read more on China's top mountains. Mountains have a special role in Chinese Buddhism because Buddhists tend to build Buddhism temples and shrines on secluded mountains. The four most well-known Buddhist mountains are: Wutai Mountain in Central China's Shanxi Province, Putuo Mountain, close to Hangzhou, in East China's Zhejiang Province, Mount Emei in Sichuan and Jiuhuashan in Anhui Province. These four mountains combine great mountain scenery with Buddhist culture, and are travel destination choices of many tourists. Our National Scenery Tours include a visit some of those beautiful mountains.
China Weather & Climate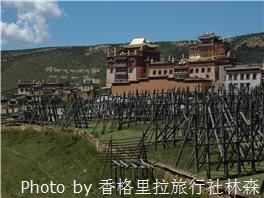 The Spring Colors in Shangri La, Yunnan Province
China has a continental climate, and a latitude spanning nearly 50 degrees. Much of the landmass is situated in the temperate zone, with the tropical and subtropical zones to the south, and reaching the frigid zone in the north, so temperatures differ strikingly across the country. The northern part of Heilongjiang Province has long winters but no summers, while the Hainan Island has long summers but no winters. The Huaihe River valley is marked by distinctive seasonal changes, but it is spring all year round in the south of the Yunnan - Guizhou Plateau. In the northwest hinterland, the temperature changes dramatically. China's high tundra zone is situated in the Qinghai-Tibet, where the temperature is low in all four seasons, and incredibly low in winter. Some desert areas are dry all year round. Read detailed information on China weather.
China Tourism
There is strong competition in the travel and tourism business in China. There are many reputable and ethical agencies, and there's the others. It's worth remembering that if an operator is offering a trip which seems amazingly cheap, then the difference will be collected some other way. Sometimes guides and drivers will pay the agency for the right to guide the visitor, ("buying" travelers), and they will then find ways to recover this from the visitors. Sometimes the agency will use non-accredited suppliers, for example for river boats, rather than those which meet the government standard. China Highlights is one of the leading online tour suppliers in China. We have been in business for 51 years, and have won recognition among tourists all over the world. Read more on Why Choose China Highlights.
China Highlights
China's Top Tourist Cities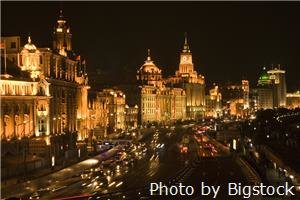 The Night View of the Bund, Shanghai
Beijing, Shanghai, Guilin, Xian and Hongkong are the five best known tourist cities in China. Beijing is well-known for its mixture of ancient culture and modernation. The most famous attractions in Beijing include the Great Wall of China and the Forbidden City. Shanghai is China's largest and most prosperous city. It is feature a combined culture of East and West. Guilin is famous among tourists due to its beautiful natural scenery of water and mountains. The Li River, one of the most beautiful river in China, runs through Guilin. A visit to Xi'an is a journey into China's long history. Xi'an served as capital for 12 dynasties over 1,000 years. The Terracotta Army is in Xi'an. Hong Kong is a fusion of many culture. See China's Top Tourist Cities or the China City Guide for all cities.
Public Holidays
Currently, there are seven official public holidays in Mainland China, namely the New Year Holiday, the Spring Festival (Chinese New Year), the Qingming Festival Holiday (Tomb Sweeping Day), the May Day Holiday (Labor Day), the Dragon Boat Festival Holiday, the Mid-Autumn Festival Holiday and the National Day Holiday. Details on China's public holidays
China Population
China is the most heavily populated country in the world. Over 1.33 billion in fact, over 40% urban. Stringent population controls have been in place for several decades, and the government aims to limit the mainland population to 1.37 billion by 2010. However, the population of great Beijing, for example, is approaching 15 million, and the cities can be crowded and noisy in parts, as can the buses, trains, tourist sites etc. Read more at China Population and China's Most Famous Cities.
Ethnic Groups in China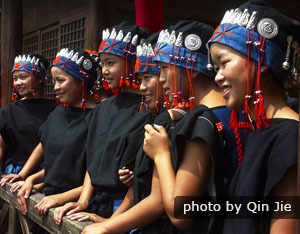 Yao Girls
China is a multiracial country with 55 ethnic groups, including Achang, Bai, Bonan, Blang, Bouyei, Korean, Daur, Dai, De'ang, Dongxiang, Derung, Oroqen, Russian, Ewenki, Gaoshan, Gelao, Hani, Kazak, Hezhen, Hui, Jino, Gin, ingpo, Kirgiz, Lahu, Li, Lisu, Lhoba, Manchu, Maonan, Mongolian, Monba, Miao, Mulam, Naxi, Nu, Primi, Qiang, Salar, She, Sui, Tajik, Tatar, Tu, Tujia, Va, Uygur, Uzbek, Xibe, Yi, Yuigur, Yao, Tibetan, and Zhuang. The ethnical groups account for only 8 percent of the population. Most of these ethnic people lives in China's southwestern and northwestern frontiers, such as Guizhou, Sichuan, Yunnan province, and Xinjiang and Tibet automonous regions. China Highlights' Minority Discovery Tours offer tourists a great opportunity to explore the ancient culture of these minority people.
Administrative Units
China is divided into 23 provinces, five autonomous regions, four municipalities under the direct jurisdiction of the Central Government, and two special administrative regions. The 23 provinces are Hebei, Shaanxi, Liaoning, Jilin, Heilongjiang, Guangdong, Sichuan, Guizhou, Yunnan, and Hainan; The five autonomous regions are Inner Mongolia, Ningxia, Xinjiang, Guangxi, and Tibet; The four municipalities are Beijing, Shanghai, Tianjin, and Chongqing; Hong Kong and Macau are the two special administrative regions.
Capital of China - Beijing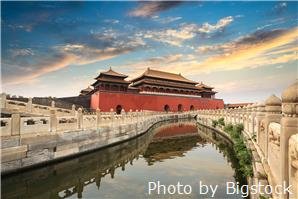 The Forbidden City
Beijing is a modern and sprawling city in north China. Having served as the capital of the country for more than 800 years, Beijing is home to some of the finest remnants of China's imperial past, which are represented by the Great Wall of China, China's legendary line of defense; the Forbidden City, famous as one of the largest and best-preserved ancient imperial palace museums; the Summer Palace, a lovely imperial garden. Read more on Beijing
Differences Between China and the West
Despite government restrictions on the internet, foreign media like movies, music, news and sports coverage are becoming increasingly available in China as an inevitable consequence of economic development. Access to these things can be very formative of Chinese impressions of the West and what is fashionable and acceptable.
So China is becoming more Westernized (or globalized), but there are still big differences in culture. See Chinese Culture and Developing China for more.
See our slide show on The Economy, Education, Countryside, and Family Life of China
China Highlights
Questions and Answers About A Brief Introduction to China
Adetor Mawufemor Adetor
2014-03-19
Show Answer
Hi am applying to do my Phd China hopefully by the 2014 - 2015 academic year. Am applying for full scholarship to pursue Business Administration. I this feasible? How are foreign students treated in China and how does the laws apply to foreigners?
Hi Adetor, it is feasible. The Chinese Government treats foreign students very well, so do the laws. Whitney Liao replied on 2014-03-20
ANZIFA RUBY KHAN
2013-12-29
Show Answer
Hi! this is Anzifa Ruby Khan I am a medical student and i study in XUZHOU MEDICAL UNIVERSITY, jiangsu,china i have exam based on outline of china if u can provide me some more information based on great wall of china, terracotty army, spring festival and religion of china i will feel still more easy to attempt the exam thanku sister bye.
Hi,
China is rich in history and culture. The Great Wall we see now is mostly rebuilt in Ming Dynasty. Terracotta Warriors is stored in Qin Dynasty. For more information, please see http://www.chinahighlights.com/greatwall/ ; http://www.chinahighlights.com/xian/terracotta-army/ ; http://www.chinahighlights.com/travelguide/special-report/chinese-new-year/
Christy Luo replied on 2013-12-29
JANE NWOKORO
2012-07-30
Show Answer
I INTEND TO TRAVEL TO CHINA FOR BUSINESS AND TOURISM WITHIN THE NEXT 60 DAYS AND I INTEND TO BUY SOME LAPTOPS AND CLOTHINGS FOR SALE. IT MIGHT BE FOR ABOUT 5 - 9 DAYS STAY. MY QUESTIONS ARE1. IS AN ESCORT INCLUDED IN THE PRICE CHARGED 2. DO THEY SPEAK BOTH ENGLISH AND CHINESE?3. HOW MUCH IS THIS TRIP LIKELY TO COST ME?4. DO I NEED TO GET A PREPAID PHONE FROM HERE OR WHEN I GET THERE?
Hi JANE NWOKORO,
As you see, we are a travel agency specialize in China tour. If you are interested in China tour, we are happy to do the arrangement for you. If you book our tour, we can arrange the escort and English-speaking guide for you. If the itinerary you book is more than 7 days, we will give you a cell phone when you arrive, and you will return it to the guide at the last station of your tour. Sorry, I can not give you the quotation now because we need more your information, such as which places do you want to visit and what types of hotels do you want. If you want to book our service, please feel free to contact me.
Alice Cai replied on 2012-07-30
brianna
2010-11-30
Show Answer
what is the most populer fact about china?
Here you can find a lot news about China: http://english.china.com/zh_cn/news/ Cindy Feng replied on 2010-12-01
April Offer $25 Coupon
Send your inquiry before Apr. 30, 2014, and we will email you a $25 coupon.
The coupon is valid till Dec. 31, 2014, for paying tour packages worth $250 or up.
The coupon cannot be used for paying flight tickets, train tickets, hotel rooms and day trips.
Travel Advice or Question? Ask us here